Fall's take on makeup is always refreshing. It ushers in the essential change to our beauty routine. Though summer has been great, we have seen the coral-hued lippie and bronzer way to long, and need, ABSOLUTELY NEED, a shift!
From dipped lashes to deep grape lips, the fall makeup looks we've lined up for you, will leave you awestruck and inspired!  Embrace the darkness within and without, and you will be more than ready to fall in love with these fall makeup looks!
---
Suggested read: 12 amazing wedding makeup tutorials you never knew you needed
---
Before we delve deeper into the looks and how to get them (yes, we have tutorials to help with that!), here are some tips from makeup professionals across different fashion runways! I suggest you frame it, and place it beside your mirror, so that you don't miss out on any!
You don't always need a bold lip to make a statement. Go for a muted lavender shade, and team it up with purple smoky eyes.
Brick-red stained lips find their perfect match in soft, hazel-brown eye shadow.
Nothing is more gorgeous than nude lips, prim and proper brows, and rose gold eyes!
Bleached brows can make your nude look ultra-dramatic! For a more real life avatar of the same, try dark berry lipstick, a pair of voluminous lashes, and matte foundation. Both ways, it is a standout blend!
On a hard day's night, all you need is a tinge of black mascara, a great hairstyle, and of course, love!
The most versatile look that works every single season is smudgy black eye shadow. Never give up on that!
A true purple lip has to be emphasised, or else, it is a waste. When you apply it, use a lip brush for well-defined fresh lines.
One way to colour bloc when it comes to makeup is to use your finger while dabbing red lip stain. Smudge only a touch of pale cerulean shadow around the upper lash-line.
If you want a super-vibrant eye look, make sure you give the rest of the makeup a fresh and natural flair.
A five-minute face can have a real impact, so don't take it for granted.
A fall lip and an elusive cat eye never goes wrong!
Smoked-out azure-green eye shadow with a nude almost-peach lipstick should help you seal every deal with a kiss!
Those were some fundamental tips! Now let's dig a little deeper into various fall makeup looks you can try your hands on!
1. Subtle sparkle
This makeup tutorial fills you in on everything you need to know about making a taupe smoky eye look even hotter. At Tommy Hilfiger, Pat McGrath borrowed some mushroom shades from the CoverGirl Nudes truNaked Eyeshadow Palette, and applied it to the crease and below the lashes. He then used a nude eye pencil at the waterline. To give it a finishing touch, he spread the gold glitter out from the inward corners of the model's eye. Oh! I could kill for this look!
2. Clumpy lashes
One girl's corporeal lash nemesis is another girl's beauty statement! Yes, I am talking about clumps! Many think, the look is polarizing, but admit it, it gives you a tougher cool-girl vibe, which is a refreshing change from the feathery fringe we have all been opting for quite some time now! In the wings at Jason Wu, Yadim, the makeup artist, debuted the new Maybelline Colossal Spider Effect Mascara, which you can use to get this look. You can rub the mascara back and forth to get this effect effortlessly.  For a more IRL take on this trend, apply an extra coat over your daily mascara. That will give your lashes the edge you so want!
3. Oxblood lips
We associate deep lips with grunge and the early 90s! Angela Chase, we heart you for that! But Tom Pecheux, the makeup artist at Marni, made the oxblood lips more ladylike, teaming the lippie with a nude face, warm cheeks, eyebrows that are brushed-up, and daintily-curled eyelashes.
If you find it hard to apply shades that are dark, here's a little tip on how to do it: Clean up the smeared edges, if any, with cotton pads dunked in micellar water. Then apply a concealer to cover the staining. Flaunt the look with a major earpiece. It is optional, but highly recommended!
---
Suggested read: 10 amateurish makeup mistakes you should steer clear of, at work
---
4. Soft smoky eyes
You know what is the best part about this romantic, worn-in soft smoke eyes makeup (Alexander McQueen has mastered that, by the way!)? It can be effortlessly recreated, anywhere! So if you have got a dinner date post work, you can easily go for this look, and yes, you won't need brushes for the same! Lucia Pieroni, the makeup artist, mixes RMS Eye Polishes in Lunar and Karam for the look. For a finer flair, diffuse it into the crease, by blending the colour into the upper eyelash line. If you also want glowing cheekbones with it, use a Master Mixer from RMS Beauty's pretty rose-tinted shade for highlights.
5. Dipped lashes
This is not a look you can flaunt everyday (why not?!), but if you ever want to, for a date or two, it is easily recreate-able! At Emporio Armani, they use colored mascara, layering the lashes with an extra-black mascara later. Add some hued formula on top around the outer corners for more drama.
6. Deep grape lips
Deep grape lips is what you will desperate see and want throughout fall, 2016. And you should use it as often as you apply your chap stick! If you have got enough dough, devote some in Nars Velvet Matte Lip Pencil in Train Bleu. Makeup artist, James Kaliardos used the same for his Rodarte's show, by the way!
7. Anime lashes
Anime lashes are the best way you can rock the '60s-enthused outfit from Anna Sui. And yes, you will need lots of lashes for it! If you are not into going that nuts, even though it is super fun, you should definitely try it out for Halloween, 2016! The doe-eyes Twiggy vibe can be recreated by dipping your small eyeliner blush in some dark gel liner. Then draw a crescent shape line along the length of your crease. Now add several teeny tiny vertical lines, aping eye lashes. For the finishing touch, Pat McGrath suggests you layer on a lot of black mascara. Keeping rest of the makeup nude, you can use a concealer to perfect the spots, if any.
8. "No-makeup" makeup
The "no makeup" makeup is something everyone wants to master. Here's how you can do it, according to Benjamin Puckey, who created the look at Brock: There are three components that you need to work on. First, the shimmery lids. Second, the rosy cheeks. And third, the strobe skin. You need to apply a mauve-colored lippie on the apple of your cheeks. Try Maybelline's Colour Sensational The Loaded Bolds Lip Color to mauve it right. Your cheeks will soon give out a dewy, glowing flush. Now use a highlighter that is creamy on the high points on your face, like the cheekbones, the Cupid's bow and the bridge of your nose. Draw attention to your eyes using a cream taupe shadow and some black mascara. For the pro-touch you need at the end, pat a rose-tinted hue into your lips using your ring finger. Ready to kill!
9. Smudgy eyeliner
The tormented high school staple has made a chic comeback this year. All you need to do is draw lines along your eyes, the waterline too, using a creamy dark eye pencil, and smudge it with a swab of cotton or if you can, using an angled eye shadow brush.
If you want to up the drama, try the ink blot eyes, created at Narciso Rodriguez by makeup artist, Dick Page. For the look, Page dipped a damp, messy calligraphy brush (yes!) that he had in his makeup kit, into a black eye liner gel. Try Shiseido's eye shadow for the look. If you don't have a calligraphy brush, use a fluffy, overused shadow brush! He then painted a very inky, asymmetrical swipe across his model's lids.
You may think it looks crazy when one's eyes are closed, but they'll look flawed in the greatest possible way when you blink them open!
11. Sculpted cheeks
You don't have to go nuts with 8 shades of contouring powder to get the sculpted cheekbones. Take inspiration from this tutorial that gives you the look in just a few minutes. Dip a small blush brush in some coral bronze powder. Brush it along your cheekbones, from your ears to your mid-cheek, and tadaa! You've got the look!
---
Suggested read: 12 makeup must-haves every woman in her 20s should invest in
---
12. Blue eye shadow
Summer's blue eye shadow look is not going anywhere, and will continue to enthrall through fall. I am cent percent game with that, since the shade rocks on every skin tone! To get the look, blend a bright blue-hued powder across the eyelids. Then moisten the small brush and color the line around your eyes. If color popping is your style, finish the look using a blue mascara!
Fall is just 'round the corner, and it is bringing with it a plethora of makeup trends. These savvy tips should help yours get a head start!
Want fashion and style tips to be delivered to your mailbox every single day? Sign up for our newsletter today!
Featured image source: Shutterstock
Summary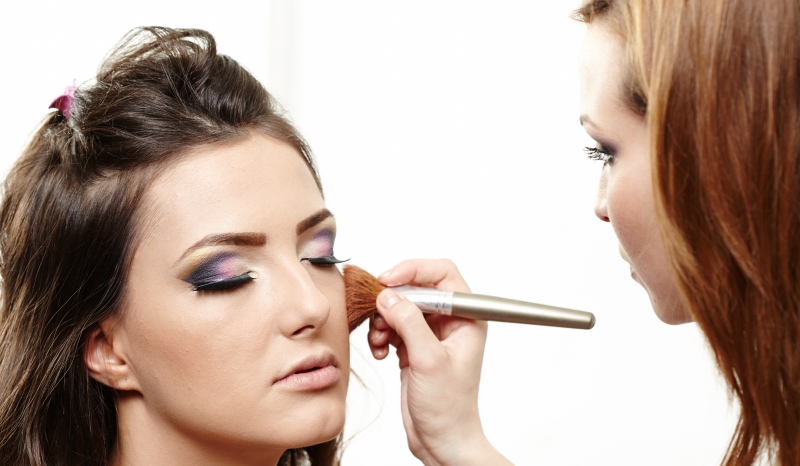 Article Name
12 Of The Best Fall Makeup Looks, And How To Get Them   
Author
Description
Fall is just 'round the corner & it's bringing with it a plethora of trends. These savvy tips on fall makeup looks should help yours get a head start!