If you have been blessed with an olive skin tone, then you already look like a bronze goddess. However, imagine how drop-dead you might look if you had the perfect bronzer to act as the cherry on top of your flawless makeup. If you think that you are bronze enough and you don't require bronzer, check out some of these gorgeous olive-skinned beauties who have mastered the art of using bronzer to their advantage.
Today, we shall be talking about the best bronzer for olive skin; so that you can give you skin the right amount of depth and definition, no matter what kind of makeup look you are aiming for.
One problem that you might face if you choose the wrong bronzer, is altering the natural color of your skin. Always remember, that the function of the bronzer is not to change or add to the color of your skin, but to add the right amount of shadows to highlight the right features and make your face look wonderful and contoured and lovely. Choosing the wrong bronzer can make your look more orange or darker than you actually are, therefore making you look unnatural, which is always a sign of bad makeup.
---
Suggested read: Vital Tips To Find The Best Blush For Olive Skin Tone
---
Fret not, for we have compiled for you a guide on how to choose the best bronzer for olive skin, taking into consideration a number of factors that you have to keep in mind when you are buying the product. That being said, you have a number of high-end brands and drug-store products to choose from, which can give you flattering, stunning results. Here are tips that you should keep handy when investing in a bronzer.
1. Know your skin type: Whether you have fair skin, dark skin or olive skin, you have to figure your skin type before you can invest in bronzer, or any other makeup for that matter. You might have oily skin, dry skin or combination skin, which is a skin type where you have patches of dry and oily skin on your face. Different makeup products and brands react differently to skin types, and it can also affect the outcome, even if you use the same product. In order to understand which is the right bronzer for you, you have to take into consideration you skin type.
Let's first talk about those people who have olive skin, which is also oily. If you are like me, then you know the struggle is real. There is constantly a sheen of oil and sweat on your face when you don't wear makeup, and when you do wear makeup, you start melting very soon and your flawless makeup doesn't look so flawless anymore. Look out for formulas in your bronzer which have a matte, semi-sheer effect on your skin, so that it sets the foundation, and doesn't let the oiliness shine through. This will give you a lovely, golden glow without making you look like an orange lamp. Here are a couple of bronzers that had us impressed.
Charlotte Tilbury Filmstar Bronze And Glow
Benefit Hoola Matte Bronzer
Too Faced Milk Chocolate Soleil
If you have dry skin, then you know that layers and layers of makeup can leave you with dry and flaky skin. It also draws out the moisture from your skin, increasing the chances of lines, wrinkles, spots and dehydration. To avoid all this, and still wear makeup on your dry skin, make sure that you choose products which are light, airy, preferably creamy and hydrating. These features also apply to bronzers, when you are picking them. To be on the safe side, always go for high-end products which are cream based, so that you know that there is no way your skin could dry out in the process. Here are some of our favorite choices for dry, olive skin.
Bobbi Brown Long-Wear Cream-Based Shadow Stick in Beige Gold
NYX Illuminating Stick in Topaz Tan
Revolution Vivid Bronzer
Those people who have combination skin can have a hard time picking out makeup. After all, hydrating products might make your skin look even oilier, while matte products can dry out your skin and leave cracks on your face if you wear it long enough. Solving this problem is easy enough when you are picking bronzers. Make sure that you know the areas on your face which are dry and oily. If you are more of a cheekbone bronzing person, and you have a dry cheek area, then go for hydrating bronzers, and follow the same routine for the rest of your face. Irrespective of which parts of your face are dry and which ones are oily, here are a few bronzers which are perfect for combination skin types.
Giorgio Armani Beauty Maestro Bronzer
NYX Cosmetics Matte Bronzer
Chanel Soleil Tan de Chanel
---
Suggested read: Everything You Need To Know About Choosing The Best Lipstick For Olive Skin
---
2. Know your undertones: The second thing that you have to consider when buying bronzer for your gorgeous olive skin is the kind of undertones that you have. You might be surprised at how much your undertones can determine the way a certain makeup product can look on your face. If you have warm undertones for example, and you end up buying the wrong shade of bronzer, then you might look too orange. Undertones can either be warm or cool. Read on to find out more about choosing the right bronzer based on your undertones.
There are a number of pointers which can tell you whether you have warm undertones or cool undertones. For example, people who have warm undertones have a more golden, wheat-ish or yellow tinge to their skin; they look better in gold jewelry and have a tendency to tan more easily than those who have cooler undertones to their skin. Also, your veins appear greenish, rather than blue. If you have warm undertones to your olive skin, then go for honey, golden or copper shades, which would shine on your skin and make you look like an actual goddess. These shades are also easily available in the market, but here are some which we thought took the cake.
Summary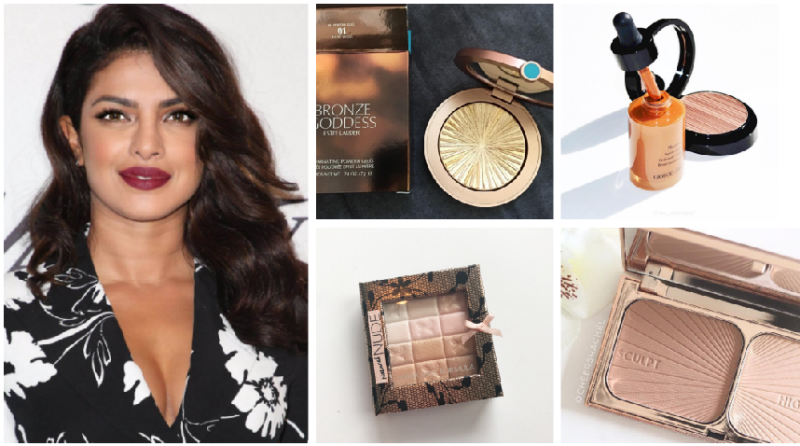 Article Name
Top Tips For Picking The Best Bronzer For Olive Skin
Author
Description
People who have dusky skin can look like actual goddesses when they dab on the right bronzer. Check out how to pick the best bronzer for olive skin tone!
Read the rest of the article:
Next