The 'Mozart of Madras,' A R Rahman, turns 48 today and we just couldn't think of anything that we could gift the man who has showered us with timeless musical gifts for over two decades now. I mean, what could we possibly gift the 'ace musician,' who already has two Academy awards, a BAFTA, two Grammys, a Golden Globe, four National film awards, thirteen South Filmfares, and fifteen Bollywood Filmfares under his belt, along with honorary doctorates from the Trinity College of Music, Aligarh Muslim University, Anna University, and Middlesex University, and honors conferred in the form of a Padmabhushan and Padmashri. Not to forget his lovely wife, kids, and his 'big, kind' heart!! J
So, we thought that going the conventional panegyric way to list the journey of the music maestro would be too 'mainstream.' And because it is magical musician Rahman, we wanted to send a 'straight-from-the-heart' magical birthday wish, we sure had to be experimentative. So, we skipped the 'stringing together all the superlatives there are' way to commemorate his remarkable journey and tried this instead: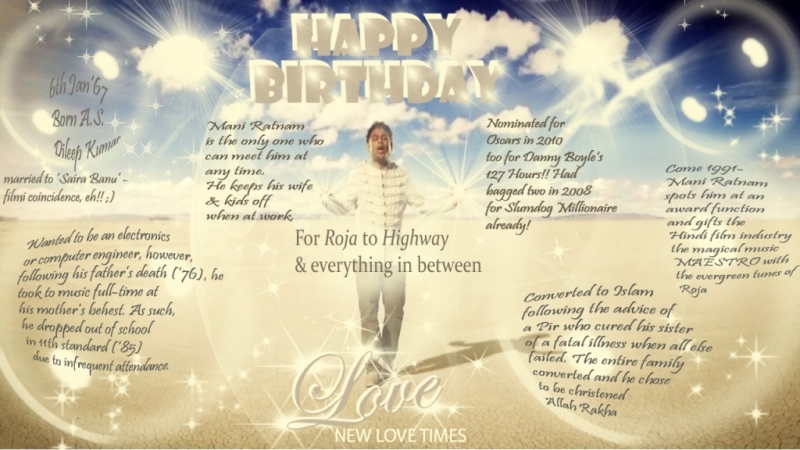 Also, the present would not be complete without … yes, no prizes for guessing … music!! So, here's to a celebration of the magical music we have loved and shall continue to love – the best of Rahman's journey:
1. Roja: The movie marked the start of his journey in our industry and the fact that we hum the tunes still, is enough to evince the magic this man of music weaves upon us! Listen to one of the magical compositions here:
2. Rangeela: This movie marked a special milestone in Rahman's career in the industry. An eclectic mix of romantic, sensuous, foot-tapping, and contemporary numbers, the soundtrack of Rangeela was a treat for the soul! Listen to one of my all-time favorites here:
3. Dil Se: Sadly, the movie fizzled out at the box office, but the music sure ensured that the memories of the Shahrukh-starrer remains indelibly etched in our collective consciousness. The songs are beautiful and of course, that is a massive understatement. Listen to them if you still need convincing:
4. Taal: The name says it all. This was a musical smash hit. From 'Taal se taal milao,' to 'Ishq Bina' to the breathtaking 'Ramta Jogi,' this one was just perfect!! Listen to one of the melodies here:
5. Rang De Basanti: This movie stirred the youth of the nation and awakened them to a newer, enriched understanding of their country. And to say that much of the credit goes to the fabulous songs (Luka Chhupi, Rang De Basanti, Khalbali, Roobaroo, Paathshaala) would not be too far off the mark. An album that can easily be deemed the 'perfect rendition of breathing life into the narrative,' the lyrical melodies of this fantastic movie sit on my playlist still.
6. Guru: The movie was rendered complete because of the soulful melodies Rahman carefully weaved onto the fabric of the biopic. Of course, I haven't forgotten 'Maiyya Maiyya' and that it hardly counts as soulful! 😉 But you get my point. We remember the songs and we know why! Enjoy one of my favorites here:
7. Delhi 6: The reason this movie wowed the audience was because of its mesmerizing music. From 'Masakalli,' to 'Arziyaan,' and 'Rehna Tu,' the compositions are so refreshingly fresh, they can easily pick me up on a bad day! And here's the one I just LOVE:
8. Slumdog Millionaire: It wouldn't be fair if I didn't quite put the one that brought our country not one or two or three but eight Oscars, right! So, here it is:
9. Rockstar: There is possibly no reason I should take up saying anything to describe the enthralling and captivating effect this soundtrack had on us – there is no need either! You all know it by heart, so let's sing it together whilst it plays.
P.S. It was impossible to take my pick among this song, Nadaan Parindey, Hawa Hawa, Tum Ho, Kun Faya Kun, Katiya Karoon, and Jo Bhi Main. I just picked this one at random – it was that darned difficult! 😛
10. Raanjhanaa: The latest that had me spellbound – this one still blares on my headphones whilst I grapple with writing! 😛 So, without further ado, here's one of the musical magical treats dished out by the Sonam-Dhanush-Abhay starrer:
Special Mention
Highway: Because not too many films resonate the same way as does their music. And also because you never know when the journey is the only destination you could ever wish for! To Imtiaz Ali's brilliant conception and Rahman's unswerving magical notes.
We love you sir, and we all have begun to believe in magic ever since your music has flowed in through the ears to stir something deep within our souls. Keep stringing those notes, keep weaving magical music, and more importantly, keep smiling – HAPPY BIRTHDAY!! J
Featured image source: Google, copyright-free image under Creative Commons License
Summary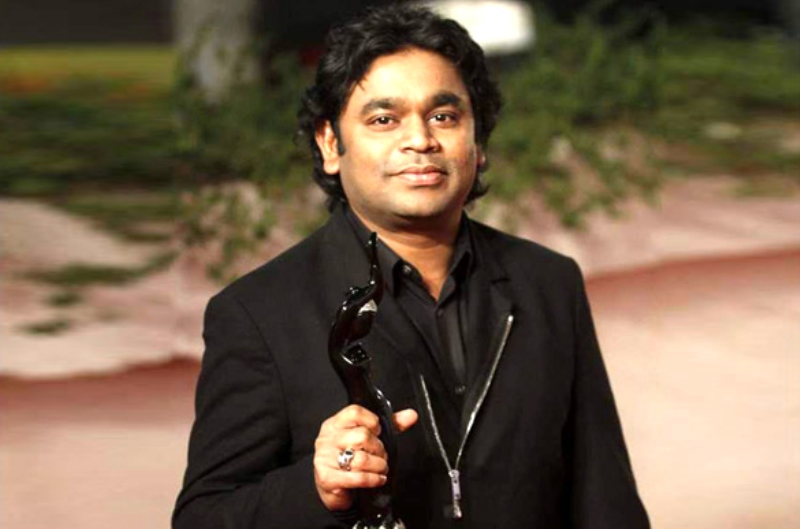 Article Name
'Mozart of Madras' A R Rahman turns 48
Author
Description
As the 'Mozart of Madras,' A R Rahman turns a year older today, we wish him a very happy birthday with a tribute to his musical genius.