Time for some joy, ladies. The Joy actor, Bradley Cooper is single again. br
Image source: Google, copyright-free image under Creative Commons License
Yes, that's right. After two years of dating the 23-year-old British model Suki Waterhouse, the 40-year-old hottie has called it quits. The couple has mutually decided to part ways owing to their hectic schedules and continue to remain on good terms. While the good-looking couple reportedly hit splitsville before the Oscars in January, they were still spotted attending the awards ceremony together.
---
Suggested read: Chris Evans and Lily Collins are dating!!
---
There were signs of Ruepid having shot his darts at the pair at the Insurgent premiere in New York on Monday. When the ET team caught up with Suki, she was in no mood to discuss her A-lister- (by-then) -ex-boyfriend. When asked if Bradley liked the Divergent series, she shrugged it off with a curt and assertive,
"It's about me tonight."
Image source: Google, copyright-free image under Creative Commons License
Meanwhile, Cooper has been spending time with the boys. Wednesday was a guys' night out with Miles Teller and Jonah Hill at the Elton John concert in Las Vegas, followed by a party at Surrender Nightclub in Encore at the Wynn, where rapper Lil John performed. The three are currently in Vegas, filming the comedy Arms and the Dudes – the true story of two men who were contracted by the Pentagon to arm America's allies in Afghanistan – directed by The Hangover director Todd Phillips.
---
Suggested read: Why do women fall for older men?
---
Cooper was first linked to Waterhouse in March 2013 when they were spotted together in Boston. Ever since, Cooper has been seen bringing his Brit girl as his plus one to red carpet events, such as the 2014 Met Gala and the Screen Actors Guild Awards. Nine months into the relationship, Cooper brought Waterhouse as his date to the New York premiere of American Hustle in December 2013. In June 2014, Waterhouse shot the PDA accelerometer with Cooper when she visited him on set of his drama American Sniper in L.A.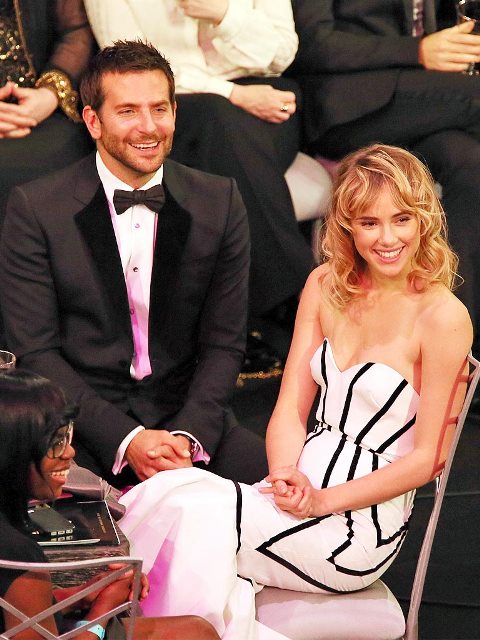 Image source: Google, copyright-free image under Creative Commons License
Despite their public appearances together, the couple has always remained tight-lipped about their relationship. Suki's interview with Elle UK in December 2013 is a case in point.
"I don't talk about my boyfriend because it's boring," she told the magazine. "At least, that's what I decided to tell you when you asked. I'm not one of those girls who goes on about their boyfriends," she further explained.

"I do think whatever I say will sound weird. But the truth is, if I start talking about him, I probably won't be able to stop. And I don't really want to talk about him, you know?"
However, in the very same interview she admitted that she'd love to have kids!!
---
Suggested read: Skint Queen's University students joining sugar daddy website
---
E! News' Marc Malkin was the first to confirm the split. However, E! News also declares that there is no clarity on whether this is a temporary split or a permanent rupture. And while I know all you ladies are rooting and praying that it is the latter, your boyfriends-sitting-right-next-to-you are praying as hard about the opposite!!
Featured image source: Google, copyright-free image under Creative Commons License
Summary

Article Name
Bradley Cooper and Suki Waterhouse split
Author
Description
Bradley Cooper and his girlfriend of two years, Suki Waterhouse, have called it quits. Read on to know what caused them to hit splitsville.