In a country that is fraught with discrimination at every step, Manabi Bandyopadhyay's appointment as the first transgender principal of a college is (perhaps) the beginning of a new dawn.
Currently, associate professor in Bengali at Vivekananda Satobarshiki Mahavidyalaya, Manabi is going to take charge as the principal for Krishnanagar Women's College in West Bengal next month. Manabi was quoted by The Indian Express, as saying,
"Of course I am excited, but the media attention has left me in a tizzy. I have been flooded with calls. I understand that my achievement is a big step forward for the transgender movement in the country, but my priority is my students."
Born as Somnath in a lower middle-class family, Manabi's father was a factory worker and mother a homemaker. Manabi went to school on the outskirts of Kolkata before heading off to a prominent college to complete her Master's. She wrote a paper on women's rights and joined a college in a remote village in a Maoist-affected region in West Bengal to teach Bengali. In 2003, she went for a sex-change operation and went on to complete her dissertation  on the role of transgenders in West Bengal, where their population exceeds 30,000.
---
Suggested read: 'Your hands will get pregnant if you masturbate,' warns Islamic preacher!
---
She asserts that her real troubles began when she changed her gender and name in 2006. The authorities refused to acknowledge the change and she faced immense discrimination at work. She was even denied pay rises because "they could not come to terms with my altered gender." On the hardships so faced, Ms. Bandyopadhyay remarks,
"I have always been popular with my students, but my colleagues and peers were not always so favorably disposed after I changed my gender."
As for conditions at home, she says,
"At home, my parents and siblings were worried sick whether my body would be able to cope with the changes." 
However, Manabi was not going to allow people to let her gender and identity remain in a state of suspension. She resolved to step out of the limbo and force her fellow denizens to recognize her status and give her her identity. And while the struggle trajectory has been a mixed bag of emotions – what with a life-altering sex change operation upsetting personal and professional life, the adoption of her favorite student as her son, penning an exhaustive account of her life, a fun gig on the Bengali version of the popular reality show Big Brother, and now the enormous responsibility of running a women's college, Manabi is undeterred and continues to forge ahead with renewed enthusiasm and vigor.
Her appointment has resulted in an avalanche of congratulatory calls and wishes whilst higher authorities and students of her to-be-college have also expressed their delight in no uncertain terms.
"This decision was taken by the College Service Commission. I don't interfere in their decisions. They are aware of our open mind. I am happy with this decision," State education minister Partha Chatterjee said on Tuesday.
Technical education minister Ujjal Biswas, who is chairman of the college governing body, said:
"We were in need of a principal with a strong personality to run the college smoothly."
Welcoming the decision, Rattan Lal Hangloo, vice-chancellor of the Kalyani University to which Krishnagar Women's College is affiliated, said,
"Manabi is a fine human being, a good academician and an able administrator. We are hopeful her appointment will empower other members of the transgender community."

"Manabi Bandyopadhyay is a strong individual. She has faced many upheavals. We are optimistic about the development of the college during her tenure. She is a celebrity and her sexual orientation isn't an issue for us," said Jayasree Mondal, assistant professor, geography.
Bengali assistant professor Prakash Mondal said:
"She is free-spirited. She has a good command over her subject. This college has not had any principal for long. We are happy to have her as our principal."
Student Payal Mallick considers her an inspiration.
"She is a celebrity. It is good news that we are getting her as our principal," she said.
---
Suggested read: 9-year-old South African boy marries 62-year-old woman!
---
The transgender community also considers this a proud achievement and has come forward to express their joy at this inclusive gesture. Jyoti, who looks up at Manabi for inspiration, said,
"Manabidi is an inspiration for us. Today, people back home have accepted my identity. I have even portrayed my own fate in a play that dealt with the plight of transgenders. Manabidi's news is a great boost for me. I am taking her help to undergo sex realignment."
With the Supreme Court having given legal recognition to transgenders last year, alongside allowing them quotas in jobs and education in line with other minorities, India has been treading the path of some welcome change whilst appointing the country's first elected transgender mayor, a television transgender anchor and a transgender as a popular talk show host. Manabi's appointment is the icing on the cake. And we hope that more and more cherries top this welcome sumptuous treat!
Good luck Manabi, we wish you all the best!
Summary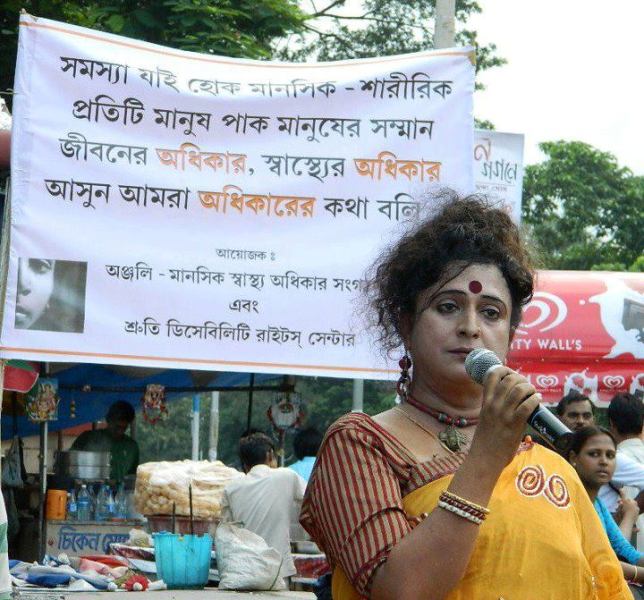 Article Name
India Gets Its First Transgender Principal In Manabi Bandyopadhyay
Author
Description
A transgender mayor, a transgender talk show host, and now, a transgender principal in Manabi Bandyopadhyay - India is sure giving us some news to cheer!