The demand for shea butter has boomed in the last few years, making the natural ingredient the secret of every woman's glowing skin. Rich in Vitamins A, E, and F, shea butter has numerous healing properties for our skin and our health.
Shea butter is extracted from the nutritious and oil rich seed of the shea fruit from the shea-Karite tree, a traditional African food plant that begins to bear fruit only after 15-20 years. It is an ivory-colored creamy substance extracted from the nut of the fruit, and is widely used in cosmetic products and moisturizers.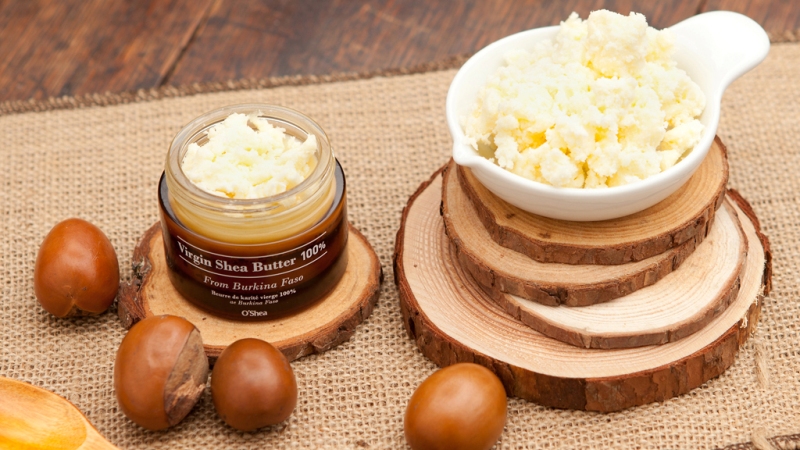 Image source: Google, copyright-free image under Creative Commons License
Native to Africa, shea butter has been used for centuries on its own continent before spreading to local and global markets relatively recently. It is mentioned in almost all African historical documents as it has always been a staple item of African pharmacology; the funeral beds of African kings were also made of wood from old shea trees. It has an incomparable ability to protect and regenerate your skin. Moreover, shea butter is also used as an anti-inflammatory essence for sprains and arthritis, and a lotion for hair. It is also edible and is used in preparing food in Africa. Shea butter is available in two forms – the raw and unrefined pure shea butter that is extracted manually with all its vitamins intact, and the refined version, which is extracted mechanically with the help of chemical solvents. We advise you to use the unrefined shea butter product, which preserves all its natural properties, minerals, and vitamins during its extraction.
---
Suggested read: What turmeric can do for your health and skin
---
Regardless, here are 15 benefits of shea butter that make it such a treasured natural resource for our skin and hair:
Shea butter enhances your skin tone, moisturizes your skin and gives relief from cracked and itchy skin. It also helps you heal your cracked heels and minor wounds and burns.
With Vitamin F as one of its main properties, shea butter helps in improving the elasticity of your skin by giving it a smoothening and glowing look.
It can be used as an after-shave lotion for smooth skin and reduce razor burns and irritations. It also prevents your skin from razor bumps after shaving.
Widely known for its healing properties, shea butter can be used for getting rid of sunburns, tans, and skin rashes. Its anti-oxidant properties help in protecting your skin from the sun's UV rays.
Meanwhile shea butter can relieve you from insect bites, stings, skin allergies, corns, warts and calluses.
Full of nutrients including Vitamin A, shea butter helps in treating blemishes, wrinkles, premature ageing lines, eczema, dermatitis, and many other skin disorders.
Shea butter also helps in reducing acne and pimples, and prevents your skin from scarring with dark spots. 8. Regular use of shea butter can ward off your pregnancy stretch marks.
Shea butter can be used on your face and eyelids to make your make up last longer.
Shea butter acts as a perfect lip balm for your chapped lips during cold and dry weather.
With its natural moisturizing properties, shea butter can also be used as a natural cuticle cream to take care of your cuticles.
And it not only nourishes and softens the skin of an adult, but can also enhance the smooth and sensitive skin of your baby, while preventing diaper rashes.
A massage with shea butter can also prevent bed sores amongst invalids and elderly people who are bed ridden.
Shea butter is used as a hair balm for dry and fragile hair, while eliminating scalp irritation and dryness.
Shea butter has anti-bacterial, anti-fungal, and anti-viral properties, making it effective in curing you from cold flu, running nose, cough, frost bites, etc.
Featured image source: Google, copyright-free image under Creative Commons License
Summary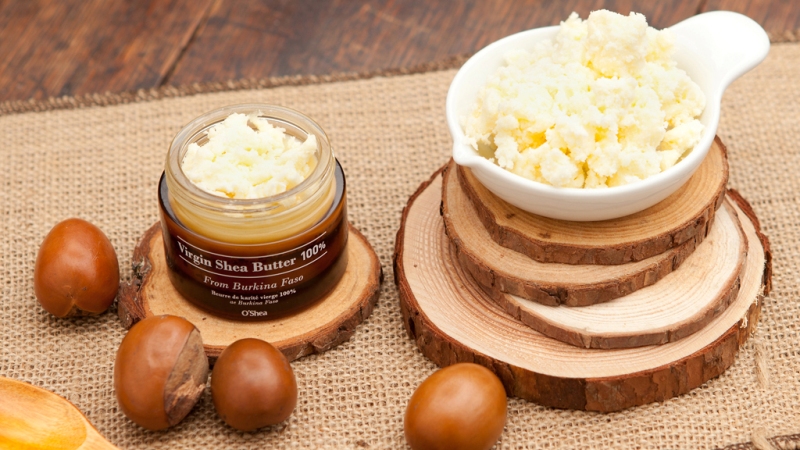 Article Name
All The Amazing Benefits Of Shea Butter
Author
Description
Shea butter is a treasure trove of beauty and health benefits! Check out all the amazing benefits of shea butter!