According to Poetry Foundation,
Emily Dickinson is one of America's greatest and most original poets of all time. She took definition as her province and challenged the existing definitions of poetry and the poet's work. Like writers such as Ralph Waldo Emerson, Henry David Thoreau, and Walt Whitman, she experimented with expression in order to free it from conventional restraints. Like writers such as Charlotte Brontë and Elizabeth Barrett Browning, she crafted a new type of persona for the first person. The speakers in Dickinson's poetry, like those in Brontë's and Browning's works, are sharp-sighted observers who see the inescapable limitations of their societies as well as their imagined and imaginable escapes. To make the abstract tangible, to define meaning without confining it, to inhabit a house that never became a prison, Dickinson created in her writing a distinctively elliptical language for expressing what was possible but not yet realized. Like the Concord Transcendentalists whose works she knew well, she saw poetry as a double-edged sword. While it liberated the individual, it as readily left him ungrounded. The literary marketplace, however, offered new ground for her work in the last decade of the 19th century. When the first volume of her poetry was published in 1890, four years after her death, it met with stunning success. Going through eleven editions in less than two years, the poems eventually extended far beyond their first household audiences.
---
Suggested read: Best Poems By Agha Shahid Ali: Remembering Kashmir's Beloved Poet On His Death Anniversary
---
Best Poems by Emily Dickinson
Here are some of the best poems by Emily Dickinson that I encourage you to read.
I taste a liquor never brewed 
I taste a liquor never brewed –
From Tankards scooped in Pearl –
Not all the Frankfort Berries
Yield such an Alcohol!
Inebriate of air – am I –
And Debauchee of Dew –
Reeling – thro' endless summer days –
From inns of molten Blue –
When "Landlords" turn the drunken Bee
Out of the Foxglove's door –
When Butterflies – renounce their "drams" –
I shall but drink the more!
Till Seraphs swing their snowy Hats –
And Saints – to windows run –
To see the little Tippler
Leaning against the – Sun!
Success is counted sweetest 
Success is counted sweetest
By those who ne'er succeed.
To comprehend a nectar
Requires sorest need.
Not one of all the purple Host
Who took the Flag today
Can tell the definition
So clear of victory
As he defeated – dying –
On whose forbidden ear
The distant strains of triumph
Burst agonized and clear!
Wild nights – Wild nights!
Wild nights – Wild nights!
Were I with thee
Wild nights should be
Our luxury!
Futile – the winds –
To a Heart in port –
Done with the Compass –
Done with the Chart!
Rowing in Eden –
Ah – the Sea!
Might I but moor – tonight –
In thee!
I felt a Funeral, in my Brain
I felt a Funeral, in my Brain,
And Mourners to and fro
Kept treading – treading – till it seemed
That Sense was breaking through –
And when they all were seated,
A Service, like a Drum –
Kept beating – beating – till I thought
My mind was going numb –
And then I heard them lift a Box
And creak across my Soul
With those same Boots of Lead, again,
Then Space – began to toll,
As all the Heavens were a Bell,
And Being, but an Ear,
And I, and Silence, some strange Race,
Wrecked, solitary, here –
And then a Plank in Reason, broke,
And I dropped down, and down –
And hit a World, at every plunge,
And Finished knowing – then –
I'm Nobody! Who Are You?
I'm Nobody! Who are you?Are you – Nobody – too?Then there's a pair of us!Don't tell! they'd advertise – you know! How dreary – to be – Somebody!How public – like a Frog –  To tell one's name – the livelong June –  To an admiring Bog!
---
Suggested read: 10 Best Poems By John Donne That Every Poetry Lover Must Read
---
"Hope" is the thing with feathers
"Hope" is the thing with feathers –
That perches in the soul –
And sings the tune without the words –
And never stops – at all –
And sweetest – in the Gale – is heard –
And sore must be the storm –
That could abash the little Bird
That kept so many warm –
I've heard it in the chillest land –
And on the strangest Sea –
Yet – never – in Extremity,
It asked a crumb – of me.
A Bird, Came Down The Walk
A Bird, came down the Walk –
He did not know I saw –
He bit an Angle Worm in halves
And ate the fellow, raw,
And then, he drank a Dew
From a convenient Grass –
And then hopped sidewise to the Wall
To let a Beetle pass –
He glanced with rapid eyes,
That hurried all abroad –
They looked like frightened Beads, I thought,
He stirred his Velvet Head. –
Like one in danger, Cautious,
I offered him a Crumb,
And he unrolled his feathers,
And rowed him softer Home –
Than Oars divide the Ocean,
Too silver for a seam,
Or Butterflies, off Banks of Noon,
Leap, plashless as they swim.
Because I could not stop for Death
Because I could not stop for Death –
He kindly stopped for me –
The Carriage held but just Ourselves –
And Immortality.
We slowly drove – He knew no haste
And I had put away
My labor and my leisure too,
For His Civility –
We passed the School, where Children strove
At Recess – in the Ring –
We passed the Fields of Gazing Grain –
We passed the Setting Sun –
Or rather – He passed Us –
The Dews drew quivering and Chill –
For only Gossamer, my Gown –
My Tippet – only Tulle –
We paused before a House that seemed
A Swelling of the Ground –
The Roof was scarcely visible –
The Cornice – in the Ground –
Since then – 'tis Centuries – and yet
Feels shorter than the Day
I first surmised the Horses' Heads
Were toward Eternity –
My Life Had Stood – a Loaded Gun
My Life had stood – a Loaded Gun –
In Corners – till a Day
The Owner passed – identified –
And carried Me away –
And now We roam in Sovreign Woods –
And now We hunt the Doe –
And every time I speak for Him
The Mountains straight reply –
And do I smile, such cordial light
Opon the Valley glow –
It is as a Vesuvian face
Had let it's pleasure through –
And when at Night – Our good Day done –
I guard My Master's Head –
'Tis better than the Eider Duck's
Deep Pillow – to have shared –
To foe of His – I'm deadly foe –
None stir the second time –
On whom I lay a Yellow Eye –
Or an emphatic Thumb –
Though I than He – may longer live
He longer must – than I –
For I have but the power to kill,
Without – the power to die –
Tell All The Truth But Tell It Slant
Tell all the truth but tell it slant —
Success in Circuit lies
Too bright for our infirm Delight
The Truth's superb surprise
As Lightning to the Children eased
With explanation kind
The Truth must dazzle gradually
Or every man be blind —
---
Suggested read: "We Have Pain On Earth" Naomi Shihab Nye And Her Magnificent Poetry
---
This is all we have on today's post on the Best Poems By Emily Dickinson. This is, however, not an exhaustive list, and if we have missed out on some of your favorites, then please feel free to add them in the comment section below.
Until next time!
Featured image source: Instagram 
Summary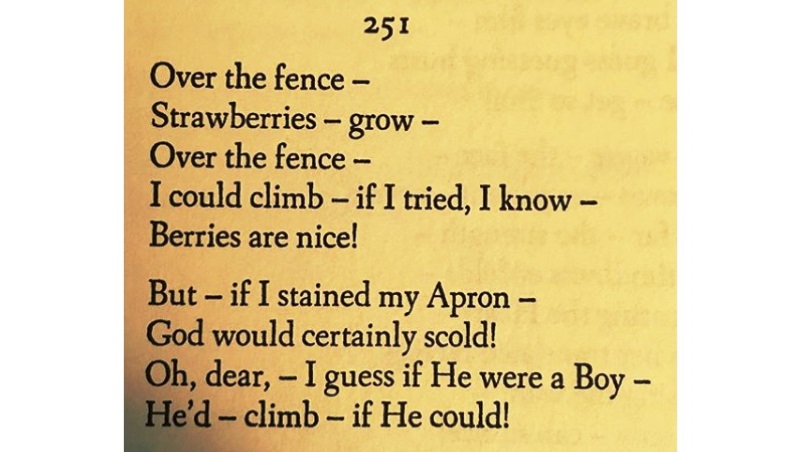 Article Name
Best Poems by Emily Dickinson
Author
Description
Here are some of the best poems by Emily Dickinson that I encourage you to read, this winter.