Marriage is a lifelong commitment, one which shouldn't be entered into lightly. But in today's age of near-instant divorces and talk of separation at the drop of a hat, very few marriages stick it out through thick and thin. And one such marriage that should be a role model for us all, is Floyd and Violet Hartwig's.
Image source: Youtube
Floyd and Violet Hartwig of California, knew each other since they were in elementary school, but connected romantically later on during World War II at the Rainbow Ballroom in Fresno, while Floyd served in the Navy. Following their short tryst at the ballroom, Floyd was sent back to the Pacific. And during this separation, the young couple kept in touch through more than 100 love letters from 1946 to 1948.
---
Suggested read: This 93-year-old widower's poem proves that true love is eternal
---
One letter that Floyd wrote from Johnston Atoll in the Pacific in May 1947:
Hi honey, just a few lines from this lonely blue sailor of yours. Miss you darling and so in love with you … Honey, I'll sure be glad when I get out of this. It sure isn't for me, though at one time I thought the Navy was pretty swell. That was before I fell in love with the sweetest girl in the world.
Awwww!
Image source: Youtube
Here's another one that the lovebirds exchanged:
Love you my dearest and want you so. Vi, I heard our song this evening and it sure did make me homesick for you. Honey, did you ever get a record of it? I certainly hope so as I want to listen to it and have you in my arms at the same time.
When Floyd was on leave from the Navy in the summer of 1947, the couple said their 'I do's on August 16th of the same year. When he got out of the Navy in 1948, Floyd's first job as a civilian was to deliver eggs. Later on, he worked as a foreman at a large Fresno County farm, where he worked till he retired at the age of 65.
Image source: Youtube
The couple was blessed with three children – Donna, Carol, and Kenneth, and they owned a 20-acre ranch in Easton, California. The Hartwig couple worked at the ranch chopping cotton and feeding turkeys, well into their old age.
But on February 11th, Floyd, who was 90, died at the hospice where he and wife, Violet, 89, were housed during their last years. Floyd died holding his beloved wife's hand on adjoining beds which were pushed close together by their kids; and Violet died five hours later. The loving couple married for 67 years, was surrounded by their family.
During the final years, Floyd had previously suffered from colon and bladder cancer, and was also diagnosed with kidney failure, just two weeks prior to his demise. And Violet had dementia, and had also suffered from a number of strokes.
Even as his own healthy was failing, Floyd continued to care for his wife.
Image source: Youtube
Their daughter, Donna Scharton, told the Fresno Bee:
"They had a connection, and I think that connection just came more and more, especially in the last months of their lives."
On how her father cared for Violet, she said,
"My dad could hardly walk, and his main concern was my mom."
Through tears, Donna said of her parents' dying together:
"We felt blessed because we knew that's what they wanted." She continued saying, "I think that's what kept them going … that they each had the other one. They didn't want to go without each other."
Watch the video where Donna talks about her parents here:
Rest in peace, Floyd and Violet Hartwig. Your heartwarming story will stay with us for a long time.
Summary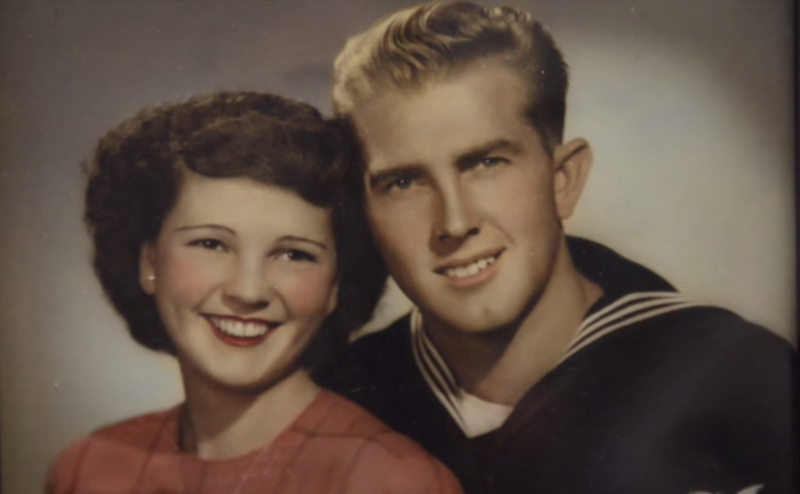 Author
Description
Floyd Hartwig and Violet Hartwig, a couple married for 67 years, died within hours of each other. Read their poignant story here.