"The garden of love is green without limit and yields many fruits other than sorrow or joy. Love is beyond either condition: without spring, without autumn, it is always fresh." – Rumi
Faizul Hasan Qadri is a retired postman who lives in Kaser Kalan, a small place near Lucknow in Uttar Pradesh, India. He's an unassuming man of slight frame, with a long white beard and nearly always appears dressed in a plain kurta-pyjama combo and a cap. At first sight, he can be mistaken for any regular resident of Kaser Kalan.
Image source: Google, copyright-free image under Creative Commons License
But Qadri is no ordinary man. For starters, one of the walls of his bedroom features an old poster, fraying at the edges. It shows some flowers accompanied by a caption – "Love is enough," a poster that many would find oddly placed in this septuagenarian villager's simple home. The poster alone intrigues any visitor to Qadri's residence.
---
Suggested read: What are the secrets to a happy marriage? Find out here
---
First, some history. Faizul Hasan Qadri married Tajammuli in his teens, and the couple lived together happily for nearly six decades in an arranged marriage that yielded no children but lots of love, which as the poster says, was 'enough.' Like every other couple, they had their ups and downs, arguments and reconciliations. A postman, Qadri was thrifty and didn't believe in extravagance. While the world celebrated the Taj Mahal in Agra nearly 140 km away, he considered it an absolute waste of money. He had visited it once, but Tajammuli only saw pictures. 'It's an insult to the common man,' was his opinion.
Being childless did bother Tajammuli a little though, who wondered if anyone would remember them after they were gone. Her husband had the solution:
"I'll build us a tomb that'll keep us alive in people's memories."
Image source: Google, copyright-free image under Creative Commons License
Tajammuli's death in December 2011 ended the happy marriage, but not her husband's love. Grief changed Qadri's views. He now understood what the Taj stood for; he no longer saw it as an extravagance. Keeping his promise to Tajammuli, Qadri began to plan his own monument dedicated to his beloved wife. He had a 5,000 square feet plot of land that was of no use agriculturally. He pooled all his money together – sold some land and his wife's jewelry and accumulated his life's savings; after all, there was no one to leave these to.
Qadri planned the design in the style of ancient Indian monuments, complete with Quranic calligraphy and marble cladding. As the building began to take shape, the villagers began to call it the Taj, owing perhaps to its similarity to the emperor Shah Jahan's 17th century dedication to his wife, Mumtaz Mahal. Inspired by this, Qadri plans to make it as similar to the original Taj as he can, gardens included. The main building in the centre has a rounded ceiling and is flanked by pillars on its four corners. The central building houses Tajammuli's tomb and is about the size of a house.
Image source: Google, copyright-free image under Creative Commons License
Qadri has spent close to 20 lakh rupees on his construction so far, and hires workers whenever he can afford it. He has been offered help on numerous occasions but he politely declines. "It's a proof of love and I need to do it on my own," he says. He plans to continue working on it till the day he dies. He has asked his brother, Mehzul Hasan, to bury him next to his beloved Tajammuli and finish the task he has undertaken.
---
Suggested read: Krishna Devi poses nude for money, and proudly so!
---
For now, Qadri satisfies himself with the thought that he'll be united with Tajammuli when the time comes and occupies himself with poems about his wife in the meantime. Occasionally, he stops to look at a black and white picture of a younger version of themselves, as the light pours in from the window that overlooks his Taj, where his Tajammuli rests in peace, still being loved and cherished by her loyal husband.
Featured image source: Google, copyright-free image under Creative Commons License
Summary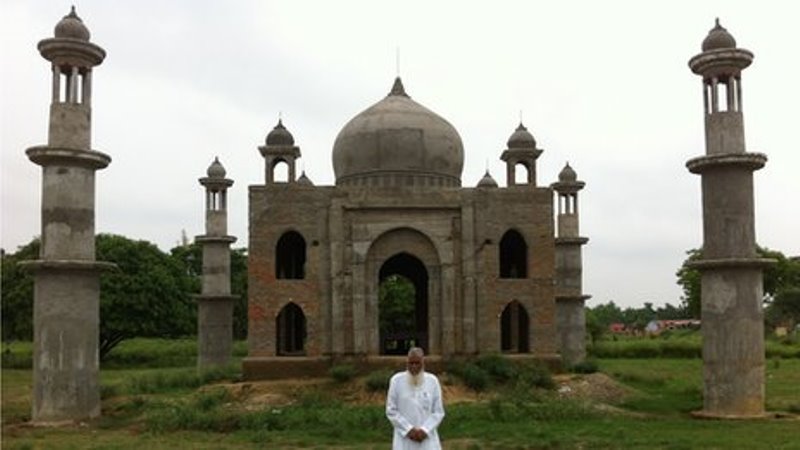 Article Name
Retired Indian Postman Builds Taj Mahal For His Wife
Author
Description
Indian retiree postman builds Taj Mahal for his wife in Kaser Kalan. Here's a glimpse at his story and why he built the mini model of his love.