Marriage proposals seem to be growing more elaborate from one to the next. While some are sweet, some are so elaborate as to make you wonder how much effort that person has put into a proposal. It sort of makes you wonder if they put in that much effort into their relationship too. With the Internet going gaga over an elaborate marriage proposal every other week, it seems like there's an invisible contest is going on for the 'world's best proposal' title. If you don't believe me, check out this virtual reality proposal in which a guy used a Google Cardboard VR viewer, his trusty Nexus 5, and a pair of headphones to pop the question to his beloved. 
Image source: Youtube
Mike Rios fake proposed to his girlfriend Maggie Jensen in Pasadena, California, five years ago. Incidentally, that was the place where the couple met for the first time as well. Using his trusty Nexus 5, Rios had taken Photosphere pictures of their friends holding up signs about his first words to her, a short while before the actual proposal.
Image source: Youtube
---
Suggested read: This Disney World proposal will make you go 'Awwww'
---
When Maggie arrived at the spot where they met, Mike asked her to put on a Google Cardboard virtual reality viewer and a pair of headphones. Maggie went on her virtual reality experience, viewing the very images that Mike had shot, with accompanying soundtrack in the background. While the oblivious Maggie was viewing the pictures, Mike gathered her family and friends around her, for whom he had organized a photo shoot and taught them a dance number for the surprise virtual reality proposal he was planning.
Image source: Youtube
As she took off the Google Cardboard viewer, her family and friends starting dancing to the song Kiss The Girl from the movie The Little Mermaid, performed by a Mariachi band. Then, Mike got down on one knee and popped the question to Maggie, to which she said YES, of course!
Check out the full video here:
The whole proposal was caught on camera and uploaded to Youtube, which quickly spread, giving it 'viral' status. Apparently, the proposal even has its own hashtags – #surpriseVRproposal and #MnMProposal. Not just that, but even a press release was also sent around so that no one missed out on the story.
Whether it's a couple looking for their 15 minutes of fame or really wanted to share their one of a kind virtual reality proposal with the world, we have no idea. But it sure does make a good story, right?
Congratulations to the happy couple!
Featured image source: Youtube
Summary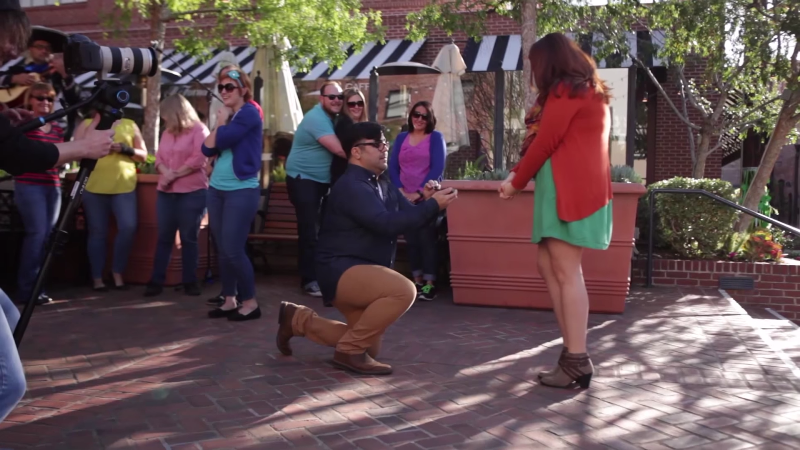 Article Name
This Virtual Reality Proposal Will Make Your Day!
Author
Description
Mike Rios' surprise virtual reality proposal surely made Maggie Jensen's day! Check out all the details of the virtual reality proposal that raises the bar!