Matrimonial ads aren't anything new. Prospective brides and grooms scour the classifieds section in search of the future spouse. There's a certain kind of anonymity to it despite being put out there for public consumption, because a) the identity of the person is withheld, and b) any kind of other personal data isn't revealed either. And generally, the belief is that the prospective bride or groom has given their consent to run these ads in their local/national newspaper.
But what if a father, in his zeal to get his son married, ran an ad behind his son's back? That too, a $900 full-page ad?! Yep, that's what Baron Brooks' father did on Saturday, in the daily Idaho newspaper the Coeur d'Alene Press.
Presenting Baron Brooks, 48, the owner of two health-and-nutrition stores in Salt Lake City, who owns his own home, and is looking for a lady in the age group 34-38, who doesn't wear heels, and is ready to start popping out babies as soon as possible, who didn't support Obama and doesn't support Hilary Clinton, and is ready to become a stay-at-home mom as soon as the babies have been popped!
---
Suggested read: 10 crazy matrimonial ads to tickle your funny bone
---
Baron's 78-year-old father Arthur Brooks got the ad printed, with the picture of his son front and center, which states 'I look just like my picture except I now have grey hair,' along with a list of qualities that his future daughter-in-law has to possess. Apparently, the junior Brooks, Baron, is 'infuriated' over what his father has done behind his back. However, he's not that infuriated with the whole thing because he's allowing his father to interview any potential women who answer the ad. Huh.
Here's the full ad in its glory:
LOOKING FOR A WIFE
My name is Baron Brooks. I am 48 years old, never been married and live in Salt Lake City. I am looking for a wife who is ready, willing and able to have children as soon as possible. I look just like my picture except I now have grey hair.
About You
You will probably be between the ages of 34-38 but that can be flexible. You will be attractive being height and weight proportional. Ideally, you will have no children from previous marriages but that is also flexible.
Here Are The Musts
You must be willing to move to Salt Lake City as that is where my business is located
You must be politically conservative. This is very important to me. If you voted for Obama or plan to vote for Hilary you are not for me.
I am 5'5" and if you are 5'8" & like to wear high heels it may not work.
Religion is open.
I would expect that if we have children you would be a stay at home mom.
About Me
I own two health food stores in Salt Lake City. I was born and raised in Los Angeles and moved here ten years ago for my business. I am Jewish but not very religious in a formal sense although I am spiritual. I own my own home.
I have asked my father to screen people for me. He will be at the Coeur d'Alene Resort. You may call for an interview on my behalf on Friday June 24th at 208-765-4000. When calling the Resort ask for Arthur Brooks. Interviews will take place Saturday June 25th. Please bring a short one page description, background and a current photo.
Well, I have no words to say to this.
Check out the full-page ad in its entirety here: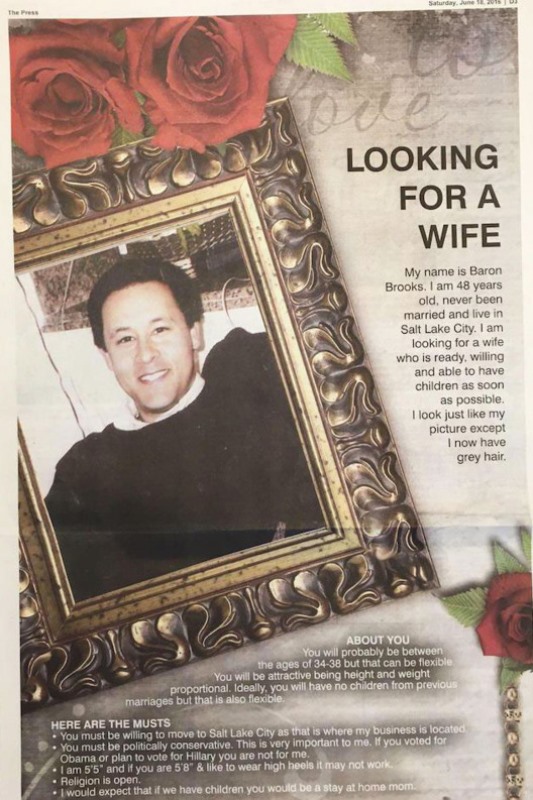 Image source: SpokesmanReview
Featured image source: lds
Summary
Article Name
Dad Takes Out Horrifying $900 Full-page Ad Seeking Wife For His 48-year-old Son
Author
Description
Is this horrifying or is this horrifying?! A father takes our a $900 full-page ad seeking a wife for his son, who's 48! Shudder!