Astringents and toners are two beauty essentials for people with dry skin. These two products help restore and balance the texture of the skin, but they also play other roles that cannot or should not be overlooked.
Both astringent and toners follow the cleanser in the skincare ritual. The ingredients that the two formulas contain defines their differences. The astringent contains high alcohol content while the toners have very low content of alcohol. Toners mostly contain water, which makes them such a skin hydrating agent.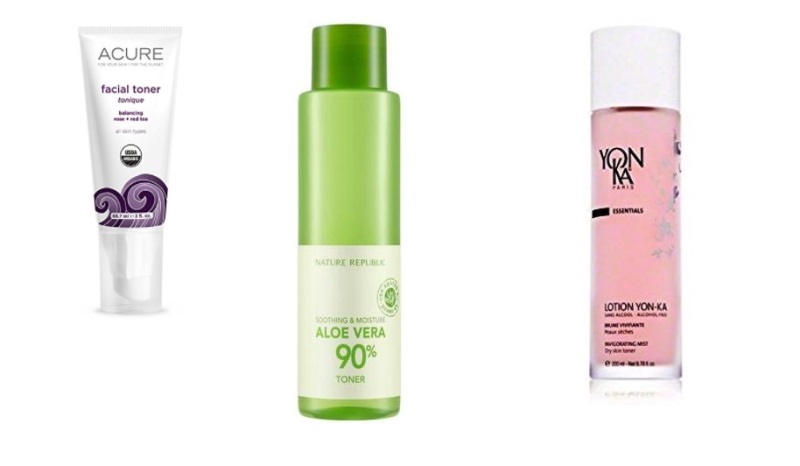 Toners are milder than astringents, and therefore, should be used on a regular basis. They nourish the skin, and make it ready for makeup. Astringents, however, help fight spots, blemishes, and marks, but should not be used regularly since they can make the skin drier. These formulas work better for those with oilier skin who need to tighten their skin pores to prevent the natural oil and moisture from wrecking the makeup.
Now that we have told you the basic difference between toners and astringents, let us find out what ingredients the best face toner for dry skin ought to have.
---
Suggested read: Great Tips For Picking The Best Bronzer For Dry Skin
---
Best face toner for dry skin: Necessary ingredients 
When people buy a face toner for their skin type, they believe it suits their skin type if the label says so. You need to stop doing this. A better way to go about finding the right toner for your dry skin is to look closely at the ingredients used to make that formula. That will give you a superior idea of whether or not this face toner is the formula for you.
Check the labels and try to understand the ingredients involved. Though many companies claim to be "for dry skin", you cannot take them on face value. Also, it is always better to be doubly sure.
When choosing a face toner for dry skin, it is best to go for one which moisturizes the skin and hydrates it thoroughly. You can go for formulas that have hyaluronic acid, dimethicone, glycolipids, glycolipids, and peptides. All these elements will improve your skin texture, and prepare it for the moisturizer.
You should absolutely dodge the formulas that contain alcohol. Mineral oil, petrolatum and ammonium lauryl sulfate. Also stay away from sodium lauryl sulfate as it can wreak havoc on your dry skin. Witch hazel and methanol-based products are also a complete no-no.
Another thing you need to be very careful about is going for a toner that contains no fragrance. Usually dry skin tends to get irritated by face toners or any formulas that contain perfume.
Finding the perfect face toner for your dry skin
Here are the five best face toners you need to invest in to improve our skin care routine for your dry skin.
1. Rose Water Spray by Bleu Beauté
Image source: amazon.com
The first formula on our list is the Rose Water Spray by Bleu Beauté. It works like magic on dry skin, by hydrating it perfectly and prepping it up for the moisturizer. The formula contains ingredients which not only provide the necessary hydration to your skin, but also soothe the skin to prevent irritations.
If you want your skin to look more radiant and younger, then you need to put your bet on this product. It is known to fight the early signs of aging, such as fine lines around the lips and eyes and wrinkles. The formula enhances the production of collagen, which in turn, helps keep the skin tight and supple.
This primer is not only good for your face, but also for your hair. It helps treat dry and damaged hair. It is used by hair stylists all over the world for aromatherapy.
People with oily skin have also reported that they have liked this formula as it helps unclog skin pores, which in turn, prevents pimples. It cleans the skin thoroughly by helping get rid of the blackheads.
If you have redness or inflammation around your eyes, then you can benefit from this toner. Apply it at night and leave it on. Next morning, you will notice that you have woken up with fresh and sparling eyes.
2. Lotion Yon-Ka PS by YonKa
Image source: amazon.com
The Lotion Yon-Ka PS by YonKa is the second face toner on our list of toners for dry skin. It is made of 99 per cent natural ingredients, which make it all the more better for a skin type that tends to get irritated very quickly. It contains essential oils and plenty of hydrating plant glycerin, both of which moisturize and nourish the skin.
The formula contains essential rosemary oil and essential lavender oil which cleanse the skin, purify it, revitalize the skin and balance the pH level. It is known to energize the skin, and therefore, leaves the face looking younger and rejuvenated.
This toner is more of a healing mist that contains phyto-aroma that treats dry skin. Though the formula contains a light scent, the fragrance does not disturb the skin as it fades away quickly. The soothing formula will also help you relax.
The best thing about the formula is that it is free of alcohol. Thus, it will not only tone and refresh your skin but before that, it will sanitize your skin to make it look fresher and more radiant from within.
This formula comes in the form of a lotion, so it is easy to apply.
3. Hydrating Toner by Murad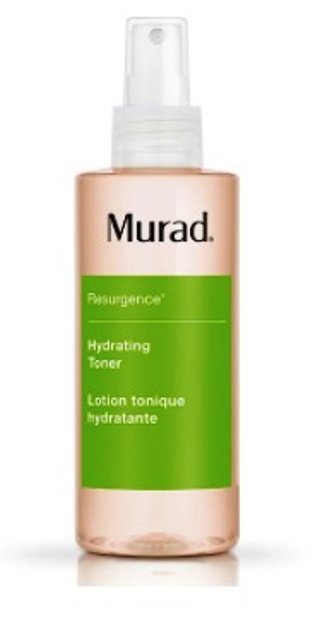 Image source: murad
The next face toner that you can consider for your dry skin is the Hydrating Toner by Murad. The formula contains lecithin which makes it a great emollient. It not only moisturizes the skin, but also locks the moisture, which in turn, improves the suppleness of the skin.
Since the toner does not contain any alcohol, it helps balance the acid-base equation and thus neutralizes the skin surface. It is a lightweight formula that is easy to apply, and rehydrates the skin almost as soon as you apply it.
This toner by Murad contains cucumber extracts and is topped with chamomile extracts, both of which are amazing ingredients for dry skin. They soften the skin and make it less sensitive.
---
Suggested read: Great Tips For Picking The Best Setting Powder For Dry Skin
---
4. Facial Toner Balancing Rose + Red Tea by Acure
Image source: amazon.com
This face toner is undoubtedly one of the best toners for dry skin available in the market. Like the previous formula, this one contains chamomile extracts which nourish your skin and help it fight various bacteria. Chamomile, as you might already know, is a great anti-inflammatory agent. As a result, this face toner packed with chamomile extracts with help you get relief from irritated and sensitive skin.
This face toner is formulated to restore your pH balance. The formula is known to calm the skin and get its acid mantle back on track.
The other amazing element that this facial toner contains is glycerin, which makes it an amazing humectant. It helps draw water into the epidermis and then locks the moisture in keeping the skin supple and soft.
The rose water in the formula is known to be a fantastic moisturizer that hydrates the skin like no other ingredient.
Another awesome ingredient is glycerin. A great moisturizer, glycerin acts as a humectant to draw water into the outer layer of the skin to help it lock-in water even better.
It also contains rose water, which is known to be a good moisturizer and provides excellent hydration.
5. Soothing & Moisture Aloe Vera Toner by Nature Republic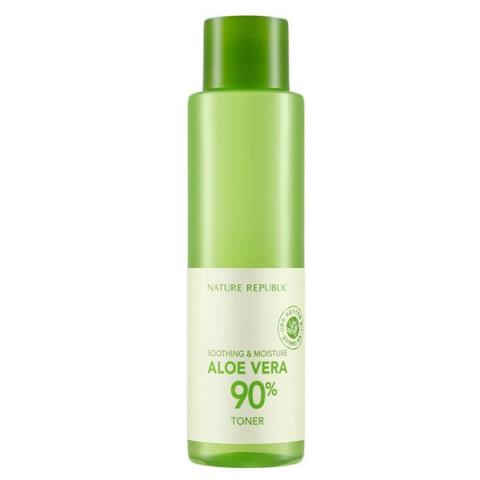 Image source: naturerepublicusa
The formula on our list for today is the Soothing & Moisture Aloe Vera Toner formulated by Nature Republic. It contains 99 per cent aloe vera, which you know is a magic drug for dry skin. It soothes the skin by preventing irritation, and moisturizes it to give it a radiant and natural glow.
This face toner is known to calm the skin and make it ready for the moisturizer and rest of the makeup. If your skin is inflamed for some reason, then you can soothe the redness and the inflammation by generously applying this product.
The formula makes the skin look fresh and non-greasy. So even people with oily skin can benefit from this formula. It will not make your skin sticky or make your makeup bleed.
This facial toner does not contain artificial coloring, benzophenone, mineral oils, talc, and parabens. According to the label, the formula works for sensitive skin too. However, we think otherwise, because the product contains a fragrance which might not be good for sensitive skin. If your skin tends to get aggravated easily, then do not use this formula.
---
Suggested read: Everything You Need To Know About Choosing The Best Blush For Dry Skin
---
That is all we have on today's post on the best face toner for dry skin. Was this helpful?
Will you be recommending it to others too? If you have makeup queries that you would like to share with us, then please do so in the comment section below. Our experts will get back to ASAP.
You can also subscribe to our newsletter to receive these articles in your inbox every day.
See you again tomorrow!
Summary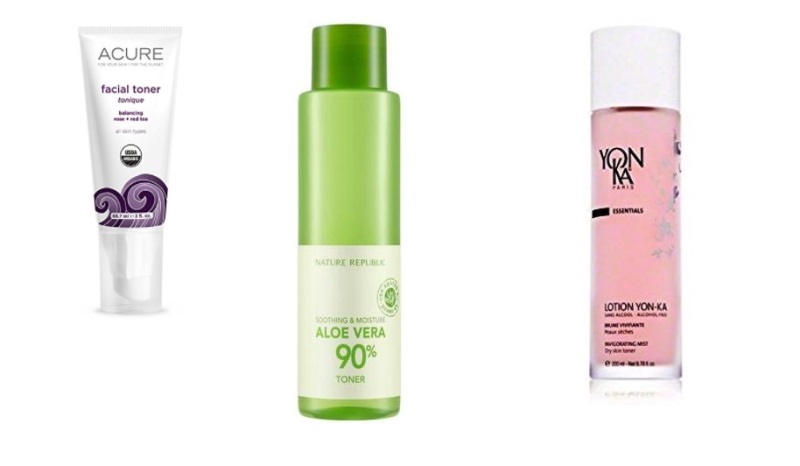 Article Name
Everything You Must Know To Pick The Best Face Toner For Dry Skin
Author
Description
A good way to go about finding the best face toner for dry skin is to look closely at the ingredients used to make that formula. Let us help you with that.