Goddess Kali or Maa Kali, as she's widely called, is the goddess of power, time, change, and destruction. A powerful and fierce goddess, she features prominently in Bengal and Bengali literature.
And this fierce avatar of goddess Durga, took over the Empire State Building in New York City last week, and it was quite stunning. Kali, the Hindu goddess was displayed on the building's façade, which is a breathtaking edifice contributing to the famed New York City skyline.
Image source: Facebook
The fierce portrait of the goddess was designed by Artist Android Jones to make a point that Mother Nature is in dire need of a fierce avatar to fight the almost-irreversible damages wreaked by pollution and extinction. Goddess Kali's portrait was the last of the most captivating and fascinating artwork in the exhibition titled 'Projecting Change' by filmmaker Louie Psihoyos and his team. The project used the Empire State Building as its canvas to spread awareness about wildlife expeditions and ecological consciousness.
---
Suggested read: Kiran Gandhi ran a marathon without a tampon, bleeding freely
---
Before projecting goddess Kali onto the iconic building's façade, Cecil the lion, which was hunted down by a Minneapolis dentist, and hundreds of other endangered and threatened wildlife species were showcased as part of the Projecting Change project.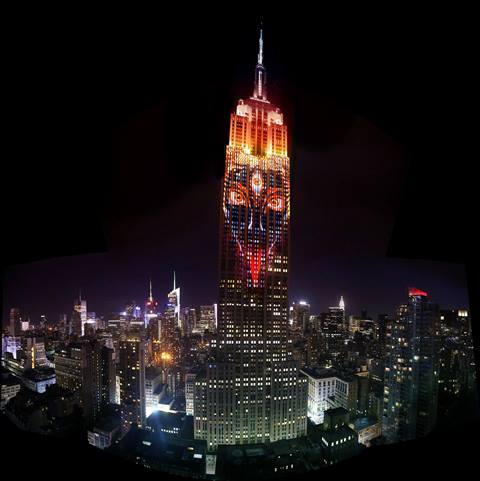 Image source: Facebook
This isn't the first time that the privately owned Empire State Building was used as a canvas to highlight various issues and causes the world over. The iconic edifice is illuminated on various special occasions with different colored lights throughout the year.
Recently, it was lit in green on the occasion of Eid-al-Fitr to mark the end of Ramadan. It shines red and green for Christmas, blue and white for Hanukkah, and pastel shades to celebrate Easter. The building was also lit up in special colors to mark a number of important events, like red, white, and blue for the US women's Soccer World Cup victory, rainbow colors for Gay Pride Week, and blue, white, and purple for World Oceans Day on June 8th.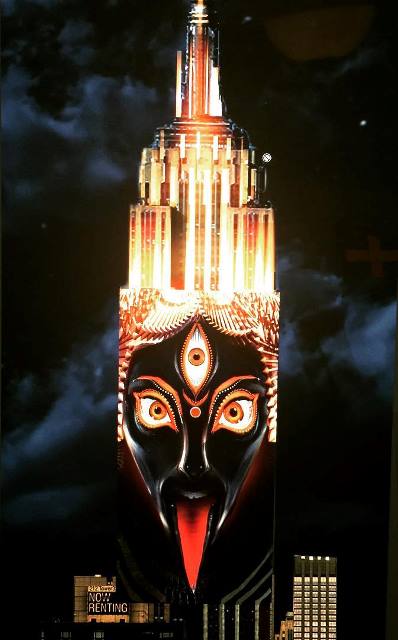 Image source: Facebook
On regular days, the seminal tower is illuminate in white light. Although the building receives hundreds of requests to be lit in particular colors for various causes and to mark several events, it does not accept requests for political campaigns, religious figures and organizations, or personal events.
It truly is a sight to behold with goddess Kali gracing one of the iconic buildings in New York City.
Featured image source: Facebook via Android Jones
Summary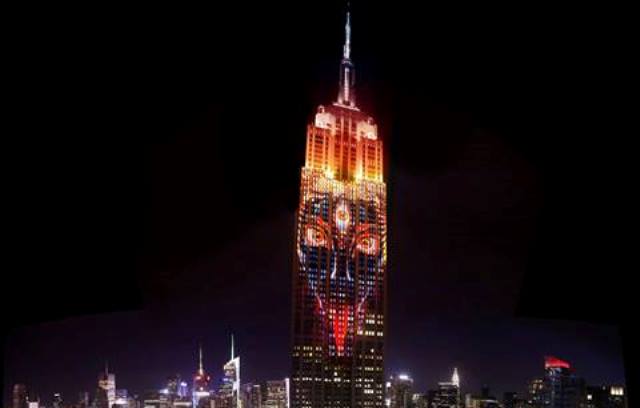 Article Name
Goddess Kali Projected On Empire State Building, And It's Stunning
Author
Description
To raise awareness about ecological consciousness, Goddess Kali was projected on the Empire State Building facade as part of the project 'Projecting Change.'