Menstruation is an important part of a woman's life, which is, unfortunately, considered a taboo to even mention in polite company. People cringe, flinch, groan, and exclaim when it's brought up by anyone in conversation. What is so horrible about it? I fail to comprehend. It's a natural body process for a woman, without which, the human race would cease to exist. While this happens on the one hand, there are so many us who miss out on plenty of life experiences, opportunities, and once-in-a-lifetime chances – all because we're on our period. We cancel plans, change our routine, change the color of our clothes, and a long list of other things, just so we could get through our period without any hassle.
---
Suggested read: Thinx, the period proof panties, to render tampons obsolete
---
Kiran Gandhi, a Harvard MBA graduate and tour drummer for M.I.A., could have chosen the easier path and just not participated in the London marathon – for which she had trained for a year, when she started menstruating the day before the event. But this brave 26-year-old decided to run the marathon, without the uncomfortable presence of a tampon or a pad, but chose to bleed freely.
Image source: Kiran Gandhi
By bleeding freely, Gandhi chose to raise awareness about women who have no access to basic feminine hygiene products, and also to encourage women to not be embarrassed or ashamed of their periods.
On her website, Kiran Gandhi wrote,
"I ran the whole marathon with my period blood running down my legs. I got my flow the night before and it was a total disaster but I didn't want to clean it up. It would have been way too uncomfortable to worry about a tampon for 26.2 miles. I though, if there's one person society won't f*ck with, it's a marathon runner."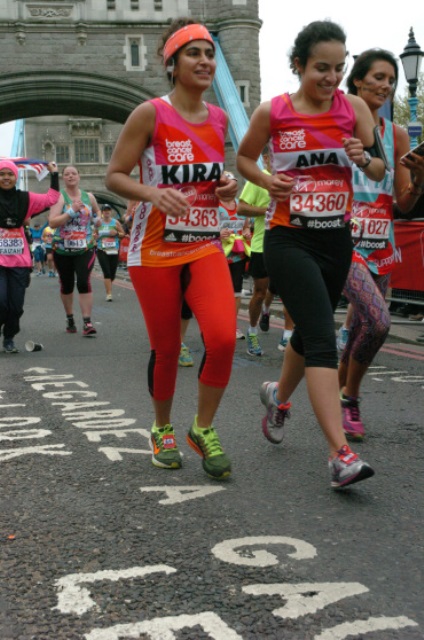 Image source: Kiran Gandhi
Further, she added,
"If there's one way to transcend oppression it's to run a marathon in whatever way you want. I ran with blood dripping down my legs for sisters who don't have access to tampons and sisters who, despite cramping and pain, hide it away and pretend like it doesn't exist. I ran to say, it does exist, and we overcome it every day."
Image source: Kiran Gandhi
---
Suggested read: Layla Ehsan's period illustrations show how menstruation feels like
---
Clad in all pink to create breast cancer awareness, Gandhi completed the race in four hours, 49 minutes and 11 seconds. Talking to Cosmopolitan, Gandhi said she powered through the marathon despite cramps and the anxiety of the race, and yet she felt empowered as she did so.
"I felt kind of like, 'Yeah! F*ck you!," she said, "I felt very empowered by that. I did."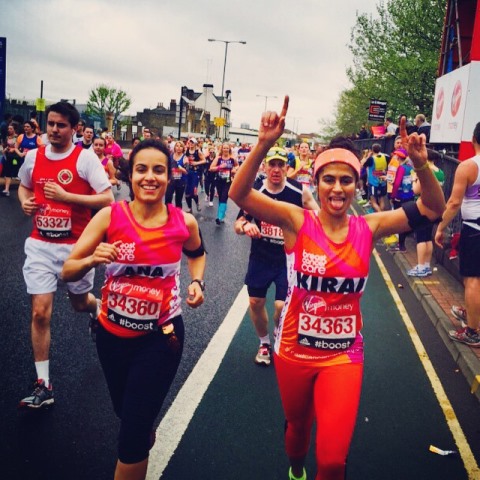 Image source: Kiran Gandhi
Gandhi ran with two other women who were very important to her, the trio not leaving each other's side from start to finish, and crossing the finish line hand-in-hand. Not just that, but Gandhi's father and brother were there at important milestones to cheer her on through the race donning cheer t-shirts.
"If there's one way to transcend oppression, it's to run a marathon in whatever way you want," Kiran wrote on her website. "Where the stigma of a woman's period is irrelevant, and we can rewrite the rules as we choose."
Image source: Kiran Gandhi
Wow. This bad*ss woman who drew support and flak from women across the world, is truly an inspiration for the younger generation. We support this brave young woman who showed the world that being on your period is not an excuse to stop doing things you love and stop living your life.
You're awesome, girl!
Featured image source: Kiran Gandhi
Summary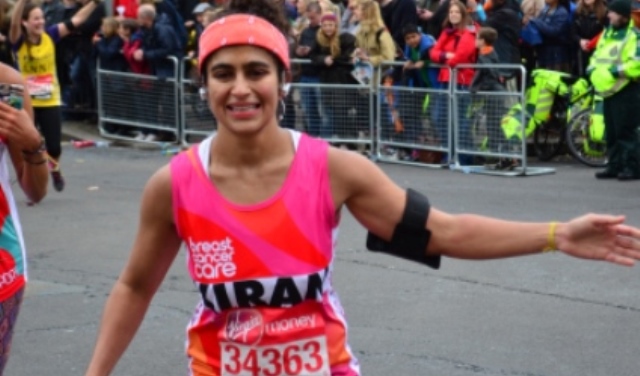 Article Name
Kiran Gandhi, The Marathoner Who Ran Without A Tampon, Bleeds Freely
Author
Description
Kiran Gandhi, 26, ran the London marathon without a tampon or a napkin, while bleeding freely. Read why she did so, and what her thoughts were as she ran.