Frizzy hair is a common problem, but a problem nonetheless. It makes your hair look dull, destroyed and lack-luster. You can forget bounce, or trying different hairstyles of hair colors. No matter what you do, it will look awful. Unless, you decide to take care of it and treat it. And did you know that the best place that you could treat your frizzy hair was your home? Yes, you read that right!
Image source: Pixabay, under Creative Commons License 
With this practical guide on frizzy hair treatment at home, you can work magic on your tresses and make them as voluminous, silky and shiny as Rapunzel's.
---
Suggested read: Super Effective Dry Hair Treatment At Home For Soft Tangle-Free Hair
---
What makes frizzy hair frizzy is the lack of moisture. The hair shafts become rough, dry and lumpy. Other factors which contribute to the frizz are chlorinated water, blow dryer, straightening, certain chemicals in hair products, not following a good hair care ritual etc. When you use the wrong hair products without seeing whether the suit your hair type or not, you might end up with frizzy and untamed hair.
In today's post, we will give you the most practical guide for damaged and frizzy hair treatment at home. We will tell you about the natural ingredients you can use to treat your hair; treatments that are easily available and doable, cheap and yet extremely effective.
Before getting to the treatments, we would like to tell you about a few habits that you need to change to treat your frizzy hair faster.
1. Moisturize during your shower 
Frizzy hair occurs when your hair is dry; and hence, you need to moisturize it better to treat the frizz. Turn your boring showers into an intense hair moisturizing session. All you need is to invest in shampoos and conditioners which are formulated with hydrating ingredients. On the contrary, stay as far away as possible from formulas that contain sulfate since the will only contribute to making your hair further dry and frizzy.
According to hair stylists all over the globe, the best hair products to buy are those that contain silicone, Argon oil, Avocado oil, Coconut oil, and Sebacic acid.
2. Less heat = Less frizz
Dueñas tells Elle,
"Laying off the heat is never a bad idea. The reason your hair gets frizz is from lack of moisture. Your hair spreads itself out and takes up more surface area with frizz, to expand its reach into the atmosphere and gather moisture. The more moisture your hair has, the less frizz you will have. So, if you use less heat, your hair will retain more of its natural moisture, thus, less frizz!"
3. If you can't quit the heat, go Ionic.
Acording to the hair stylist, Dueñas to Elle magazine,
"Ionic heat tools help your hair lay smoother and or dry faster. An Ionic blow dryer that I like to use is the Conair 3Q, It helps break up the water molecules into smaller clusters, therefore, drying your hair faster with less heat. Your hair is positively charged, so using the negative charges of an ionic tool, say for straightening, help reverse your hair, and help it lay down smoother."
4. Maintain a balance when it comes to washing your hair
Washing your hair with water is good, but shampooing it more than twice a week can wreak havoc on the quality of your tresses. When you use chemicals on your hair, these strip it of its natural oils and moisture, making them look dull and frizzy.
Again, washing only once in two weeks or twice in two weeks can make your hair look flat by causing build-up of dirt and grease. So you need to know the right balance. Moderation is the word.
5. Use silk pillowcases
To fight the frizz, you need to make sure you sleep on silk pillowcases. For better protection, tie your hair into a braid and cover it with a shower cap while sleeping. Cotton pillowcases are a bad idea because the material, much like Velcro, latches on to your tresses causing them to break, become brittle and frizzy.
6. Go no farther than the kitchen to find the treatment
The  benefits of castor oil, coconut oil, bananas and avocados on hair is well-known, right? Then why not make use of these ingredients that are sitting unutilized in your kitchen cabinet right now!?
In the next section, we will tell you all about how to add shine and fight the frizz in your hair will natural remedies.
Best guide for damaged and frizzy hair treatment at home
1. Carbonated Water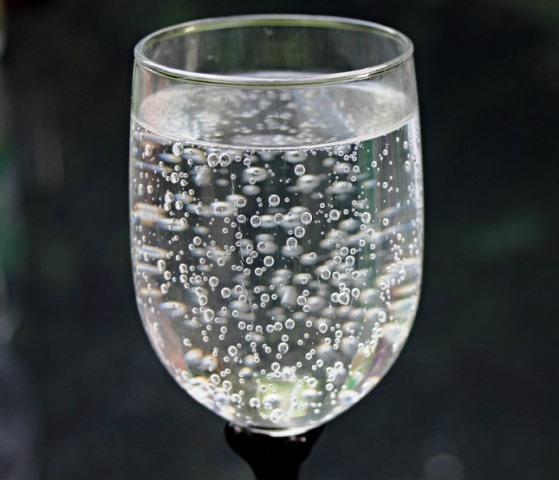 Image source: Google, copyright-free image under Creative Commons License 
First on our list, we have carbonated water which treats frizzy hair in no time. You can try club soda, soda water or sparkling water for the treatment.
Since carbonated water is prepared using pressure that dissolves the CO2 gas in water, it helps reduce the pH levels of the hair, which in turn, reduces the frizz in the hair.
Use the water for your final rinse after shampoo.
2. Apple Cider Vinegar
Next up we have apple cider vinegar which prevents frizzy hair and treats it effectively. The vinegar smooths the hair, and makes it look shinier than before.
For the treatment, dilute the apple cider vinegar with water in the ratio of 1:1 and then use it for the final rinse after you have shampooed your hair. This treatment automatically reduces the frizz in two weeks' time.
3. Beer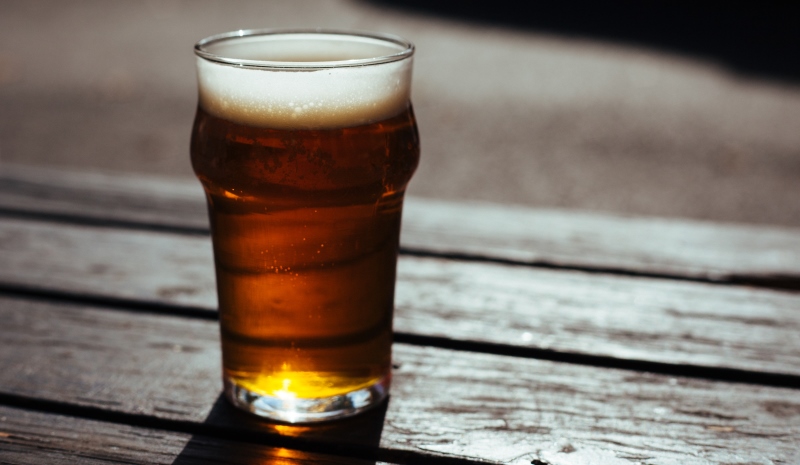 Image source: Google, copyright-free image under Creative Commons License 
Non-alcoholic dark beer is known to restore the moisture of the hair, which in turn, treats the frizz. It also contains amino acids, antioxidants, minerals and vitamins which make the hair healthier than ever before.
For the frizz hair treatment, you need to simply coat your hair with beer and leave it on for five minutes. Now rinse out the beer with cold water. This treatment should be repeated once every two weeks and not more than that.
---
Suggested read: The Easiest Guide To Getting A Hair Spa Treatment At Home
---
4. Avocado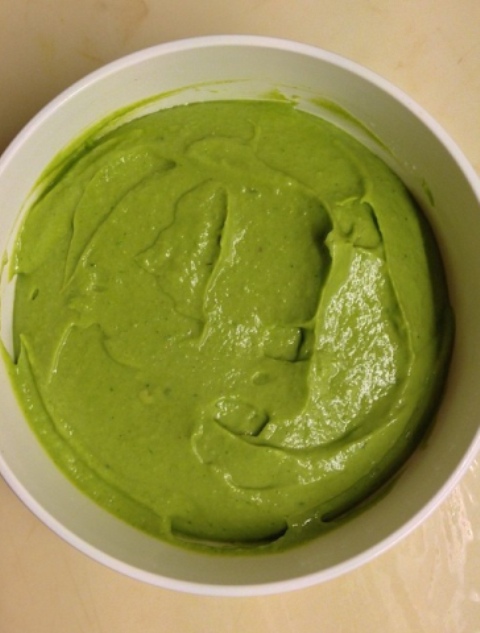 Image source: Google, copyright-free image under Creative Commons License 
Avocado hair mask can treat the frizz in your hair in a week's time. The fruit contains vitamin E which we know provides the tresses with an intense condition. This hydrating property of avocado soothes the frizz and makes the hair shinier and more voluminous.
To prepare the hair mask, you need to mash a ripe avocado and mix it with some olive oil. After your shampoo, apply this mask on your hair. Leave it on for half an hour, and then wash out with cold water. If you want to get rid of the avocado smell, then you can condition your hair using your regular conditioner.
5. Bananas
When it comes to intense conditioning of the hair, nothing beats bananas. The fruit is rich in nutrients like potassium, natural oils, vitamins and carbohydrates. These elements are known to soften the tresses and make them more lustrous than before. It also prevents the splitting of hair ends.
To prepare the hair mask, mash a ripe banana. Make sure the paste is not clumpy. Now add a quarter of a cup of yogurt to this paste. Also add four teaspoons of natural honey and olive oil. Apply this paste on your hair and leave it on for about 40 minutes. Now rinse your hair with your regular shampoo and condition it with your regular conditioning formula.
6. Coconut Milk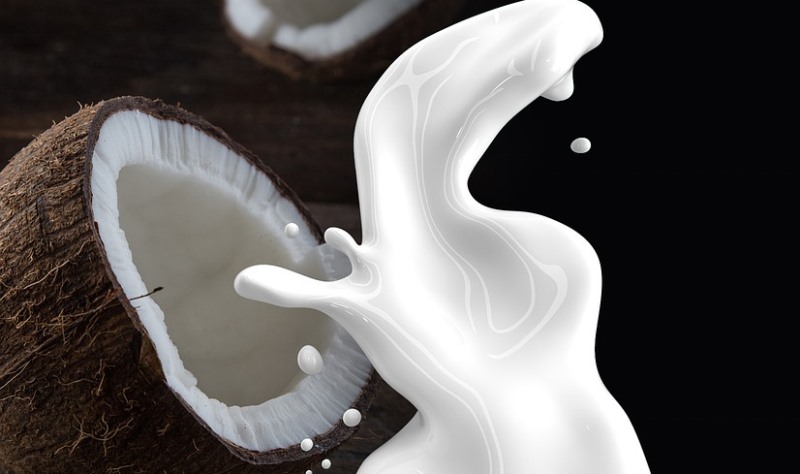 Image source: Pixabay under Creative Commons License 
Next up on this list we have coconut oil, a light protein that lends the tresses some deep moisturizing treatment. You can either extract the milk yourself or buy the ones available in food stores.
Take five teaspoons of coconut milk and heat it. Just warm it and then apply it on your hair. Leave it on through the night, and then shampoo with your regular formula.
7. Mayonnaise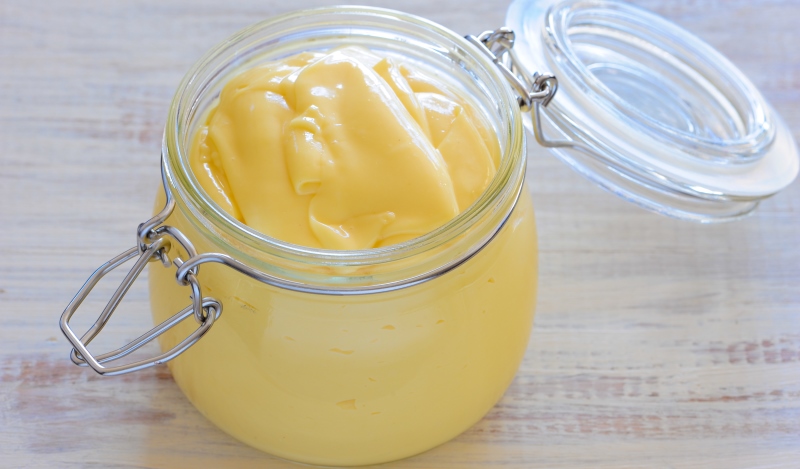 Image source: Google, copyright-free image under Creative Commons License 
Mayonnaise contains eggs and oil, which make it an unbelievably amazing natural treatment for frizzy hair. Also, mayonnaise makes your hair stronger while lending it an additional layer of moisture.
Pour half jar of a mayonnaise in a bowl and add to it two teaspoons of olive oil. Also add to this a egg yolk and two teaspoons of freshly extracted lemon juice. Now apply this mix on damp hair and leave it on for half an hour. Wash your hair thoroughly with cold water, and let it air dry.
8. Lemon and Honey
Last on our list is lemon and honey, two of the best ingredients on this list when it comes to fighting the frizz in the hair. While the lemon contains essential vitamins and minerals which improve the health of the hair, the honey will condition your hair from the roots to the tips.
For the treatment, mix two tablespoon of lemon juice with four teaspoons of honey. Now dilute the mix with water. Apply the paste on your hair and leave it on for 15-odd minutes. Then wash it off with your regular mild shampoo.
These easy yet effective natural remedies for damaged and frizzy hair can help you fight the frizz and enhance the health of your hair in no time.
---
Suggested read: Everything You Need To Know About The Best Essential Oils For Hair Growth
---
That is all we have on today's post on the ultimate guide for frizzy and damaged hair treatment at home where we discussed tips and tricks to treat and avoid frizzy hair, and the 8 best natural treatments for frizzy hair. Was this helpful?
Will you be recommending it to others too? If you have makeup queries regarding hair care that you would like to share with us, then please do so in the comment section below. Our experts will get back to ASAP.
You can also subscribe to our newsletter to receive these articles in your inbox every day.
See you again tomorrow!
Featured image source: Pixabay, under Creative Commons License 
Summary
Article Name
The Most Practical Guide For Damaged And Frizzy Hair Treatment At Home
Author
Description
In today's post, we will give you the ultimate guide on frizzy hair treatment at home where we discuss the tips and tricks to treat and avoid frizzy hair.