2018 is here, and it is high time you update your nail game. In today's post, we will tell you all about making the best of nail trends of this year.
The spring season nail color trends pretty predictable, but our list here turns the predictable on its head and gives you something that does follow the trend but up the game by several notches. Hope you are ready deal with the heat?!
For summer, moodier reds will be the color of the season, while for autumn the greys will have it all. But we want you to not follow rules. Instead, know about the rules and give it your own unique twist; now that's what separates style from fashion.
Shimmer nail polishes will have a gala time, this year, say experts. Apart from the glitters, the mirror nail polish will also see a good time. The nude nail look never goes out of style, and so, this year too, it will hold on to its position tightly; hope you have fastened your seatbelts too!
---
Suggested read: The Only Nail Art Brushes You Need To Look Like A Goddamn Pro
---
Other trends that will be in vogue in 2018 are Rose Gold manicure, window pane manicure, reversed French manicure, and golden polish among many others.
By the way, did you know at Jason Wu, manicurist Deborah Lippmann created metallic nails that matched Jason Wu's new fragrance bottle? No? Have a look:
But before I tell you about the trends, let me share with you some tips to strengthen your nails because unless your nails are healthy, no trends will ever make them look good.
Always wear gloves while handlings soaps or detergents or harsh chemicals. If you hand-wash clothes, then be sure to wear a pair of plastic gloves first to avoid exposure to the water as well as the chemicals which tend to make the nails brittle and the hands rough and dry.
Try to avoid alcohol-based hand sanitizers at all costs. These sanitizers tend to be very drying. You should instead go for a moisturizing soap that will not only help cleanse your hands, but also soften it at the same time.
Keep the nails short. This will provide lesser surface area to the water and chemicals, and thus, less of them will be absorbed by the nails. Use biotin to improve nail health and growth. Nails usually replace themselves in six months' time, and so it is advised by experts that you take biotin supplements at least for four months to see if it works. It is also advised that you visit a doctor and get the right dosage for you, instead of self-medicating.
Use cuticle oil or cuticle cream to avoid dry skin as well as hangnails. Honey is definitely one of the best ways to get rid of hangnails. Honey will moisturize your nail beds, and ensure it remains supple. This is because honey is a natural moisturizing agent. It is a natural humectant that locks the moisture. Honey is also antibacterial as well as anti-inflammatory. As a result, it fights different kinds of infections and lowers inflammations, both of which are common symptoms associated with hangnails. So which kind of honey is best for hangnails? Manuka honey, definitely. This is because added to all the qualities of honey in general, Manuka honey is a potent antimicrobial agent. For the remedy, apply some Manuka honey on the affected nail. You will have to leave it on for several hours. This will soften the nail cuticles. You should repeat this remedy several times, through the day, until the problem is completely cured.
Nail trends 2018
Now, let us have a look at the nail trends that will make heads turn, this year.
1. Rose gold nails
To give a funky twist to the on point chrome trend, let the following give you some major fashion inspo.
2. Mirror nails
This trend is chic and in vogue, so you just cannot afford to miss it. These look cool as hell; they make your nails look good with anything you wear; and, though they might look like they are difficult to achieve and maintain, they are not!
3. The silver shimmer
Shimmer is the name of the game, and this season, you cannot not do shimmer, babe.
Summary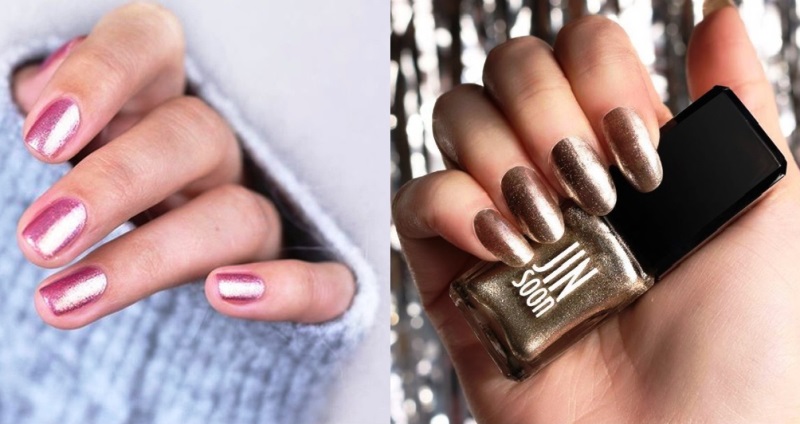 Article Name
Here's How You Can Make The Best of Nail Trends 2018
Author
Description
2018 is here, and it is high time you update your nail game. In today's post, we will tell you all about making the best of nail trends 2018.
Read the rest of the article:
Next