In today's post, we will be telling you all about the best nail art designs. We have divided the article in three sections: one, the trendiest nail designs; two, the different designs you can try with the same basic colors; and three, the color combinations that are timeless.
---
Suggested read: The Coolest Metallic Nail Polish List That You've Not Seen Before
---
We will give you some amazing inspirations that you can steal like an artist and try them for yourselves. Be prepared to look awesome!
Just one tip before we get started:
Nail designs are difficult to remove, but make a conscious effort to avoid alcohol-based hand sanitizers at all costs. These sanitizers tend to be very drying. You should instead go for a moisturizing soap that will not only help cleanse your hands, but also soften it at the same time. If the color stays even before you have removed it, then try using lemon juice on your nails, and rub with the skin of the lemon.
To intensely moisturize your nails and cuticles after removing the nail polish, use carrier oils like coconut oil or olive oil. These will easily penetrate through the nails and the cuticles, and deeply moisturize the same.
Trendy nail art design
1. Purple and white

While the lilac is all sophisticated and chic on its own, as soon as you add some white lines, it comes to life. For those of you who love being classy, but also aren't uptight, this is the nail design to go for.
2. Classic red tips with fuchsia foil

It is the season of love, and so you cannot not try some red on your nails, right? This will go awesomely well with the white dress you are planning to wear at the end of spring.
3. Glitter nails
To give a funky twist to the on point chrome trend, let this glitter nail look give you some major fashion inspo.
4. Metallic and matte green
We love this combination of styles: matte and metallic being used in tandem complimented by the gorgeous color green. You can try an entire cluster of ideas with this combination; you can go for chrome nails, or may be mirrors; we also like shiny nails, btw.
5. Minimal magic 
Minimal nail manicures will always be a thing. This year too, minimal nail art designs will rule the nail world. We are sure you don't want to miss out on the trend.
6. Silver and metal are two peas in a pod
If you want to use the highly pigmented powder to achieve your metallic nail designs, you should be aware of how to do it properly. Watch tutorials online until you're sure of what you're doing, and if you're opting for a nail polish, rather than the powder, ensure you invest in a good one. Cheaper ones have a tendency to run streaky, and this will destroy your super-shiny finish.
7. Chromes

If you don't like the cute pink and want to transform it into something sensual and stimulating, then go for shimmery chromes instead.
Summary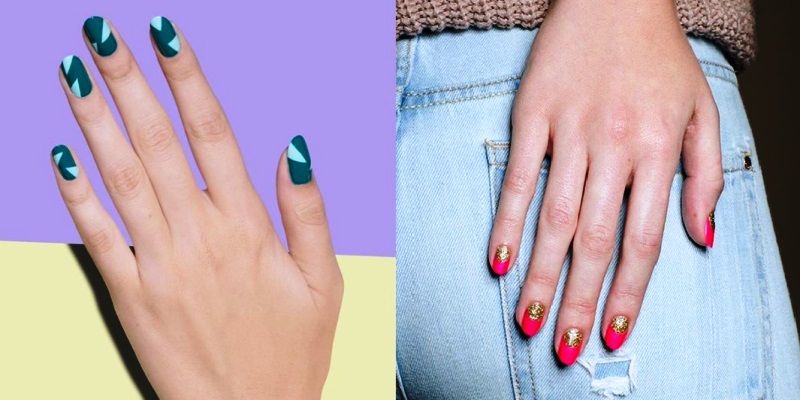 Article Name
Doing Nail Art Designs The Right Way
Author
Description
In today's post, we will tell you all about the best nail art designs and the color combinations that are timeless.
Read the rest of the article:
Next