The one trend that has stood the test of time and just seems to get hotter by the day (no, I am not talking about Jane Fonda!), is the metallic nail polish. If you have been in the nail game for quite some time now, then you will know exactly what I am talking about.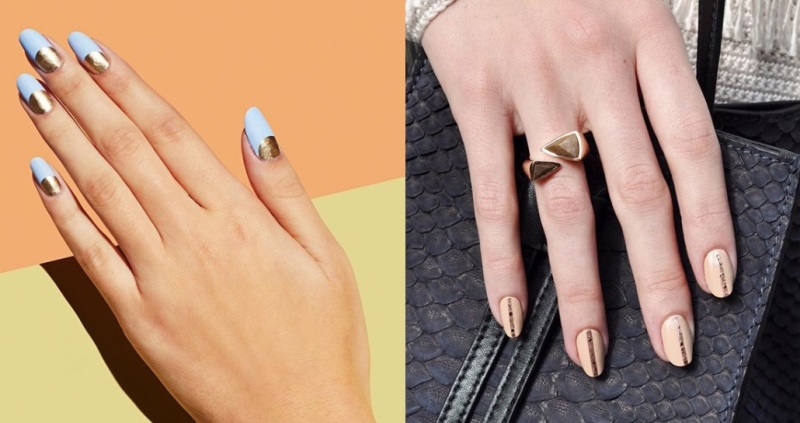 Image source: Instagram 
In today's post, we will be telling you about the best metallic nail polish, and what goes best with it. We will give you some amazing inspirations that you can steal like an artist and try them for yourselves. Be prepared to look awesome!
---
Suggested read: How To Wear Mirror Nail Polish Like A Boss
---
The Best Metallic Nail Polish To Up Your Nail Game
1. Metallic and glitter
Metallic and glitter work like two peas in a pod. Apply a layer of some gorgeous metallic, and then adorn the same with gold. The other options include holographic styles and the ombre look. If you are just starting out and are a beginner, then we suggest keeping it simple and applying the glitter on only one finger on each hand while keeping the rest metallic.
2. Neutral & rose gold metallic nails
We assure you that rose gold is in for the long haul. You can hoard as many supplies as possible in case you don't want to miss out on this sophisticated color that can be given an edgy makeover by just adding some on point nail art designs. We saw kylie jenner and selena gomez rock the look last year; we suggest, you be the face of it, in 2018.
3. Matte green & metallic
We love this combination of styles: matte and metallic being used in tandem complimented by the gorgeous color green. You can try an entire cluster of ideas with this combination; you can go for chrome nails, or may be mirrors; we also like shiny nails, btw.
4. Metallic accent nail
The metallic nail polish is most loved for its versatility. You can give it so many spins, and each will be as trendy; that is guaranteed. While some of the ways are a little complicated, and might require the assistance/guidance of a manicurist, there are some that can be easily achieved at home. One of the latter is the metallic accent nail.
5. Gold metallic nails
Chrome nail art will take 2018 by a storm, and when worked on a metallic base, they just become hotter (as if that was even possible!).
6. Silver metallic nail design
If you want to use the highly pigmented powder to achieve your metallic nail designs, you should be aware of how to do it properly. Watch tutorials online until you're sure of what you're doing, and if you're opting for a nail polish, rather than the powder, ensure you invest in a good one. Cheaper ones have a tendency to run streaky, and this will destroy your super-shiny finish.
7. Black and gold nail art design
The best metallic nail design that turns heads no matter where you are, is the black and gold combination. We would recommend that for the gold to stand out, apply the black nail polish in matte.
8. Ombre metallic nails
There are days when you don't want all your nails to be colored metallic (why though?!). On days like that, go for the metallic ombre tip instead. It is gorgeous to look at, and you can go bonkers trying out different patterns and designs.
9. Metallic stiletto nails with rhinestones
This is the design where you can try a truckload of colors and styles and shades, and still you will never be satiated. The stiletto metallic nails embellished with rhinestones is always a hit. Trust us.
10. Marble & metallic design
Another trend that has caught fire in the last two months, especially, is the marble nails. Now to give it your all, we suggest you combine this trend with the metallic design.
Summary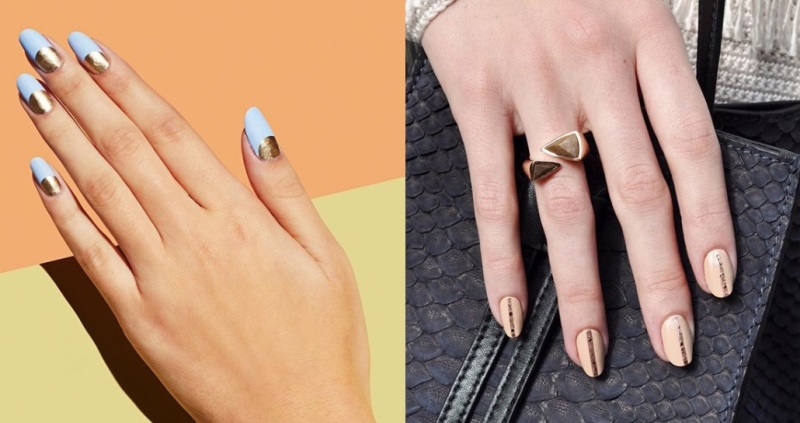 Article Name
The Best Metallic Nail Polish To Up Your Nail Game
Author
Description
In today's post, we will be telling you about the best metallic nail polish, and what goes best with it. Be prepared to look awesome!
Read the rest of the article:
Next