If even after using the right skin care products and having a nutritive diet, your skin is still not showing its natural glow, then you need to focus on a few essential things. One of the major reasons for not having a flawless skin is the incorrect order of applying various skin care products. Yes – you have read it right. If you really want to give your skin the care it deserves, then you need to learn how to layer skin care the right way.
Image source: Google, copyright-free image under Creative Commons License 
Just like any curious individual, you must be wondering how the sequence of layering skin care products matter. See, the natural function of our skin is to release the toxins from our body. If we don't apply these products correctly, then they can block the pores on our skin. Therefore, it is important to clean our skin and then apply the right products so that it can absorb the needed ingredients.
Don't worry – learning to layer skin care the right way is not rocket science. All you need to know is the correct sequence and some basic do's and don'ts. Though, you need to understand that the day and night time routines would be slightly different. Let's proceed and get to know about them in detail.
---
Suggested read: Bad Beauty Habits You Should Steer Clear Off
---
Daytime Skin Care Routine
Before you begin, you should know the basic rule of thumb regarding skin care products. Always follow a thin-to-thick protocol. That is, start with the products having the thinnest consistency and gradually move to the thickest products. In this way, the finest products would be able to penetrate our skin pores and nourish it while the thick serums can protect it from any damage.
Great! Once we have got it covered, let's get to know how to layer skin care the right way. Our major objective is to protect our skin from the sun, pollution, and other harmful elements present in the environment. You should follow this approach in the same sequence.
Cleanser
Our first objective is to clean our skin and remove all the unwanted dirt particles from it. To do this, you can just rinse your face with a splash of water. You can also take the assistance of a mild face wash or cleansing oil as well. Since the regular use of chemical products can harm your skin, go with a natural or home-based product.
Toner
A toner would go skin-deep to remove the dirt that a basic cleanser can't. There are numerous kinds of toners out there. You can pick them according to your skin type. Mostly, toners based on Vitamin B are recommended as they cleanse the skin and nourishes it as well.
Toners are also used to maintain an ideal pH level of the skin. Just make sure that the variety of toner you are using is not too harsh else its regular use can damage your skin.
Antioxidant Serum
If you don't want the early signs of aging to appear on your face, then you should certainly consider applying an antioxidant serum as well. Most of these creams are high in density and various nutrients that are beneficial for the skin. This heals the damage on our skin by nourishing it on a deeper level.
Furthermore, these antioxidant serums also work as anti-inflammatory agents. They have active ingredients that protect our face from pollution and other harmful chemicals.
Eye cream
No one likes to have wrinkles and dark circles around their eyes. While it is important to take care of your entire face, you should give some extra attention to your eyelids. A clinically-tested eye cream will make sure that your skin won't suffer from collagen loss. It will also keep your eyelids moist and supple so that the formation of wrinkles can be prolonged.
If you go out in the sun a lot, then you should get an eye cream with SPF properties. A lot of people make the rookie mistake of applying too much eye cream at once. Make sure that you only take the needed quantity according to your needs.
Spot removal cream (optional)
This is an optional step in the skin care layering process. If you have unwanted blemishes and spots on your face, then you can apply a thin layer of a suitable spot removal cream as well. In order to get constructive results, consider visiting an experienced dermatologist first. In this way, you can get to know about the most suitable spot removal serum or lotion for your skin type.
Most of these creams have skin cleansing properties and agents like benzoyl peroxide. They can deep-clean your skin and make sure it won't suffer from any bacterial infection.
Moisturizer
A moisturizer is probably the most important part of the skin care layering. If you have a dry skin, then you should certainly take some added measures to keep it moisturized. While our skin also produces oil through its pores to keep it lubricated, it isn't enough to protect it from the harshness of the environment. Particularly in winters, our skin can get dry and damaged.
When you are applying a moisturizer, make sure it is spread evenly. A lot of times, we miss our neck and forehead while applying a lotion. You should use the kind of moisturizer that is suitable for your skin type. Additionally, it is recommended to use different moisturizers in winters and summers as our skin reacts in its own way to each season.
Sunscreen
Finish your skin care layering with a sufficient amount of sunscreen. When you are picking a sunscreen, make sure it is of at least 30 SPF level. A 30 SPF cream can block upto 97% of the UVB rays. Besides UVB, it should also protect your skin from the UVA rays as well. If you are not allergic to zinc, then you can also look for a sunscreen with zinc as it can add an extra layer of protection from the UV rays.
The amount of sunscreen that you apply can depend on the weather as well. Nevertheless, you should not skip it, even if it is not too sunny outside. A passive exposure to the sun can also cause tanning and sun damage to sensitive skin. By following this simple drill, you can learn to layer skin care the right way in the daytime. 
---
Suggested read: Here's The Best Foundation For Combination Skin
---
Nighttime Skin Care Routine
As you can see, the skin care routine that we follow in the daytime is all about being protected from the sun and the environment. On the other hand, the nighttime routine would be more focused on nourishing your skin. While it could be quite similar to the daytime routine, the following adjustments are recommended by leading experts.
Double Cleanser
It is important to clean your face in the night to remove all the pollutants, dirt, dead cells, makeup, etc. that could have been accumulated on it all day long. You can use a cleansing oil to remove any makeup. Once it is done, use a face wash and rinse your face. This will remove the extra oil and dirt from it. If you want, you can even use a face scrub to clean your pores as well. Though, don't over-scrub your face. Scrubbing your face once or twice a week is enough.
Toner and booster
Once your skin is clean, you can apply a toner in order to nourish it. There are also special kinds of skin boosters that you can also try. These products are rich in vitamin and minerals that can nourish your skin from within.
Eye cream
Just like the daytime skin care routine, you need to apply some eye cream around your dark circles and eyelids. Circle the cream gently around your eyelids to get a holistic care. Make sure that it won't enter your eyes or any other delicate area.
Masks or Treatment Creams (optional)
Next, you can apply any other kind of treatment cream for problems like acne, blemishes, infection, etc. A lot of people apply anti-aging creams as well to rejuvenate their skin. An anti-aging cream with special growth factors and peptides is mostly recommended. Besides that, you can also apply facial masks and peels occasionally. Try to pick mild yet effective products for long-term benefits.
Night cream
Consider night creams as the advanced forms of moisturizers. They have a thicker coating to make sure that your skin won't suffer from too much water loss in the night. They have more water and nutrient content as well to provide deep moisturizing to our skin. In this way, we can keep our skin protected all night long.
---
Suggested read: Here Are The Best Juices For Glowing Skin
---
There you go! By following these simple steps, you can easily learn how to layer skin care the right way during the day as well as the nighttime. While applying different layers, wait for at least 5 to 15 minutes in between. In this way, you would give your skin enough time to absorb these products. It will also prevent the mixing of various creams and lotions as well. Go ahead and give this perfect skin care routine a try and share it with your friends and family too.
Featured image source: Pixabay, under Creative Commons License 
Summary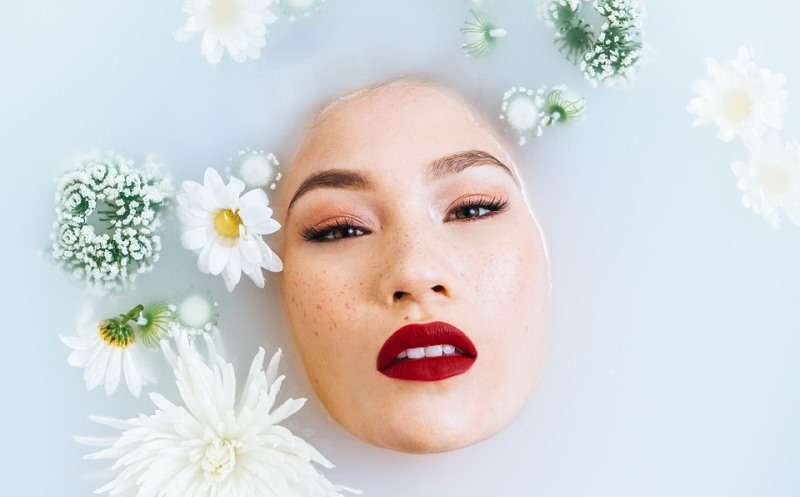 Article Name
How To Layer Skin Care The Right Way
Author
Description
If you really want to give your skin the care it deserves, then you need to learn how to layer skin care the right way.