According to Poetry Foundation,
"Ivor Bertie Gurney was an English poet and composer, particularly of songs. He was born and raised in Gloucester. He suffered from manic depression through much of his life."
---
Suggested read: Langston Hughes And His Top 10 Poems
---
Best Poems By Ivor Gurney 
Here are some of the best poems by Ivor Gurney.
After-glow
 (To F. W. Harvey)
Out of the smoke and dust of the little room
With tea-talk loud and laughter of happy boys,
I passed into the dusk. Suddenly the noise
Ceased with a shock, left me alone in the gloom,
To wonder at the miracle hanging high
Tangled in twigs, the silver crescent clear.
Time passed from mind. Time died; and then we were
Once more at home together, you and I.
The elms with arms of love wrapped us in shade
Who watched the ecstatic west with one desire,
One soul uprapt; and still another fire
Consumed us, and our joy yet greater made:
That Bach should sing for us, mix us in one
The joy of firelight and the sunken sun.
Bach and the Sentry
Watching the dark my spirit rose in flood
   On that most dearest Prelude of my delight.
The low-lying mist lifted its hood,
   The October stars showed nobly in clear night.
When I return, and to real music-making,
   And play that Prelude, how will it happen then?
Shall I feel as I felt, a sentry hardly waking,
   With a dull sense of No Man's Land again?
Ballad of the Three Specter
As I went up by Ovillers
   In mud and water cold to the knee,
There went three jeering, fleering spectres,
   That walked abreast and talked of me.
The first said, 'Here's a right brave soldier
   That walks the dark unfearingly;
Soon he'll come back on a fine stretcher,
   And laughing for a nice Blighty.'
The second, 'Read his face, old comrade,
   No kind of lucky chance I see;
One day he'll freeze in mud to the marrow,
   Then look his last on Picardie.'
Though bitter the word of these first twain
   Curses the third spat venomously;
'He'll stay untouched till the war's last dawning
   Then live one hour of agony.'
Liars the first two were. Behold me
   At sloping arms by one – two – three;
Waiting the time I shall discover
   Whether the third spake verity
First Time In
After the dread tales and red yarns of the Line
Anything might have come to us; but the divine
Afterglow brought us up to a Welsh colony
Hiding in sandbag ditches, whispering consolatory
Soft foreign things. Then we were taken in
To low huts candle-lit, shaded close by slitten
Oilsheets, and there but boys gave us kind welcome,
So that we looked out as from the edge of home,
Sang us Welsh things, and changed all former notions
To human hopeful things. And the next day's guns
Nor any Line-pangs ever quite could blot out
That strangely beautiful entry to war's rout;
Candles they gave us, precious and shared over-rations—
Ulysses found little more in his wanderings without doubt.
'David of the White Rock', the 'Slumber Song' so soft, and that
Beautiful tune to which roguish words by Welsh pit boys
Are sung—but never more beautiful than here under the guns' noise.
---
Suggested read: #NaPoWriMo These Poems Will Break Your Heart In The Most Beautiful Of Ways
---
Photographs
 (To Two Scots Lads)
Lying in dug-outs, joking idly, wearily;
   Watching the candle guttering in the draught;
Hearing the great shells go high over us, eerily
   Singing; how often have I turned over, and laughed
With pity and pride, photographs of all colors,
   All sizes, subjects: khaki brothers in France;
Or mother's faces worn with countless dolors;
   Or girls whose eyes were challenging and must dance,
Though in a picture only, a common cheap
   Ill-taken card; and children—frozen, some
(Babies) waiting on Dicky-bird to peep
   Out of the handkerchief that is his home
(But he's so shy!). And some with bright looks, calling
   Delight across the miles of land and sea,
That not the dread of barrage suddenly falling
   Could quite blot out—not mud nor lethargy.
Smiles and triumphant careless laughter. O
   The pain of them, wide Earth's most sacred things!
Lying in dug-outs, hearing the great shells slow
   Sailing mile-high, the heart mounts higher and sings.
But once—O why did he keep that bitter token
   Of a dead Love?—that boy, who, suddenly moved,
Showed me, his eyes wet, his low talk broken,
   A girl who better had not been beloved.
To His Love
He's gone, and all our plans
   Are useless indeed.
We'll walk no more on Cotswold
   Where the sheep feed
   Quietly and take no heed.
His body that was so quick
   Is not as you
Knew it, on Severn river
   Under the blue
   Driving our small boat through.
You would not know him now …
   But still he died
Nobly, so cover him over
   With violets of pride
   Purple from Severn side.
Cover him, cover him soon!
   And with thick-set
Masses of memoried flowers—
   Hide that red wet
   Thing I must somehow forget.
Laventie
One would remember still
Meadows and low hill
Laventie was, as to the line and elm row
Growing through green strength wounded, as home elms grow.
Shimmer of summer there and blue autumn mists
Seen from trench-ditch winding in mazy twists.
The Australian gunners in close flowery hiding
Cunning found out at last, and smashed in the unspeakable lists.
And the guns in the smashed wood thumping and grinding.
The letters written there, and received there,
Books, cakes, cigarettes in a parish of famine,
And leaks in rainy times with general all-damning.
The crater, and carrying of gas cylinders on two sticks
(Pain past comparison and far past right agony gone)
Strained hopelessly of heart and frame at first fix.
Café-au-lait in dug-outs on Tommies' cookers,
Cursed minniewerfs, thirst in eighteen-hour summer.
The Australian miners clayed, and the being afraid
Before strafes, sultry August dusk time than Death dumber —
And the cooler hush after the strafe, and the long night wait —
The relief of first dawn, the crawling out to look at it,
Wonder divine of Dawn, man hesitating before Heaven's gate.
(Though not on Coopers where music fire took at it,
Though not as at Framilode beauty where body did shake at it)
Yet the dawn with aeroplanes crawling high at Heaven's gate
Lovely aerial beetles of wonderful scintillate
Strangest interest, and puffs of soft purest white —
Soaking light, dispersing colouring for fancy's delight.
Of Maconachie, Paxton, Tickler, and Gloucester's Stephens;
Fray Bentos, Spiller and Baker, odds and evens
Of trench food, but the everlasting clean craving
For bread, the pure thing, blessed beyond saving.
Canteen disappointments, and the keen boy braving
Bullets or such for grouse roused surprisingly through (Halfway) Stand-to.
And the shell nearly blunted my razor at shaving;
Tilleloy, Pauquissart, Neuve Chapelle, and mud like glue.
But Laventie, most of all, I think is to soldiers
The Town itself with plane trees, and small-spa air;
And vin, rouge-blanc, chocolat, citron, grenadine:
One might buy in small delectable cafés there.
The broken church, and vegetable fields bare;
Neat French market town look so clean,
And the clarity, amiability of North French air.
Like water flowing beneath the dark plough and high Heaven,
Music's delight to please the poet pack-marching there.
To The Poet Before The Battle
Now, youth, the hour of thy dread passion comes;
Thy lovely things must all be laid away;
And thou, as others, must face the riven day
Unstirred by rattle of the rolling drums,
Or bugles' strident cry. When mere noise numbs
The sense of being, the sick soul doth sway,
Remember thy great craft's honour, that they may say
Nothing in shame of poets. Then the crumbs
Of praise the little versemen joyed to take
Shall be forgotten; then they must know we are,
For all our skill in words, equal in might
And strong of mettle as those we honoured; make
The name of poet terrible in just war,
And like a crown of honour upon the fight.
To the Prussians of England
When I remember plain heroic strength
And shining virtue shown by Ypres pools,
Then read the blither written by knaves for fools
In praise of English soldiers lying at length,
Who purely dream what England shall be made
Gloriously new, free of the old stains
By us, who pay the price that must be paid,
Will freeze all winter over Ypres plains.
Our silly dreams of peace you put aside
And brotherhood of man, for you will see
An armed mistress, braggart of the tide,
Her children slaves, under your mastery.
We'll have a word there too, and forge a knife,
Will cut the cancer threatens England's life.
---
Suggested read: A Comprehensive List Of All The Poet Laureates Of Britain
---
This is all we have on today's post on the Best Poems By Ivor Gurney. This is, however, not an exhaustive list, and if we have missed out on some of your favorites, then please feel free to add them in the comment section below.
Until next time!
Featured image source: Instagram 
Summary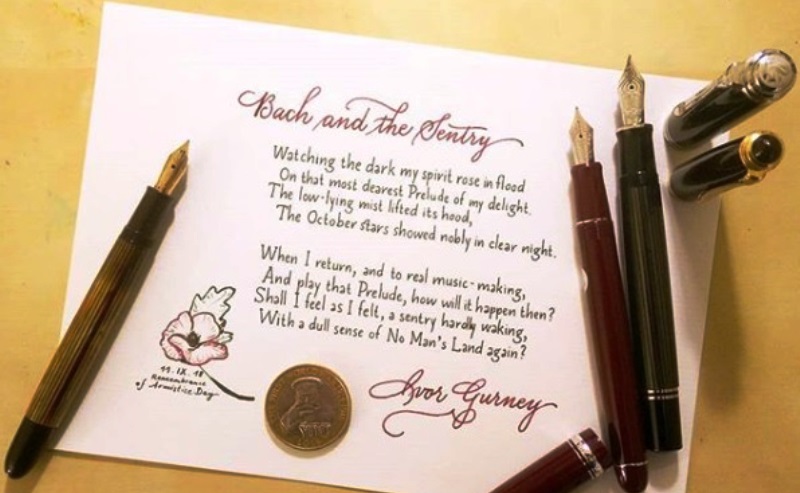 Author
Description
Here are some of the best poems by Ivor Gurney, the famous English poet and composer.