Tell them you are going to spend V Day on your own, by choice, and they will be like:
"You are not single coz no one loves you." It only means you are ugly!
What the hell is wrong with me hanging with the person I love the most: Myself?!
*Going Hans style… SOLO!*
Well, this is what I tell everybody to look all cool, you know! Like see even Salman Khan is sexy… single, I mean! 😉
*I vouch to be taken only when Sallu bhai gets married!*
(That's never gonna happen, is it?!)
But in my head, the thoughts are quite not what you imagine! Being the third wheel ain't pretty and especially on the Godforsaken day in February when roses and chocolates are all around!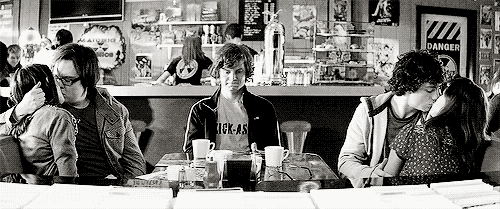 Image source: Tumblr
Happy Valentine's Day…
"Yeah, so?"
No, no I can't use that. I used it last year!
"I don't care, man!"
Sounds sadder!
"I have plans"
I'll just play gooseberry at my parents' dinner date, as usual.
Oh! God, I hate that bloody Saint V!
Ugh couples!!!
Just look at them getting all cuddly… lust is the new love!
Na, na, na, I am miserable! I want to do that stuff, mommy!
I am such a jerk magnet! Why don't good guys like me???
Do I need to smile more?
Am I a love repellent?!
Not only that I am single now, I know I am going to be single even next year, or the year after that!
Oh! That's pathetic!
---
Suggested read: 12 amazing tips on how to be single on Valentine's Day
---
*Text alert*
Only for singles: Celebrate Valentine's Day with us at the Smile old age home. Call 111111 to apply!'
How did they get my number? Who told them I am single?!!
Who else knows?
No, I have just been single for… um… 22 years, 12 days and 4 hours! (That's exactly when I was born!)
I think I am genetically not set up for dating!
But let's look at the brighter side!
I don't have to answer my phone 40 times a day!
I don't have to worry about the grey ticks turning into blue ones on WhatsApp!
There are no strings attached!
Yea, I am feeling good about this now!
I don't have to look pretty. I can stay at home, look like shit and do nothing!
I can go for Galentine's Day
And bitch about the couples in our group!
Oh! God! I am single AF!
People will start calling me "Forever Alone" soon if I don't do anything about it!
Or have they started already?!
I think I should change my 'Single' status on Facebook.
And send roses to myself at work.
At least that way my friends will stop trying to set me up with random people!
But that's the only way I can at least talk to men or smell them… creeps but men any way!
Torn between decisions!
But thank God, Mum has stopped making an effort to set me up.
*Text alert*
Or has she?!
Mum: Dear, this is XYZ! Now love him!
I can't even watch T.V.: Screw you Yash Raj!
*Checks Facebook*
Will you stop tagging me and 40 others in your: 'Feeling loved with my Cochie Coo' post! Stahppppp!
I support the RSS. The V-Day celebration is ruining our culture!
I guess what they have to say about the Kamasutra?! Anyway, ban V-Day in India!
Thank God I called in sick at work!
Cringing at the thought of everyone wearing pink on the streets!
And teddies everywhere. Total fluffy attack on my senses!
Plus, my entire being would have had to go through a metaphorical sugar overdose!
I might have saved myself today. But what do I do tomorrow?
What do I tell them when they inquire about how I spent Valentine's Day?!!!
Then they'll start with their: Many fishes in the sea theories! What is this, the 70s?!
*Next day at work*
"So did you have a date on Valentine's Day?"
"Yea, 14th of February!"
Is this, what's on your mind? 😛
In case you didn't know, beer qualifies as a Valentine! And you don't need no third wheel there- coz you will be its one and only! 😉
Featured image source: rantlifestyle
Summary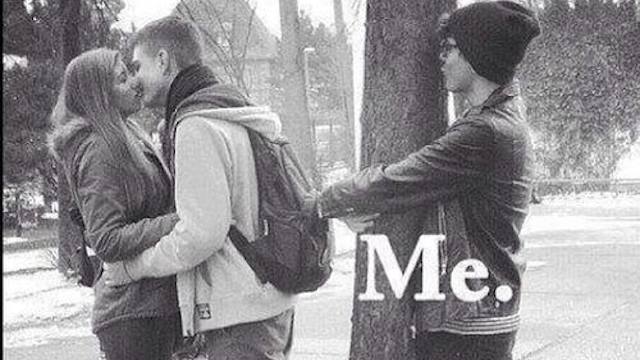 Article Name
Inside The Mind Of The Third Wheel: A Single Person's Thoughts On Valentine's Day
Author
Description
If you are the third wheel *AGAIN*, you will relate!