8. The unicorn jumper
You guys don't believe me but for real Selena and I are besties. We BOTH have unicorn jumpers. Sure, my one is from H&M and hers is from Coach and costs more than my kidneys but wutevs k. We love the way Selena chooses quirky color combinations. This pink jumper and yellow retro sunnies are so cute and sooo perfect for spring! This look is so fun, and effortlessly chic! We dig!
9. The hobo-chic look
Are you even famous if you don't carry your pet as an accessory? Selena is all of us, in a hella comfy oversized jumper, jeans and with messy hair. Only, it makes her look like a dream, while we can maybe pass off as an old sack of potatoes if we're lucky. But hey, if you've got the cutest pupster in the world in your arms, wrapped up in your jumper, pretty sure we'll put you on a best-dressed list also.
---
Suggested read: [Style Diaries] 15 Times Rihanna Proved She Is The Fashion Queen Of The World
---
Selena Gomez Style : Red Carpet
1. The edgy LBD
Take a cue from Selena and put a modern, sexy twist on a classic LBD. We cannot get enough of this Coach "Moto" LBD, which she wore while debuting her blonde hair at the 2017 AMA's. This look is youthful, risqué and a great outfit to wear on a night out.
2. The red gown
This red Prada gown has gone down in history as one of the best dresses ever worn on the red carpet at the AMA's and we can see why. This gown just shows how you can look like a billion bucks, in something incredibly simple. We love how minimalistic the entire look was, as she stuck to simple, glowy makeup, a sleek ponytail and a pair of diamond drop earrings.
3. The yellow dress
At the season 2 premiere of 13 Reasons Why, Selena had yet another iconic fashion moment in this gorgeous golden silk bell dress by Oscar De La Renta. We love the matching dangly earrings and the contrasting blue nails. The entire outfit is so refreshingly simple, yet soooo extra. Ugh, we stan.
4. The red dress
Selena has never been one to shy away from color. She made jaws drop in this magnificent red minidress with sheer paneling by Valentino. We're not sure what we love more – the sheer paneling, the edgy silhouette, or that crazy cute collar! Overall, it was a fun, young, flirty dress that perfectly balances her sensuality and her youth.
5. The half and half dress
This one's a bit of a throwback. Selena blew our minds in this edgy, but feminine number by Emanuel Ungaro, at the Ischia Global Film and Music Festival in 2014. Not only is Selena's style always on trend, but also timeless. This half-yellow-half-white dress is the most perfect summer dress ever. It is flowy, feminine, comfortable and hella stylish. We love how she made the outfit sexier by leaving it unbuttoned till her midriff, and pairing it with some pointy, black heels.
Summary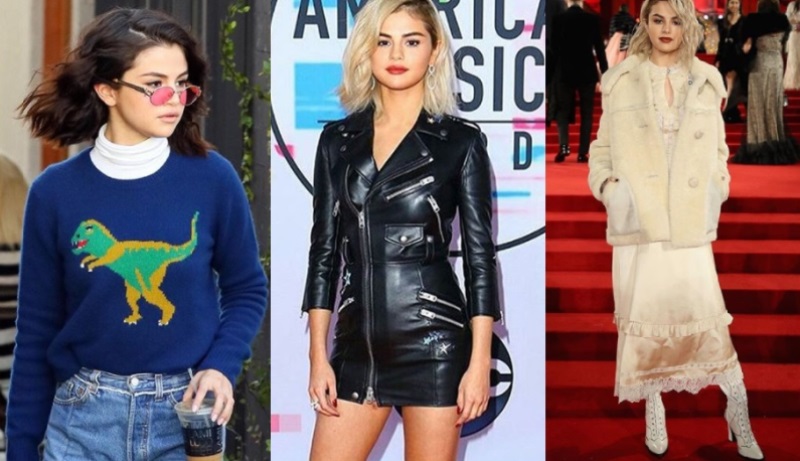 Article Name
[Insta-Celeb Series] Of Selena Gomez Style: Here's Why Selena Gomez's Style Should Fashionspire You!
Author
Description
Because we love you guys so much, we've compiled a list of some of the best Selena Gomez style moments, for some serious fashionspiration!