Let's be honest, 2017 has been a pretty crappy year, with deaths and political tragedies galore. However, we care about the important stuff- which is celebrities who broke up in 2017 and basically canceled love forever. I have compiled for you a list of celebrity breakups 2017 edition, so that we can finally believe that soul mates don't exist and everything we've been told about true love is a lie.
---
Suggested read: 13 Plus-Sized Celebrities Who Are Showing Everyone How To Love Themselves
---
1. Chris Pratt and Anna Faris
Let us start our celebrity breakups 2017 edition with possibly the most horrible news that came to us this year- the breakup of the two most perfect individuals ever, aka, Chris Pratt and Anna Faris. First of all, take some time out to see how completely beautiful and in-love these two people look. They are also the funniest people ever, and recently, Chris Pratt just bought Anna Faris a new shiny engagement ring, to which she said:
"He's a very romantic man. I am very, very lucky."
SO WHAT HAPPENED? Amidst rumors of cheating and infidelity after Chris Pratt was spotted getting chummy with Passengers co-star Jennifer Lawrence, they decided to separate ways after being married for 8 years. They have a son together- Jack, and they still claim to be friends, and Anna seems to be moving on just fine, but we are yet to recover from the news.
2. Selena Gomez and The Weeknd
After being extremely in love for the most part of 2017, Selena Gomez and The Weeknd broke up after dating for 10 months. Just as they were starting to become actual relationship goals they decided to go their separate ways, and rumor has it, they both are back to canoodling with their exes- Selena with Justin Bieber and The Weeknd with model Bella Hadid respectively.
However, it still breaks our heart that it didn't work out between these two cuties, especially since all of the posts that Selena made on her Instagram about The Weeknd became the most liked pictures of the year, proving that people all over the world were rooting for them.
3. Josh Duhamel and Fergie
Josh Duhamel and Fergie have legit made it into every couple goals list ever made in 8 years that they have been married to each other and even though their marriage lasted 8 years, they had been together for 13. However, 2017 meant the death knell for another perfect as hell couple which literally was the source of inspiration for people all over the world who thought Hollywood marriages couldn't last, as the two decided to split this year.
Even though the cause for separation is a little vague, Hollywood sources have been cited saying lifestyle differences was the primary cause for the split. While Josh wanted a quiet, normal life with his family, Fergie was all for the flashy celebrity lifestyle and was also starting to develop a drug problem. They have also been rumored to having marriage problems for a while now, and their friends had apparently been waiting for the other shoe to drop. I guess nothing is sacred any more guys.
4. Robert Pattinson and FKA Twigs
Two of our favorite weird people in the world aka Robert Pattinson, who grew out beautifully from his strange Twilight phase, and British singer FKA Twigs called it quits after being together for 4 years. I mean, look at how happy they were. They were even engaged for God's sakes and were supposed to get married this year, but instead, decided to go their separate ways, and FKA Twigs has already been spotted cozying up to a model in Spain after splitting from Rob Pat.
Rumors of their breakups started to float around when Robert Pattinson was asked in a radio interview about whether he was engaged to FKA Twigs, and he replayed with a vague "kind of." After years of blessing us with super cute PDA pictures of them on the streets and on red carpets, it truly breaks my hearts to see two people so OBVIOUSLY perfect for each other go their separate ways.
---
Suggested read: 15 Cringe-Worthy Cases Of Celebrity Plastic Surgery Gone Wrong
---
5. Ben Stiller and Christine Taylor
Before I get into the details of why they broke up, here is a quote from Ben Stiller from an interview that he gave to ET back in 2007-
"When I met her, I pretty much thought, 'That's the person'. It was like 'Wow, this is a great person, I love her."
Christine has also been asked the secret to a happy marriage and she has replied that sense of humor was what kept them going and it was the secret to any marriage and not just a marriage in Hollywood. And it is true that these two individuals are hella funny, and have starred in a number of awesome comedies together, like Zoolander. So my questions is WHAT HAPPENED?
The couple separated after being married for seventeen years (yes, that's right) and no one knows for sure what went wrong, since all they said was that they are going to raise their two kids with utmost dedication and care. Whatever.
6. Jennifer Lawrence and Darren Aronofsky
You know what happens when an artist and their muse breaks up? EVERYONE DIES A LITTLE INSIDE. The two worked together in the intense joy ride that was Mother which got worldwide critical acclaim and brought two amazingly talented people together. JLaw and Darren Aronofsky dated for a year before calling it quits in October this year, showing how even the most perfect people who look like they were legit made for each other don't stand a chance and that love, indeed IS A FARCE.
7. Taylor Lautner and Billie Lourde
This adorable couple got together in 2016, shortly before Billie's mother Carrie Fisher and her grandmother passed away, leaving the world bereaved. Stories surfaced about how Taylor went out of his way to make his then-girlfriend feel loved and supported her through one of the toughest times of her life. They announced their separation in July this year, and to be honest guys, it feels like a part of me died with their relationship.
8. Lawrence Fishburne and Gina Torres
Gina Torres, famous for her role as powerful boss lady Jessica Pearson in the popular TV show Suits, and her husband of FIFTEEN YEARS, Lawrence Fishburne, who has been in a gazillion movies, decided to call it quits on their relationship.
The news came to light after pictures of Gina Torres kissing a "cowboy-type" divorced dad of 6 kids emerged online, and people came to the conclusion that the couple had indeed decided to go their separate ways. Despite news reports calling the separation drama-free and amicable, it doesn't change the fact that love is indeed a sad lie that we have been fed and nothing makes any sense anymore.
9. Jennifer Lopez and Drake
Two of the most successful people in the music business decided sometime last year to play with the collective feelings of the world by posting flirty, cozy pictures such as these with each other.
They also somehow ended up at each other's concerts an accompanied each other on tour, so we reconciled ourselves to the fact that these two incredibly beautiful and talented people were indeed a thing. However, since happy endings obviously don't exist and there is nothing called love or goodness in this world, JLo confirmed this year that she and Drake weren't together, and these pictures are only good for burning purposes if that could warm my cold, loveless heart.
---
Suggested read: 14 Gay Celebrity Couples Who Are Relationship Goals
---
10. Kylie Jenner and Tyga
Kylie Jenner and Tyga have been one of the most talked about couples for the last couple of years, but unfortunately, this strange love story was not to be, as they decided to break up for the final time this year. Kylie and Tyga seemed pretty serious for the 3 years that they did date, with Kylie starring in a couple of his songs, and them buying each other expensive as hell presents for no reason at all.
Kylie also seemed pretty comfortable with his son- King Cairo, whose mother happens to be Blac Chyna who also has a baby with Kylie's half-brother, Rob Kardashian. To think of it, it's kinda okay that they broke up, since things were getting pretty incestuous in that family. Since the breakup, Kylie has moved on, and rapidly so, for she is now expecting a baby with current boy-toy Travis Scott.
The reason celebrity breakups 2017 edition exists is because some things are just meant to be, and when you are a celebrity, your lives are not your own, for there are a gazillion people like me everywhere with very little work to do, who are super invested in your lives, and depend on you for stability and inspirations. However, sadly these breakups prove yet again that nothing is sacred, and that we can expect more OTP couples to break up to everyone's despair next year. Hey, at least it makes for a great read.
Featured image source: Instagram 
Summary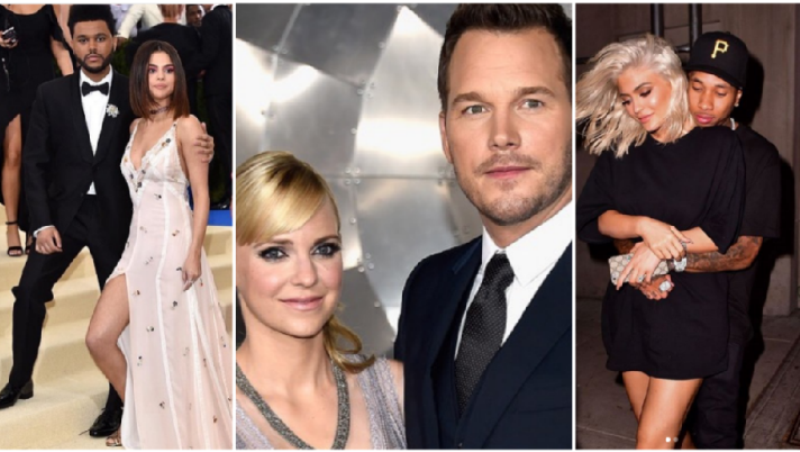 Article Name
10 Worst Celebrity Breakups 2017 Edition
Author
Description
2017 has been awful for a number of reasons. Check out the worst celebrity breakups 2017 edition, which destroyed our faith in true love.