2017 has been a year of being as extra as possible! We've seen OTT faux fur coats, exaggerated shoulders, oversized bags, glitter EVERYWHERE and at least 2 million types of holo pieces of clothing. So it makes perfect sense to end the year and embrace the new one with some jaw-dropping sequin cocktail dresses that will make your ex eat their heart out.
Here are some of the hottest celebrities ever, in some of the hottest sequin cocktail dresses of the upcoming year.
---
Suggested read: 24 Gorgeous Carolina Herrera Wedding Dresses That Will Make You Want To Get Married NOW
---
1. The Rose Gold One
This rose gold sequined dress from Free People is perfect for a relaxed, but fun look for a night out. You wanna look like a million bucks, but not have to adjust your dress every 5 minutes? Then this is the dress for you. Also, that rose gold color is soooo chic ugh. The festive season may be over but then again who needs an occasion to wear this cute a dress?
2. The One with Sequins AND Feathers
Lara Stone is SLAYING OUR LIVES in this Chanel Couture number. Who says you need to stop at just sequins? Go the extra mile, throw in a few feathers, maybe a diamond or two, a few hundred crystals and we're good to go! The key is to balance the silhouette and the hems. This dress looks fun because of all the feathering and the crazy cute stiff shoulders. But then you get that neckline and daaaaaaaamn hun you making us sweat with all that sexiness. While this dress is a bit more high-fashion than your average cocktail party, there's nothing stopping you from wearing it to one and blowing everyone away, kay?
3. The Showstopper
Give us a minute while we try to come to terms with HOW INCREDIBLE KENDALL JENNER LOOKS in this custom-made LaBourjoisie sequin cocktail dress! It's slinky, detailed, fun, and so sexy! Also, it is giving us maaaajor Paris Hilton vibes and you KNOW you're doing it right when you look like Paris Hilton at a party.
4. The Edgy One
Take a leaf out of Gigi Hadid's book and opt for something edgy and chic like this Alexander Vauthier number, with the stiff shoulders and the conservative fit. We are digging the almost chainmail-style sequin trim all over the dress, the conservative neckline and the heavily embellished collar. So edgy, so couture, and sooooo drool-worthy.
5. The One with Ombre'd Sequins
Yes, this dress is longer than a classic cocktail dress, but considering that it's a custom Balmain dress, you can always get a shorter hem. We had thought the ombre trend was being left behind in 2017, but then we saw this dress and noooope we still stanning ombre dresses. Especially if they're sequined pieces of ART. You could wear just this dress and absolutely nothing else (no makeup, nothing) to a cocktail party and babe you will look like you just walked off a runway.
6. The Rock-Chic One
Stand out from the crowd in this edgy, high-fashion sequin cocktail dress by Balmain. We love the high-fashion nod to legendary rockstar David Bowie, with the iconic lightning-pattern sequin trim. Also, the one-shoulder silhouette is sooooo on trend! Pair this edgy dress with a pair of classic pumps or with studded booties to really add to that rock-chic vibe.
7. The Understated Sequined One
Needless to say this long-sleeve, conservative neckline, stiff shoulder trend is pretty popular this year. We love how this H&M dress provides a pocket-friendly alternative to the high-fashion options by Balmain and Alexander Vauthier. Also, we are totally digging the understated shine of the charcoal grey sequins. Extra points for the square-shaped sequins!
---
Suggested read: 16 Manish Malhotra Wedding Dresses Which Are Drop Dead Gorgeous
---
8. The One That Looks like a Blazer
The Blazer dress has an unconventional silhouette when it comes to cocktail dresses, but we think an exception can be made for this MIND-BLOWINGLY stylish sequined blazer dress from Zara. It almost is a budget-friendly alternative to the Alexander Vauthier dress worn by Gigi Hadid. Pair this dress with bright-colored pumps or metallic stiletto sandals, to end up with a high-fashion outfit for a cocktail party.
Summary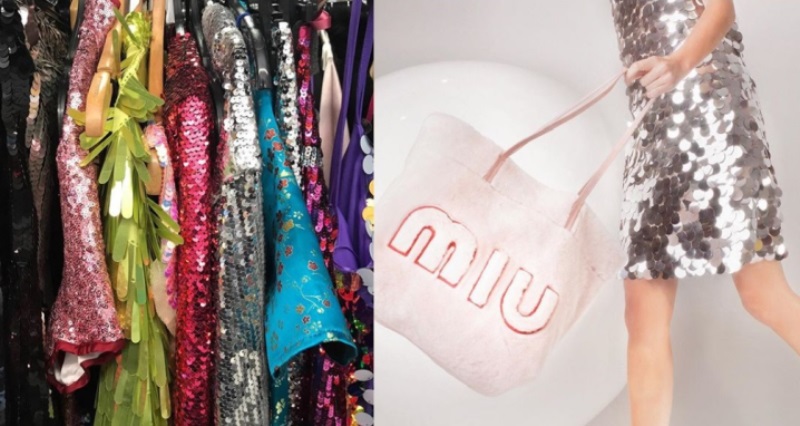 Article Name
Find Out Which Are The Hottest Sequin Cocktail Dresses Of 2018
Author
Description
Here are some of the hottest celebrities ever, in some of the hottest sequin cocktail dresses of the upcoming year.
Read the rest of the article:
Next