From having the most liked picture on Instagram, to becoming the most followed person on Instagram, Selena Gomez has pretty much become a millennial icon. As if her music and her feminist, outspoken nature didn't make her awesome enough, this wo(w)man also has an amazing sense of style!
So, because we love you guys so much, we figured we'd spare you from having to Google Selena Gomez style for some style inspo; and have thus compiled a list of some of the best "Selena Gomez style" moments, for some serious fashionspiration! Here are our favorite looks so far.
---
Suggested read: [Style Diaries] 15 Styling Tips We Are Definitely Stealing From Blake Lively's Kitty
---
Selena Gomez Style : Casual/Street Style
1. Denim dungarees
Sure, when we wear dungarees, we look like pigs in a denim blanket, but when Selena wears them, she looks like some kind of a supermodel. Ugh. We can't deal with the sheer badassery radiating from this incredibly laid-back, easy-to-do look. Those vintage Urban Outfitters dungarees are just so perfect. We waaaaant! We love how she made a very casual outfit look very sexy, by leaving it half unbuttoned, and swapping a t-shirt for a body-hugging crop-top.
2. A classic combo
Trust Selena to NAIL this classic white-shirt-and-denims combination. We love that oversize white Neppy shirt from Topshop (which costs $60). You could just steal a shirt form your boyfriend/brother/guy bestie, for a cheaper, but just as cute an alternative.
3. The Little Blue Dress
Sure, a little black dress is a classic. But why not follow in Selena's style-goddess footsteps and ditch the classic LBD for a newer, more fun, little BLUE dress? We love how flattering this navy blue mini bardot dress from Cushnie Et Ochs, looks on her. Bonus points for the vintage-inspired Kate Young for Tura Inc sunglasses!
4. The jumpsuit
Just when we thought we had finally developed a strong jumpsuit game, Selena wears this INSANE jumpsuit by Jacquemus (Fall 2017) and blows us all out of the water! We don't know what we love more – the major shoulders, the risqué side-boob potential or that crazy cool grey and white combo! Also, who do we need to kill to get our hands on those Manolo Blahnik heels?!
5. The airport look
Anyone who hasn't lived under a rock these past 5 years knows that airport looks have become a very important part of a celebrity's lookbook. So it shouldn't come as a surprise that Selena always nails her airport looks. This one is our absolute favorite. She kept it casual by donning a pair of (on point) moss green sweatpants and a classic pair of Chuck Taylors. But then she upped the "chic" quotient by opting for a frayed hem turtleneck crop top and a cropped vintage Harley Davidson denim jacket.
6. The Ruby Red Dress
A perpetual fashion risk-taker, Selena proved how strong her street-style game is, in this beautiful ruby red charmeuse slip dress by Nili Lotan. The dress is sleek, chic, sexy, and just incredibly beautiful. We love how she paired this dress with a pair of golden YSL heels and a casual blowout. Despite this look being almost a couple of years old, we are yet to come across another street-style-ready outfit that can top this.
7. The dinosaur jumper
Who doesn't like a good dinosaur jumper I mean c'mooon. We like dinosaur jumpers. Even Selena likes dino jumpers. We're practically besties. We love this quirky knitted dino jumper from Coach. This entire outfit gives us some major Wizard of Waverly place vibes and we looooove it! Bonus points for the fun shade of blue and the quirky pink sunglasses!
Summary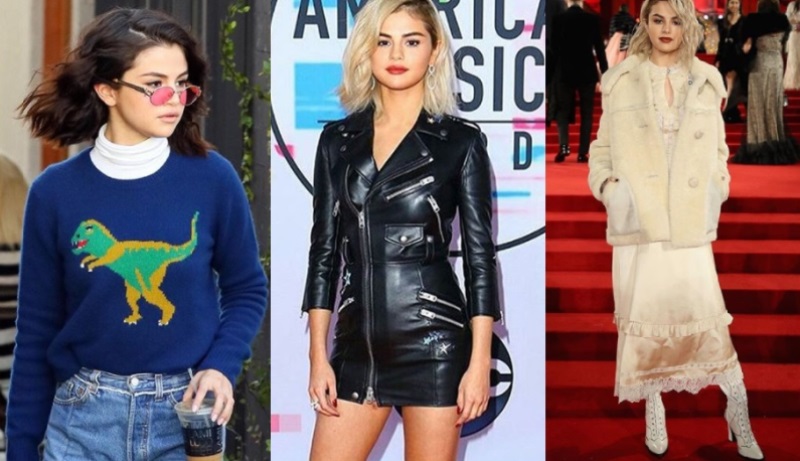 Article Name
[Insta-Celeb Series] Of Selena Gomez Style: Here's Why Selena Gomez's Style Should Fashionspire You!
Author
Description
Because we love you guys so much, we've compiled a list of some of the best Selena Gomez style moments, for some serious fashionspiration!
Read the rest of the article:
Next