5. Logo nails
If you are screaming at your screen right now, and think this is too weird, come back to me in a year when you are obsessed with logo nails. Wearing your favorite brand on your nails momentarily went out of fashion, but they are back baby! Designers are making their models wear the brand in every way possible, including their nails.
Now you could paint Dior and Gucci and Adidas on your nails, depending on where your fashion loyalties lie, but you could also go for brands that are truly close to your heart- like McDonald's.
6. Asymmetrical two-toned nails
Two-toned nails essentially mean using two complementing (or contrasting because what the hell, no one writes the rules do whatever you want) colors that you can wear in asymmetrical lines which make you nails look like they are from the future. If you want to truly imbibe this trend, then pastels are a great way to go, because according to runway reporters, 2018 is the year of pastels.
7. Colorful chrome
Along with looking forward to several new and amazing trends in 2018, we are also looking forward to not being boring in 2018, which is why it is time to adapt and amp up the trends from last year and own them like a boss.
Like I said before, chrome was a thing last year, and along with bright chrome nails have come a number of cool ways in which you could wear them, apart from the standard metallic silver. Holo nails in various cool colors like electric blue would make for striking nail art that is pretty much impossible to ignore, so if you are out and about, trying to make an impression, this is the way to go!
8. Glitter French manicure
The French manicure was a gift to humanity that we can't ignore, no matter how much we try or "move on." However, what we can do, it change it up every year, so that it looks like goddamn magic every time, even though we have been wearing it for three thousand years.
Last year, we were all for the asymmetrical tips with a stroke of matte to make a classy, subtle statement. Screw subtle, because 2018 is the year that you bring out the bling and make your French tips look like a party every day. Gold is a popular color this year, so you can go all out with your glitter polish and splash on some gold tips. You can also go for galaxy tips, silver tips, and any other glittery polish that you can find, and still get a clean "French manicure."
Trendy Nail Art At Home
I understand that it isn't possible to shell out a bunch of money every time you want to get fancy with your nails. Even though most salons have the professionals and the equipment to give you nails that are worthy or becoming famous on the internet, most of us don't like going there because we have to deal with being broke for a while afterwards.
To avoid this tragedy, it is always a good idea to practice doing nail art at home, and if you try hard enough and have the right tools with you, nothing is impossible. To make your life infinitely easier, here are some of the things that you should have in your nail art kitty, to get you one step closer to a flawless and fancy manicure!
---
Suggested read: 8 Best Matte Nail Polish Shades That You Need To Own NOW!
---
A UV LED nail lamp for instant nail drying
A matte top coat polish to turn any ordinary polish into ultra glam polish
Striping tape for clean lines and edgy nail art
Dotter tool for ham-handed morons like me who can't make dots to save their life
Loose glitter because, uh, glitter?
A Nail Polish Correcting Pen which is like an eraser for nail polish and your new best friend
Once you are equipped with the knowledge of the latest nail art trends, and the tools to get those trends legit for free, there is nothing stopping you from conquering the world like the kween that you are!
Featured image source: Instagram
Summary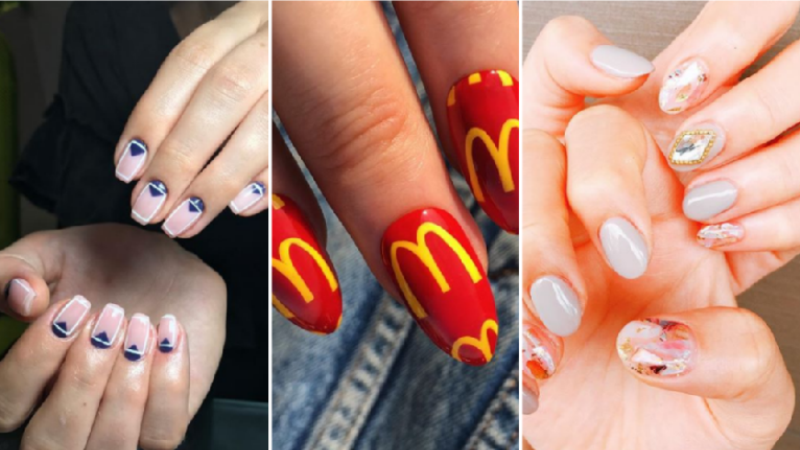 Article Name
Nail Art Trends Of 2018 So You Can Sit With The Cool Kids
Author
Description
Check out the hottest nail art trends that you can sport in 2018, to be on top of your nail game!