We've seen our fair share of marriage proposals over time; some good, some hilarious, some disastrous, some creative, and some truly innovative. However, a new marriage proposal catches our eye, which is equally as exhilarating as the ones we've seen in the past. Take for example, this roller coaster marriage proposal.
Austin Crecelius and Allison Boyle have been a couple for the past two years. And when the time came for Austin to pop the question, he decided to do it in a unique way – no, he didn't shell out tons of money or create something with his hands or fake another person's wedding just so he could ask one of the most important questions of his life.
Then how did he do it, you ask? On a roller coaster, of course!
Image source: Youtube
Austin asked girlfriend Allison to marry him which riding on the Voyage, a wooden roller coaster, at Holiday World in Santa Claus, Indiana. The roller coaster marriage proposal was captured on video by a couple of friends seated in the same car as Austin and Allison, and has since gone viral on the Internet.
Austin, who seemed to have thought this through, started off his speech as the roller coaster ascended a steep climb:
"At one point in time you had mentioned to me that life is like a roller coaster. And it's got its up and downs, it's got twists and turns, and it even throws you for a loop sometimes. And though you can go by yourself, it's a lot more fun to go with another person."
He continued and got to the important part:
"So, I wanted to ask if you wanted to be my roller coaster buddy. Allie, will you marry me?"
---
Suggested read: 15 marriage proposals only celebrities could pull off
---
A visibly overcome Allie teared up and said yes, of course. The couple held hands as they came down from their literal as well as emotional high, and Austin can be seen unzipping his sweatshirt, with 'She said yes!' emblazoned on his t-shirt, making for an epic photo op.
But what about the ring? Well, since Austin didn't want to take the risk of losing the ring atop the roller coaster, he used a fake ring to propose to Allie, and put the real ring on her finger once they were safely on the ground, according to ABC news.
"We are a somewhat goofy, quirky but fun couple," said Allie. "We don't like doing things the way other people do them, and at least from my perspective, a roller coaster proposal seemed to be our speed."
Check out the video of the roller coaster marriage proposal here:
If it works, it works. Congratulations to the happy couple!
Featured image source: Youtube
Summary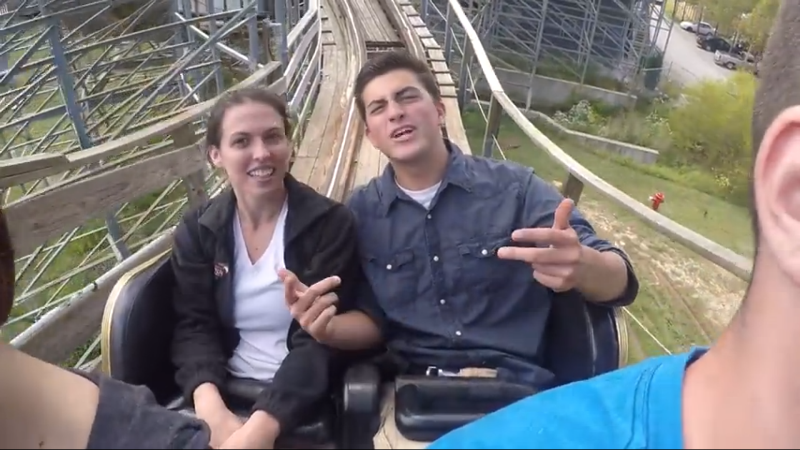 Article Name
Man Surprises Girlfriend With Roller Coaster Marriage Proposal
Author
Description
This Indiana man surprised his girlfriend of two years with a roller coaster marriage proposal. Check out the video here.