Ireland's urban myths are full of wonderful, zany, quirky but occasionally old-fashioned traditions, and in 2016 that has 366 days, we are welcomed with one of the most popular!
Yes, this is a leap year and though you may have considered it a fable, according to Irish traditions, 29th of February is the perfect date for a woman to go for a leap year proposal, that is, bend her knee and pop the big question.
We must keep in mind that this is 2016 and since we may be just a few days away from swearing in a female President of the US of A (touch-wood!), we, women, are absolutely competent of taking matters into our own hands and asking a guy for his hand on any day of the year as we may wish!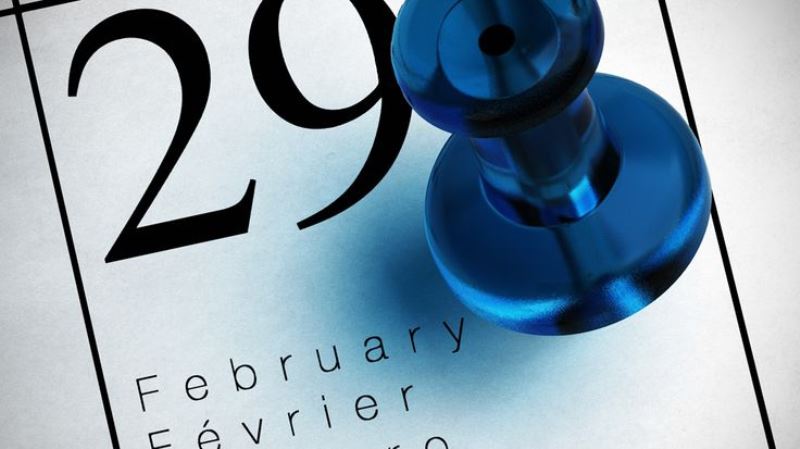 Image source: Pinterest
---
Suggested read: 10 best marriage proposals in literature to get inspired from
---
Conventionally in Ireland, nonetheless, this right of girls taking the lead in marriage proposals was earmarked exactly for the leap year and the 29th of February! But where does the leap year proposal tradition come from? Where and how did it originate? Let's spill the beans!
Studying back through early Irish history, we find that the leap year proposal tradition began in the 5th century, with St. Brigid of Kildare desperately complaining to St. Patrick about how women had to wait too long for the men to ask their hand in marriage. The tale further says that St. Patrick then decreed that women could propose to the men they desired, on this one day in February!
This tradition was then embraced by the Scots from the Irish monks. In the year 1288, Scotland passed a law announcing that women could propose to the man of their dreams on the 29th of February of a leap year. The law also read that any man who refused the proposal would be required to pay a fine! The decree was apparently passed by a spinster, Queen Margaret, though if records are to be believed, she was only 5 years old at that time! She was the one who put in place a regulation that all women participating in the leap year proposal needed to wear a red petticoat while proposing, as a way of warning the potential groom of the impending proposal!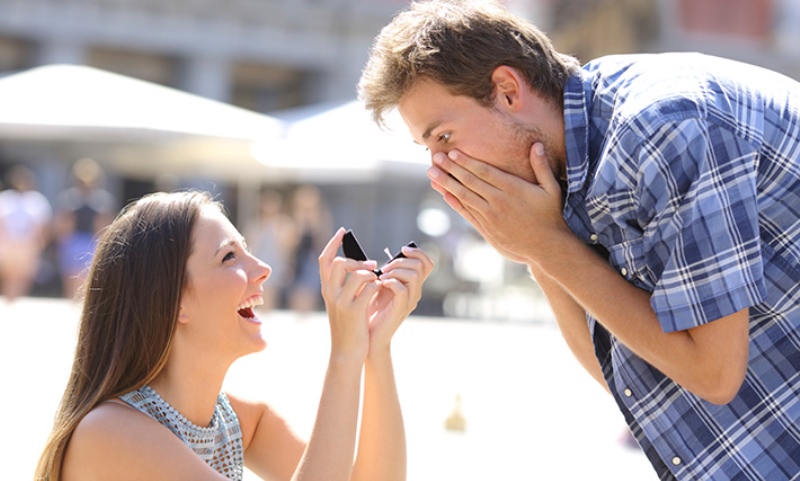 Image source: Irishcentral
The fine that was to be paid by the man who declined, ranged from a kiss to even payment in silk for a dress or just a pair of gloves! There is another tale around this tradition of the fine. It is said that once St. Patrick decreed the leap year proposal as a law, St. Brigid instantly dropped on her knee and proposed to St. Patrick! St. Patrick, however, declined the offer (Remember how busy he was saving the country from snakes?!!). It was then that St. Patrick kissed his 'suitor' on her cheek and presented her with a silk gown to mellow the blow!
This legend, like others is dubious. Though there are many who believe that Brigid actually offered her vows to Saint Patrick, historically Brigid would have been only ten years old when Saint Patrick expired in 461 AD!
In a few aristocratic European societies, the ritual of fine for denial involved getting 12 pairs of gloves for the girl who was rejected. This was done so that the girl could hide her ring-less hand! In many places, the leap year proposal day is also called Bachelors' Day because of the tradition revolving around it. There is also a model of the tradition in English law. In the beginning, February 29th was overlooked and had no legal status. People thought that the tradition too would have no status because the day itself wasn't legalised. So basically women can propose on any day altering a prejudicial custom that allowed only men to bring up the question of marriage.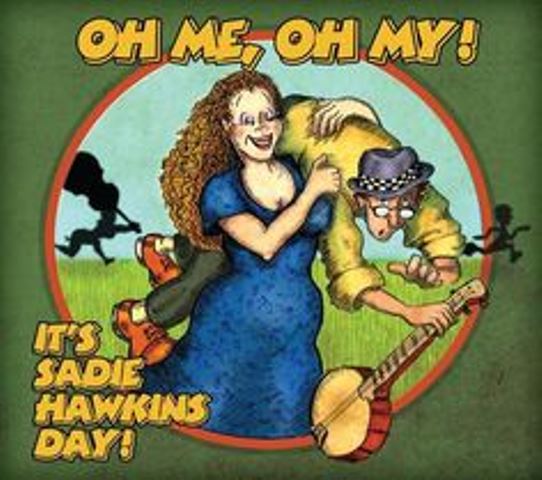 Image source: Pinterest
In the United States, the day is referred to as 'Sadie Hawkins' Day'. On this chosen day of the four year cycle, girls had the right to run after men who were bachelors! Sadie Hawkins is actually a female character from Al Capp's comic strip "Li'l Abner"! Li'l Abner encouraged Sadie Hawkins Dances to which girls invited guys!
---
Suggested read: The world seems smitten with viral marriage proposals rather than love
---
In the year 1904, Elizabeth Meriwether Gilmer (also known as Dorothy Dix), a syndicated writer, concluded that the leap day proposal custom was: "like most of her liberties, is merely a glittering mockery."
This Sadie Hawkins ritual, however serious or sardonic, was supposed to empower women, but instead perpetuated stereotypes! Women were to propose via postcard, but most of these cards turned the tables on them. They poked sarcastic fun at women's rights! Following the long lasting V-Day custom of using mail to announce your love and appreciation towards the significant other, many postcard makers started producing leap year proposal cards in the early 20th century. Most of these makers used humor to deter and discourage women from actually using their right to propose! As early as 1904, guns and pistols became common in the imagery. Women were depicted using them and also other arms like bows and arrows, nooses and nets to trap men. The other 'instrument' portrayed on these leap year proposal postcards was money, with girls holding heaps of money as a marriage-setting bait!
Dix often spoke about the leap year proposal issue and dissuaded women to use letter or postcard while proposing. "Come right out in person," was her advice.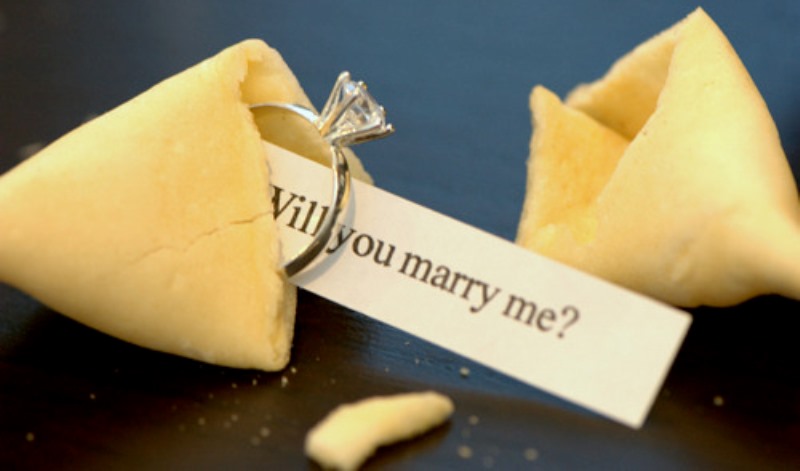 Image source: Google, copyright-free image under Creative Commons License
Though leap year proposals were filled with mocking humor, marriage was not a joke to Dix. The columnist had been forced to marry by her family but soon found herself looking after her man due to his mental illness and failure to hold a job. In the year 1928, she wrote:
"The right to pop the question is the only right that men have now that women do not possess. They have the same right that men have to vote, to own property, to attend institutions of higher learning, to follow any business or professional career for which they have the brains and a hankering. The only masculine right that is denied them is the right to choose their mates. And this is the greatest right of all, for the privilege of helping pick out the town dog-catcher or deciding on who is going to be President for the next four years is a poor thing compared with the privilege of picking out the father of your children and the man with whom you are going to have to live for the next forty years."
*Feminists pull out guns* But you have to understand the context and the time period that this woman is writing in!
Anyway, do women really need a day when they are 'allowed' to propose? Heck, no! Why I call the leap day proposal an utter bullsh*t is because it implies that women must wait for the 29th of February to show up every four fricking years before they can pop the question to the person of interest!
It makes no sense to me whatsoever, that in the age of parity, society and the people constituting it still endorse women bending their knee only on this solitary leap day that shows its face every four years. The myths and, subsequently, the Internet blames it on Saint Brigid, who, like I told you was granted this boon (excuse me?) of proposing every once a leap year. How cute is that!!!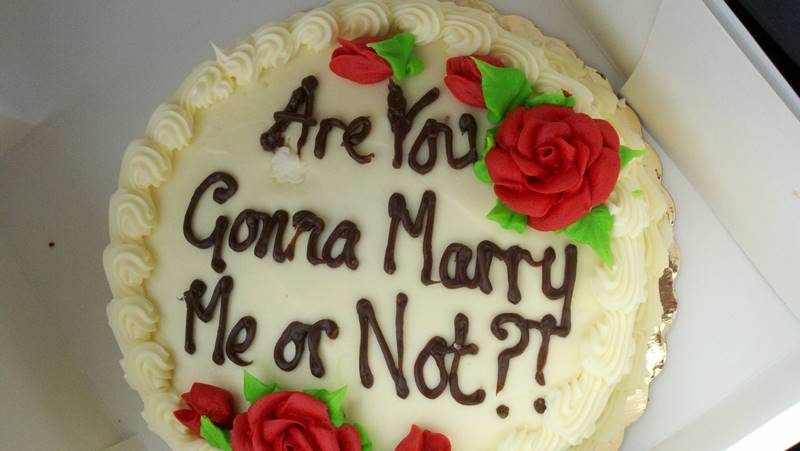 Image source: Pinterest
Proposing on the leap day is repulsively old-fashioned! It is not only tacky, but also tabloid!!! Heard of a love cliché? Yes, it is exactly that! It is something like tying the knot on V-Day or may be showering your S.O. with pink and white heart-shaped balloons and a packet of Ferrero Rocher chocolates! Contrary to enthusing any passion, the leap year proposal takes away whatever of it was there in the first place! It is analogous to proposing on top of the Eiffel Tower or in front of the Taj Mahal or in a flash mob (please die!). So you get my point, right?! It is a bad, bad idea to wait for the leap day to ask a guy's hand in marriage. You like him? Go and tell him that right now. What's stopping you? The double X chromosome, is it?! Just see what the ritual has done to you, babe!
---
Suggested read: The proposal – why women need to take the lead
---
The very idea of a leap year proposal is a plot against us women! We are expected to patiently (that's a feminine quality, right there! Bleh!) wait for 1460 days to pass before we can spell out our love to someone. This whole scam is based on the assumption that we are not 'permitted' (by whom?) to propose whenever the hell we want to! The leap year proposal is a saga created to 'keep women in their place'! So would you, even after knowing the truth, wait till 29th of February to propose to your love? Do it today and by doing so you,
Make your desires heard, loud and clear!
Assert your equal position in the relationship!
Save yourself from the trauma of waiting and worrying!
Show the world and yourself that you can take rejection sportingly!
Experience the feeling of letting your intention and love being known.
Reasons enough, right? So dial his number up and ask him out on a date (that's the trial!). Pop the question without a ring in his champagne, because we are women and we deal with things smartly! 😉
Featured image source: Irishcentral
Summary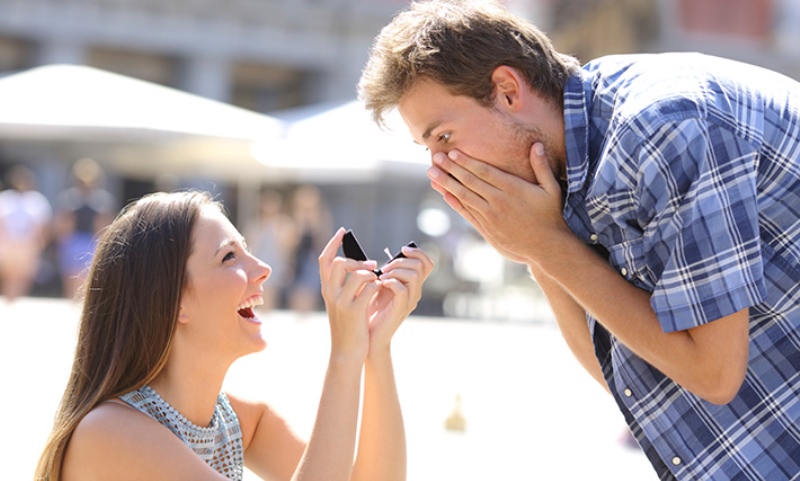 Article Name
Leap Year Proposal: How And Where Did It Originate?
Author
Description
A leap year proposal is long been held as a tradition. But how appropriate is it in this day and age?