Dearest,
I hope this letter finds you in good health and happiness because you deserve all of this and so much more. I have watched you from a distance struggling, fighting, getting hurt, standing back up and repeating the entire process again and again and again. This distance somehow has been long enough to keep me separated from your struggle, but short enough for me to see your pain and your suffering. I have felt scared, helpless, angry, worried, defeated, and hopeful for you from inside my small protective bubble. And believe me when I say that there have been others like me inside their bubbles who've felt the same. I wish all these heaps of feelings could amount to something because then I know for a fact they'd be strong enough to raze this entire planet down to dust.
---
Suggested read: 9 Of The Best LGBT Movies Everyone Should Watch
---
I know how special this month is for you. It's the one time in every wretched year that you stand tall, proudly presenting to the world who you are and what you stand for. It makes me happy to see you so uninhibited in your celebrations; your laughter, that glint in your eyes, the dance in your every step, the massive amount of loving and giving and sharing, it's all so infectious. If only every month of the year could be half as colorful as June, right? But I know everything isn't as perfect as it all appears on Instagram and Facebook and Twitter and every goddamn website and corporate organization that's trying so hard to be included in your celebration. I know things are far from perfect, and they haven't ever been this far.
I know that even while you celebrate, you are so scared. Scared for your life, for the life of the person whose hand you're holding so tightly as you walk down the street, scared for your friend who's finally had a chance to dress up the way he wants to; but he and you both know that it takes only one offensive slur from an ignorant bystander to turn the whole picture terrifying. I know that even when you celebrate, there's always a threat lurking behind the shadows. It's as if a child is celebrating their birthday, but with the constant fear that someone might just come and burst all the balloons, smash the cake against a wall, steal all the presents, hit all the guests and then leave. Only in your case, the fear isn't irrational and childlike. It's reality.
One of the first things I learned from my GK classes in school was that "India is a land of festivals". Our teacher told us how Indians celebrate all festivals with equal fervor and happiness. This year we celebrated Pride month too. We celebrated with multiple hate crimes; dollops of transphobia and homophobia were generously shared among the masses. On the night of June 6, a gay man in Delhi was physically assaulted and harassed for hugging his trans friend. In India, we rely heavily on WhatsApp forwards to exchange greetings during festivals, did you know that? On 26th May, a mob in Hyderabad attacked a group of trans women following a WhatsApp forward that informed them that these women were child kidnappers. One of the women died shortly after, did you know that? No festival in our country is complete without veneration to the goddess. A crossdresser dressed as goddess Kali was stabbed repeatedly and murdered in cold blood by a group of men on May 29th at 2 am in the morning. A fitting sacrifice, wouldn't you say?
---
Suggested read: 10 Real Life LGBT Love Stories From India That Will Restore Your Faith In Humanity
---
I want to apologize to you for all the stereotyping, the hate, the injustice and the physical and mental violence that you are subjected to day in and day out. I am sorry on behalf of the people who appropriate your cause for their personal needs, who take away the one thing from you that is yours– your identity. I am sorry on behalf of some of my peers who support your cause because it's "cool" to be an ally, who attend your Pride celebrations because of how colorful and pretty they are. I am sorry that people have reduced your fight to a boomerang on Instagram with a rainbow emoji in the caption.
I am sorry for the stereotypes that we have imposed on you when all you wanted was just to be treated like a normal human being. You are not just the Gay Best Friend. You more than an effeminate man and a butch woman. You are more than your choices in fashion and clothing. You are not a taboo. You are not an anomaly. You are every single color of the spectrum, but you are also black and gray like the ashes of the Phoenix from which it rises ad infinitum. Never for once let anyone tell you otherwise.
I've never talked about it with anyone, but someday I wish to be a mother. And I wish to be the kind of mother that understands her children, even when the whole world doesn't seem to. If my daughter comes up to me one day and tells me that she doesn't like boys the way all her friends and that she really likes her best friend who's a girl; and she likes her the way mummy and daddy like each other; I will remind of the love that she's capable of. I will tell her to love her best friend who is a girl as fiercely as her being allows her to and I will tell her to never let go of that love. Because that's what makes her human.
If one day my son comes up to me and tells me that he wants to wear pretty dresses like mommy but only in secret because the other boys in school might make fun of him, well then I will buy him the prettiest goddamn dress in the world, no questions asked. I will not tell him that he's special or different, because he's not any different from you or me or anyone else. I will tell him that he's as human as his friend who dresses in khaki shorts and jerseys, that he deserves to be treated with as much kindness and respect as any other human being in the world.
As a consumer of media, I promise to discard and critique all kinds of content, no matter how artistic, that violate your integrity and spread hatred and malice against you. I am sorry on behalf of every corporate organization that pledges support to your cause with their own capitalist interests in mind. Your cause, your movement is more than just an advertisement with Pride colors spread all over it. Your decades of resistance cannot be washed down by a company selling rainbow colored socks for Christmas. I promise to use my knowledge and my values to educate ignorant and prejudiced individuals about you, I might not succeed in changing every negative perception, but I promise never to stop trying.
As a friend, I promise never to trivialize your struggle or crack unsavory jokes about it. I promise to accept you in all your colors, grip your hand tightly every time a stranger casts unpleasant glances at you, and fight every force that tries to put you down. I promise to be a safe haven when home doesn't feel like home anymore and you have nowhere to go. I'm there for you, okay? I am sorry that there are still people out there who mistreat you for who you are. I am sorry that they are still blind to your beauty, to your humanity, to your undying strength and all the love you harness within you.
With every passing day, I believe in God a little less. I was brought up fairly religious, my mother instilled in me the habit to make the prayer gesture with my hands at every temple that I saw. I still do it sometimes, absentmindedly and out of habit. I suppose parts of me still want to believe in the existence of a higher power watching over us constantly. But it becomes to believe in these thoughts when I think about you. Where was this higher power when you were being beaten up; lynched; forced by your family into "corrective therapy"; had your fundamental rights violated by the very state that pledges to support you, were shot, stabbed, hated on, murdered in cold blood, held up in police stations with no prior warrant? I wish I had some proof to make you believe that a higher power is looking out for you. I wish I could rely on scientific research and sociological experiments and political theory that proves and explains that there is still some iota of humanity left in this world. That we are not far from a reality where every single one of you is loved, accepted, respected and treated with equanimity.
What I can give you is bagfuls of hope and courage; because that is all we have left, don't we? Because that is all the ammunition we can afford to give ourselves in this fight. And I promise to give you every single ounce of mine. And perhaps one day, that will be enough to end all of this.
---
Suggested read: This Recreated LGBTQ Version Of Adele's 'Hello' Will Make You Reach Out For The Tissues, And Then, Cry Over Finishing Them All
---
Every time I pass a temple and my hands gently touch my forehead and chest in habitual devotion, it will be accompanied by silent prayer in your name and in the silent hope that one day my absent God will make everything okay.
Love,
Your ally.
Featured image source: Google, copyright-free image under Creative Commons License 
Summary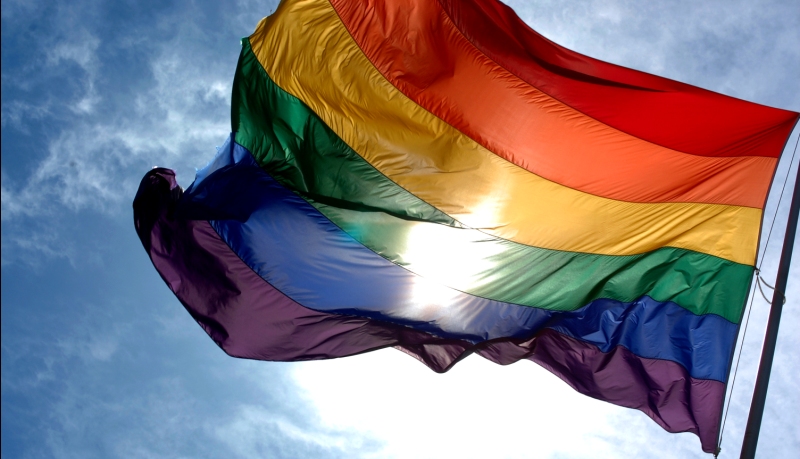 Article Name
Pride Month: A Love Letter To The LGBTQ Community
Author
Description
Here's the love letter I wrote to the LGBTQ community for pride month.