"I remember listening to an ad for a show I did in Delhi. In it, they described me as a fiery feminist. Because apparently, feminists who keep their cool don't exist."

-Aditi Mittal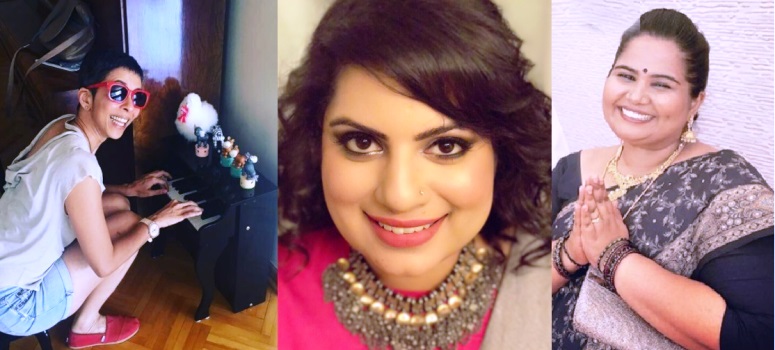 The Indian comedy scene has found new impetus in the recent years. It is interesting to note that the number of female comedians, though far less in ratio to men, has steadily been increasing. AIB has played a huge role in using their exposure and platform to bring new talents to the forefront, as well. The new concept of 'Web Series' and social media comedy, have also contributed to bringing us valuable female stand-up comedians. It is liberating to be able to intimately relate to the comedian on stage, after a predominantly male point of view. In this article, we focus on 8 female stand-up comedians, hoping that the number skyrockets very very soon.
---
Suggested read: #BestOf2016 Top(ple The Patriarchy) Kickass Feminist Moments Of 2016
---
Mallika Dua
"Main Eid ka chand kam, Eid ka baingann zyada lagg rahi hoon."
Also known as PKP (Papa Ki Princess), Dua is a powerhouse of talent. Daughter of Zaike India Ka's Vinod Dua, we're often left wondering if their gene-pool was thrice-blessed. The internet argues that her defining role was in the video 'Shit People Say: Sarojini Nagar Edition'. In it, she plays characters in parts: Wes Anderson's Third Ad, The West Delhi Newly Wed, The Ball Breaker, The Corporate Drone, The Mama's Girl, and The Habitual Hater From Bombay.
Dua herself is a no-nonsense badass person, and it comes through in all her sketches. She loves playing characters, and believes that it is her escape from the current state of destruction our world operates in.
Snapchat probably owes half their revenue to her skillful use of the filters. 'Make-up Didi' is a widely acclaimed segment. It speaks of a 'didi' who messes up her customers' make-up requirements to a hilariously exaggerated degree.
'Smylie' is a Kylie Jenner parody, only much funnier. She used Smylie's character to protest against the taxation of menstrual products saying that it felt like slapping somebody and asking them to pay for the blood. "Humne koi subscription kiya hai har mahine khoon ki?"
 Her latest character is 'Shaggs Di', who calls her followers 'Shaggers'. She believes she's "an internet sensation". Her instagram is a safe haven for anybody who desperately needs a laugh. Listed under 'GQ's Most Influential Young Indians 2017: Next Gen', Mallika Dua is our wish come true.
Sumukhi Suresh
"Namaste Didi, mere sasur ke bachhey ko aaj dysentery ho gaya, toh main aaj kaam pe nahi aa sakti."

-Parvathi Bai
Hindustan Times called her 'India's Tina Fey'. Honestly, there is nobody like her. The internet discovered her in the 'Better Life Foundation' sketches by Them Boxer Shorts. She plays a character named 'Sumukhi', and her character, along with the entire cast, is a gem.
Sumukhi  is extremely funny in person, and it reflects in her life-choices too. Recently in AIB's Off Script, she spoke about how she once hid behind a bush because she was scared of dogs. Suresh also revealed how she regularly fails at picking up flirtatious signals, which a lot of us relate to on a spiritual level.
Sumukhi has a genius series called 'Behti Naak', where she dresses up as a 10-year-old with a running nose, critiquing the society around her. Behti Naak also featured on Abish Matthew's second season of 'Son of Abish'.
Abish: Marriage is a gift of love.

Behti: Jiske liye ladki loan leti hai, aur ladka dowry.
Sumukhi Suresh and Naveen Richard created a live sketch comedy series called 'Go Straight Take Left'. My favorite one is "Asking For Directions", where Sumukhi asks Naveen for directions to a theatre, where she travels to the Mario world, back and forth in time, all over history to Lala Lajpat Rai and back, etc. Her delivery is very unique and adds significantly to the essence of comedy. She's also been a mom, a maid, the personification of Facebook, etc. across sketches. Among female stand-up comedians, she is a gift to the scene.
Kaneez Surka
South African-born, Surka is a integral part of the improv comedy group. The unique factor about Surka is her non-reserved nature, her art. Irrespective of who she is as a human being, she delivers cent percent to her job requirements. Be it feigning orgasmic sounds to a bartender in AIB's Honest Restaurants, being 'Clitika' in AIB's Women's Best Friends, or even personifying Instagram in AIB's If Apps Were People.
She has her own 'The General Fun Game Show' where all points depend on her discretion. It has released 6 episodes so far, and seen the eminent personalities from the comedy circuit, like Kenneth Sebastian, Naveen Richard, Mallika Dua, Urooj Ashfaq, Varun Thakur, etc. The segments of the show are made hilarious sometimes by the game, and at other times, by the response of the contenders.
E.g.: 'What's The Word' is a segment where the audience whisper a word to Kaneez, and the participants have to guess it, without any clue. The last episode had the round 'Yeah Kiski Tatti Hey?', where the participants had to guess the pooper from pictures of the poop. Sometimes, Surka even gives away points for being complimented, but nobody is complaining!
In a recent series launched by AIB- 'Mujhe Ask Karo', Kaneez reads letters from troubled fans, and finds solutions for them. She has always received a lot of heat for her accent, and in a genius move she exaggerates this very aspect by communicating mostly in Hindi, throughout the video. Tanmay Bhat thinks she's a great listener and we believe in her power. You go, girl!
Neeti Palta
"Weddings are to us Punjabis, what is full moon to the werewolves. Kuch ho jata hai humein!"
She's one of the earliest Indian stand-up comics. In her #LadiesFirst shaadi.com, stand-up video, she speaks about how women have a stereotype to live up to. Making a first move on a boy, apparently was "out of syllabus" and made the Sun rise from the west, and messed with the "natural order of things".
"I got this reputation of being a fast girl. I'm like poor P.T Usha, yaar. She toh had to run a million races to get that title. Apparently a girl who makes the first move is considered a loose woman. Main koi motion hoon kya? Matlab loose toh pyajamey ke elastic hotey hain."
 Neeti Palta talks about everyday instances with an extremely funny twist:
"Drive like there's no one on the road." "Aunty jee's pallu is specially gravity-friendly.""Want to solve the illiteracy of the country? Put the alphabets on a girl's t-shirt."
Her Twitter account is all the fire you need on a gloomy day:
"If you can't find a silver lining, it's because its oxidized. But it's there. #SriSriNeetiMa"
Palta has always been a force to reckon with, and one of the finest stand-up comedians of India.
---
Suggested read: She's Underrated: 18 Uber-COOL Reasons To Date The Goofy Girl
---
Vasu Primlani
She's India's first openly gay comic, and you already envy the strength of this woman. In her video 'The Gay Cure', she mocks society's fragile sense of right and wrong. It shows two brothers bringing their third brother in for treatment, where the doctor (played by Vasu herself) says that the therapy involves him partaking in intercourse with attractive women. Immediately, the two brothers proclaim that they're gay too, twisting their limbs to show symptoms of the "disease".
As in the case of Kaneez, Primlani too uses society's mockery against them. She repeatedly jokes about her homosexual disposition. In a stand-up segment about public transport and women touching her, she said that the bus was so crowded, "it turned my watch on, it turned my phone on, it turned me on."
 Vasu has performed across the world, and had to throw away her American material to start building a whole new set when she came to India. Vasu once said,
"I'm one of the top three female comics in India today. Also, one of the only three female comics in India today."
That's definitely not the case anymore, but we're immensely glad that Primlani chose to return to her roots.
Aditi Mittal
I remember Mittal from her Dolly Khurana days. She had a 'Welcome To Bollywood' series, where she would review movies in a 'desi Punjabi' avatar. 'Ramesh' was a teddy bear who became an integral part of her videos, and of our hearts. 'Dollywood' has been discontinued, but the old videos on YouTube are absolute gold.
Aditi Mittal's method of comedy is highly sarcastic, to the extent where she was the only female comedian on the AIB Roast panel. Her videos on "Bra Shopping" and "Menstruation" went viral. She is amused by how the lingerie shopkeeper can tell your size without a measuring equipment, or why there's an "intricate flower design" on a sanitary napkin.
"Bird, bees, branches-designs I swear I've seen before on the walls of Fatehpur Sikri. Why is this so elaborate? Who's looking at it? I feel like the next big product will be 'Lady Bits: Now with an upriparak designed by Manish Malhotra'".
She also plays a character called 'Dr Mrs Lutchuke', whose tagline is "Dont's feel shy, beta. I'm like your mother only." Before playing the character independently, she has interviewed several people in the avatar. Aditi Mittal's Netflix Special is going to be out very soon. A storehouse of talent, this lady blows us away with her observations.
Radhika Vaz
Vogue: Describe yourself in three words.

Vaz: Tall, dark, and handsome.
Times of India wrote: "Vaz had the women clapping in agreement." She has been recognized as the feminist voice of the generation, and rightly so. Her comedy is as unflinching and unapologetic as she is.
Comedian and 'Unfollower', Vaz went naked in 'What The Fuck Should I Wear?'- "So, the reason I'm always in a bad mood, is because I have to start my day with a question that I don't have an answer for: What the fuck to wear?" They say "dress according to the image you want to portray. Well, the image I want to portray is that I am too cold to give a shit about my image."
When GQ asked her about the most important life lessons, she said:
"That virginity is overrated. That most women don't want your man. That you can survive without having children."
Radhika has a book called 'Unladylike' which is probably the sacred stone for unapologetic feminists. A lady perpetually on fire, Vaz is nothing short of an inspiration.
Sumaira Sheikh
"Martin Luther King ke na brown parents nahin the. Us bandey ke paas ek dream thi."
She is an immensely talented emerging female stand-up  comedian. Currently working with Sumukhi Suresh, Sheikh's straight-face comedy makes her our spirit animal. "He asked for my full name, so it went really good."
She performed her material on Bollywood songs on the stage of Son of Abish. She praises the talent of Anu Malik, saying:
"With one song, he has solved all the problems. He says, 'ek garam chai ki pyaali ho', 'koi usko pilaaney waali ho'. Because what's more important than garam chai ki pyaali? Phir 'chaahe gori ho ya kaali ho, bas seene se lagaane wali ho'. Because boobs are important to this man. Toh priorities sorted. 1) Garam chai ki pyaali, 2) Boobs."
She's here to unleash a storm on the comedy circuit, and we simply cannot wait!
---
Suggested read: I Am A Feminist, But Neither Am I A Man-hater, Nor Am I Asking For Preferential Treatment
---
The  Indian comedy scene faces a lot of heat for their sense of humor simply because a certain section lacks it. I propose, we live and let live. If you don't want to hear about breasts, menstruation, cows, politics, Bollywood, or Indian stereotypes, don't watch them. But I promise, you'll only be missing out on way too much. The Indian comedy scene is a way of life, and one that is very dear to me. There is nothing our comedians cannot cure. So, at 2 am, plug in your earphones, choose your type of comedy, and lose yourself in the only emotion worth chasing: happiness.
Summary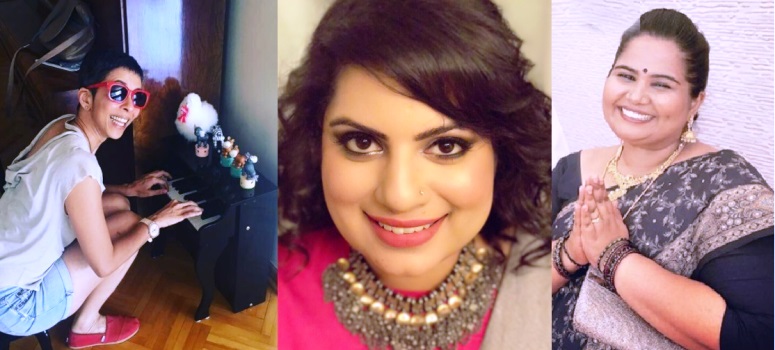 Article Name
8 Supremely Funny Indian Female Stand-Up Comedians You Need To Follow Right Now
Author
Description
It is interesting to note that the number of female comedians in India, though far less in ratio to men, has steadily been increasing. Here, we focus on 8 female stand-up comedians, hoping that the number skyrockets very very soon.