When the movie 'Mardaani' starring Rani Mukerji released about 10 months ago, I didn't think much about it and went about my life as if nothing significant had happened. After all, it was another flick where the 'chick' was the lead protagonist, a cop to boot, who acts tough and talks tough, and brings the criminals to justice. That was the extent of my opinion on the movie's trailer when I bothered to watch it. To be frank, I didn't even watch the movie.
Anyway, when I came across the heroics of lady IPS officer, Sanjukta Parashar, from Assam who fights Bodo militants on a regular basis, I was reminded of the movie, and the fact that 'art imitates life and life imitates art.' After all, it might have been one such lady who inspired the movie.
Image source: Facebook
---
Suggested read: Bold is Beautiful: Lesbian ad by Myntra goes viral
---
Sanjukta Parashar, a rare woman IPS officer from Assam, is one tough cookie, who leads her team regularly through Assam's unsafe terrains in anti-insurgency operations. With a Kalashnikov in hand, this mother of a two-year-old boy, evokes fear in the Bodo militants.
Parashar is married to IAS officer Puru Gupta, who is currently the Deputy Commissioner of Chirang district of Assam. With both their hectic and busy schedules, the couple manage to meet once every two months. To help raise her son, Sanjukta's mother stays with her in Johrat.
Image source: Facebook
Ranked 85th in the coveted Union Public Service Commission (UPSC) examinations, she could have had her pick of IRS or IAS posts and led a comfortable albeit staid life. Instead, she chose IPS, a welcome yet rare occurrence in our country.
She has an impressive academic background to boot:
Sanjukta has a Bachelor's degree in Political Science (Honors) from the Indraprastha College for Women in New Delhi
She completed her Master's in International Relations from Jawaharlal Nehru University, New Delhi
Later, she moved to Indonesia, where she earned an M Phil followed by a Ph D in US foreign policy
Born and raised in Assam, Parashar is an IPS officer of the 2006 batch. Parashar's first post was as the Assistant Commandant of Makum in 2008. Interestingly, within hours of taking charge, she was directed to Udalguri, to quell and control the ethnic clashes between Bodo and illegal Bangladeshi migrants. That was just the first of many of her anti-Bodo militant operations in Sonitpur district of Assam.
Image source: Facebook
She is truly a real life Mardaani, for she has fought and wiped out 16 known militants and has arrested over 64 others in the last 15 months alone!
Wait, that's not all; Sanjukta has quite the flair in penning her thoughts, and her Facebook page is testament to this. She posts sporadically on her page; the posts range anywhere from personal pictures from her younger days to encouragement to young kids to join the government to spark the much-needed change, to sharing how she spent her New Year's Eve at relief camps. Check out some of her posts here:
Congratulating the youth, she wrote:
'Congrats to all those kids out there who have successfully completed the very first exam of their lives. Study hard and get on with your life. and I do wish quite a few join the government. We need bright young sparks to lead the country.'
---
Suggested read: India gets its first transgender principal in Manabi Bandyopadhyay
---
Back in 2013, she wrote this in her blog:
"Police is the most misunderstood function of the government in today's India. Damned if we do and damned if we don't…

I want dignity for each and every police man or police woman on the street. There are problems within and there are problems without. While on one side police will be revered only when the corrupt practices inside the police department are weeded out, on the other hand there needs to be a working interface of the community with the police and the policing system so that they understand what the police stands for and what are the constraints of the legal system within which the police has to operate. Tolerance on the whole of the misuse of power and money has to end. However with it needs to end the reliance on hooliganism and demands for street justice. Retribution and revenge are not the marks of a civilized society. Industriousness and probity are.

Women in the police need as much protection as those without.

Women have been commodified. Police has been demonized. Politicians have been vilified. In the process we have forgotten what it means to be human."
Image source: Facebook
In a FB post, Sanjukta shared how she spent her New Year's Eve:
"I used to be quite a boring person on new year's eve. I have never gone out for a party. My idea of a new year and birthday is to go to sleep at a normal time, wake up early and go for a long run. Tonight is the first new year's eve that I am up so late. In fact it's new year now. 2:10am. I have reached the house but I am still debating if I should sleep or go out. I spent the day and night visiting all the relief camps and most of the police posts there. Half the camps are closed and people have gone home. The rest will go within a week. The security forces however shall stay. Far from their homes and loved ones, in the cold and inhospitable terrain, amongst hostile population, because that is our job. That is what we do. Its time to make amends, to settle scores, to bring people home … (sic)"
Sanjukta surely has set quite a benchmark for all the young women and men out there to aspire to do more for our country, and to follow through with it.
We respect you, Sanjukta Parashar. Our best wishes are with you in your journey to achieve greater things in life, and also towards making this country safer for women, one tiny step at a time.
Featured image source: Facebook
Summary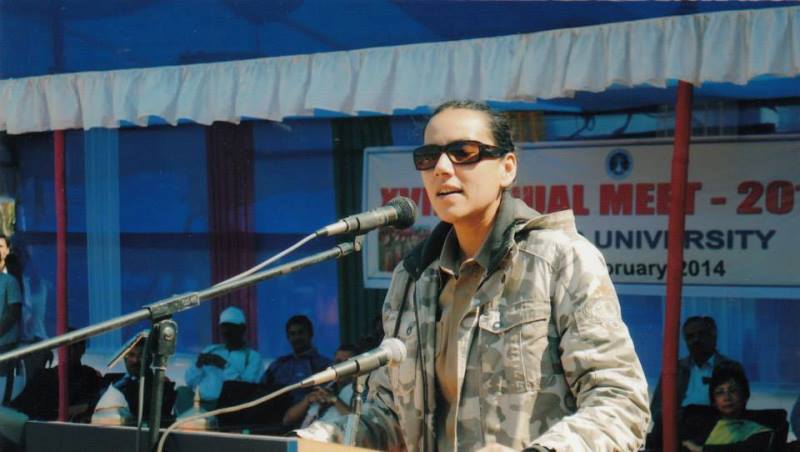 Article Name
Sanjukta Parashar: Why Militants Fear Assam's IPS Officer
Author
Description
Sanjukta Parashar is a rare woman IPS officer from Assam, who is feared by the militants in that state. Check out some interesting facts about his lady!