A wedding is a joyous occasion. Almost every girl dreams of a memorable wedding – whether it's grand or a simple ceremony. It is a day you pledge yourself to another person; that person pledges himself to you. It is a new chapter in your life; a new journey that you embark on with your partner.
Besides that, it also entails the dress, the flowers, the reception, the guests, the bride, the groom. Wait. What if the groom were absent? What if he chickened out days before the wedding? What if he told you that the wedding you had painstakingly planned wasn't going to happen? You have two choices – either curl up on your bed and mope and cry and watch romantic movies whilst eating large tubs of ice cream, all the while oscillating between cursing your ex-fiancé and picking up the phone, just so you could hear his voice again, or, you could consciously try to forget him and create special memories on your supposed-to-be wedding day.
A jilted bride from Memphis chose to do the latter, and did make a lot of memories.
Here's the story.
Shelby Swink, 23, started dating a guy she met in college back in the beginning of 2011, moved in with him in December 2013, and was engaged to him in March 2014. And the wedding date was set for November 1st, 2014. But just 5 days prior to the wedding, her fiancé sat her down and told her that he was contemplating calling off the wedding. He even went a step further and said, "You know, I'm just not in love with you and I don't want to marry you, I don't want to spend the rest of my life with you," recalled Shelby.
"[But] I didn't want to be that girl that everybody was tiptoeing around," said the feisty young woman. Although she admitted that she was "numb" the first few days after the break up, moping around was the last thing she wanted to do as her supposed-wedding day loomed ever closer. "I knew that a pity party was the farthest thing from what I wanted or needed," said Shelby.
So, when her wedding photographer Elizabeth Hoard suggested the idea of a "trash the dress" photo shoot on the day her wedding was supposed to happen, Shelby initially thought it was crazy. "First I thought it was crazy because it is an expensive dress and I didn't really want to ruin it. [But] I didn't want to just spend my would-be wedding day sitting at home alone eating ice cream and watching Netflix. I would rather be doing something fun with friends and family which is what we did," recalled the jilted bride.
Apparently Shelby had gotten similar suggestions from a couple others, and had thought that is was a crazy idea, but had later warmed up to it and decided that it was the best thing for her to do.
All her bridesmaids and of course, her parents, were invited to the dress-destroying photo shoot. All of them pitched in in destroying the dress. "My mom is the one who paid for the dress, so I was nervous as to how she would react when I told her what I wanted to do with it," said Shelby. "But both of [my parents] were 100% supportive and wanted to be there for me. They told me that the money didn't matter in the end. The only thing that mattered to them was my happiness." Awww!
The ingredients used to destroy the beautiful wedding dress – glitter, feathers, and paint – lots and lots of it. Her super supportive dad even brought Champagne and cigars.
Shelby recalled the first splash on her wedding dress. "My friend Carol threw her paint on me, not hesitating for one second, and it splashed all over my dress. That's when I suddenly realized that the dress didn't matter. It was merely a material item," said Shelby.
And with each following flick of paint, she felt more and more free: "I let go of everything I was feeling before. I felt free of sadness, free of disappointment, free of anger. I let all of that go and let happiness take over. November 1st was supposed to be a day full of happiness surrounded by loved ones, and that's exactly what it was!" gushed a truly happy Shelby.
Since it was November, the day of the photo shoot was freezing. "We were wet with paint and our fingers were numb, but it was so, so fun to just live in the moment," said Shelby.
By the end of the photo shoot, the once pristine wedding dress was a multi-colored mess with glitter and paint-plastered feathers stuck all over it.
The rainbow-colored paint and feather splattered wedding dress is being displayed at a local Memphis bridal store, The Barefoot Bride, till early January. What's more, the bridal shop is donating a portion of the shop's sales during the display to a local non-profit called Be Free Revolution.
And as for the jilted yet happy bride, she said that the whole experience has reminded her that she is the one who is responsible for her own happiness. She said, "We define our own happiness, not who we're with. You have to face life head on and use the lemons it gives you to make some awesome lemonade! Everything happens for a reason."
Well said, Shelby! You go, girl!
Summary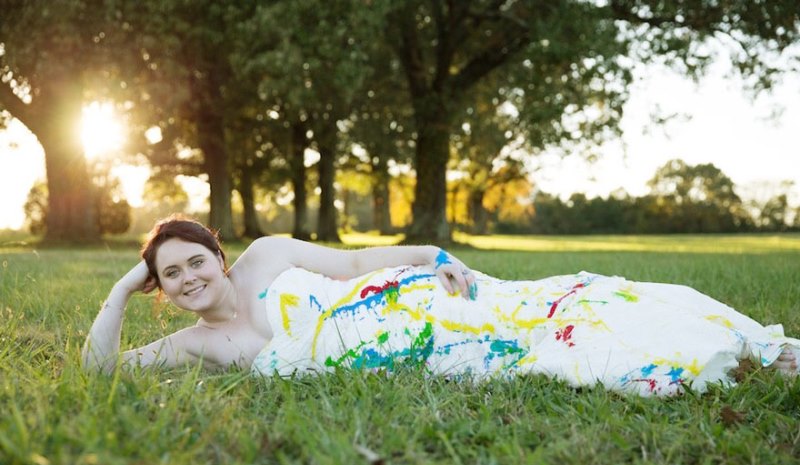 Article Name
Jilted bride celebrates with a 'trash the dress' photo shoot
Author
Description
Jilted bride, Shelby Swink, turned her frown upside down and made a truly spectacular splash with a 'trash the dress' photo shoot.