Engagement photo shoots and pre-wedding photo shoots are pretty common nowadays. And if the pictures are quirky, ethereal, and surreal – all the more better! After all, the couple set out to capture the essence of their relationship in those photos.
Now picture this – lush green backdrop filled with gnarled old trees and verdant foliage. A beautiful bride dressed in a stunning burgundy taffeta gown and a handsome groom clothed in a white dress shirt. But pray tell, what are they sitting on? Is that a coffin?! A white one?! Surprised? We were too!
Image source: Jenny Tay
Jenny Tay, 29, and her fiancé Darren Cheng, 30, are the couple who are featured in a coffin-themed pre-wedding photo shoot. The couple, who is to wed in October 2015, both work as undertakers. Not only does a coffin play an important role in their professional lives, they also take the 'till death do us part,' part of their vows quite seriously, if the photos are anything to go by.
---
Suggested read: Mississippi photographer captured epic wedding photo as he fell over!
---
Tay, who is the managing director of Direct Funeral Services in Singapore, said,
"Our business is very much a part of our lives. When couples take wedding pictures, many of them think of something significant and meaningful to them – their favorite café, the place where they first met."
Image source: Jenny Tay
Further, she added,
"Both of us are very passionate about our jobs, so I thought, why not?"
The bride-to-be and her husband-to-be manage the funeral business, where Cheng looks after the company's operations and business development. Although initially taken aback by the idea of coffin-themed wedding photo shoot, he quickly came around to it.
"I am not superstitious and it makes sense," said Cheng, who prides himself on being a free thinker. "In some cultures and religions, death means life and rebirth."
Image source: Jenny Tay
Speaking more about her choice of using the coffin in the photo shoot, Tay said,
"We wanted it to be pretty and whimsical, not at all morbid, so we staged it there and not in an actual cemetery. We also didn't want to scare people, and the reaction to it has been very positive."
Image source: Jenny Tay
Further, she went on to add,
"It's important to talk about death; it's part and parcel of everyone's life. Many Asian societies often portray it negatively – we hope to be able to debunk that taboo by encouraging people to be open about death."
Image source: Jenny Tay
She also noted that they didn't plan on displaying the photos at their wedding ceremony that is to be held in October.
Having taken over the business from Ms Tay's father, the pair has now been working at Direct Funeral Services for two years. The duo is on a mission to modernize and professionalize the trade, while also focusing on removing the taboos associated with death and funerals.
Image source: Jenny Tay
Although the idea of using a coffin for a pre-wedding shoot seems ghoulish and quite morbid, the couple looks stunning in the series of shots. And in one picture, the couple is seen snuggling inside the white coffin in a waterway park in Singapore. In another picture, while the groom is donning a tuxedo, the bride is seen in a stunning lace wedding dress, sitting atop the white coffin. Ms Tay admitted that the coffin-themed pre-wedding photos took a day to film, and that the weather was 'very hot.'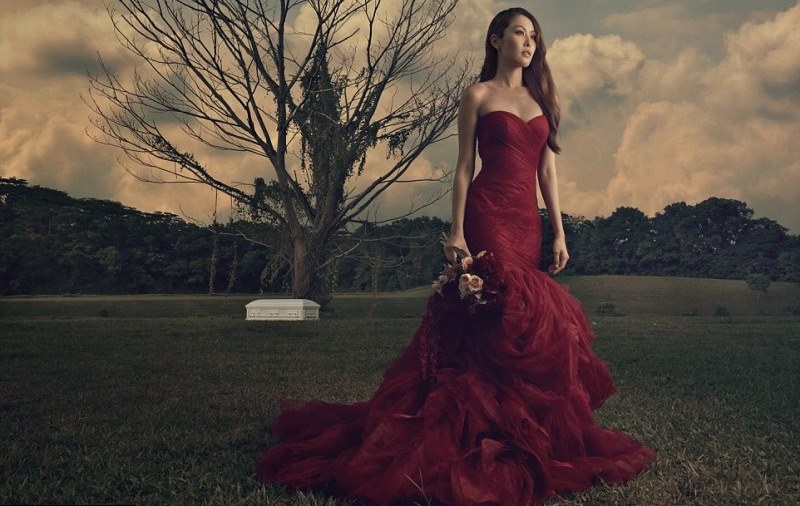 Image source: Jenny Tay
With their coffin-themed pre-wedding photo shoot, the couple has managed to cause quite a stir online, with many users lauding their 'unique approach.'
Well, a coffin-themed pre-wedding photo shoot does sound … unique. Would you do something like this if your profession was something similar? Tell us in the comments below.
Featured image source: Jenny Tay
Summary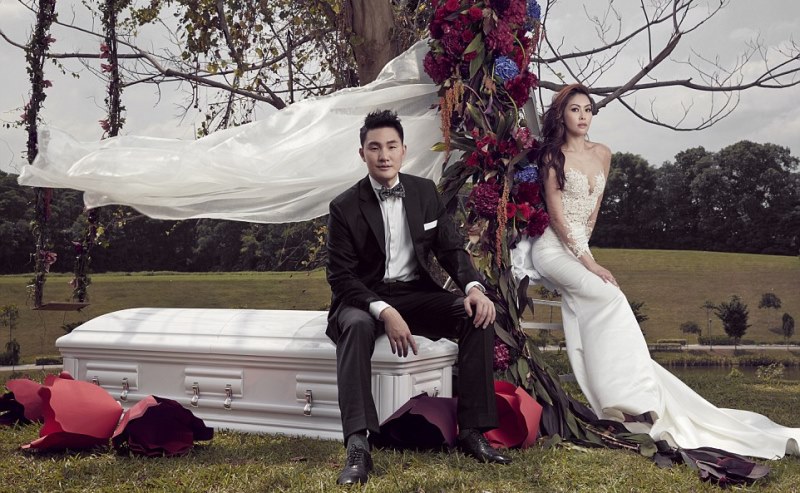 Article Name
Coffin-themed Pre-wedding Photo Shoot Stirs The Internet
Author
Description
A coffin-themed pre-wedding photo shoot by a Singaporean couple is the latest to capture the imagination of the Internet. Check out some of the pics here.