When you think of an all-American beauty, the picture that comes to mind is a blonde-haired blue-eyed slender woman. However, seems like this clichéd version of an American ideal is changing thanks to celebrities like Selena Gomez, Mila Kunis, Jessica Biel and the like.
In a study conducted by the date auction site WhatsYourPrice, it was found that single American men had a very different idea when it came to their 'perfect woman.' And these characteristics have changed a lot since last year, apparently.
In 2015, these were the most desirable characteristics in the perfect woman – blonde hair and light eyes, especially green eyes.
However, this year, these attributes seem to have swung in the opposite direction with brown hair, brown eyes, and darker skin being deemed ideal for a woman.
Image source: WhatsYourPrice
WhatsYourPrice is date auction site where men bid for dates with beautiful women, and it's from the stable of Brandon Wade, who owns other … um… interesting websites called Carrot Dating (offering bribes for a date), Seeking Arrangement (a sugar daddy/baby arrangement) and so on.
Image source: Google, copyright-free image under Creative Commons License
---
Suggested read: Carrot Dating app lets you bribe your way through dates
---
Based on the information collated through the site, it was found that men have started preferring women with brown hair like Mila Kunis or Kate Beckinsale. Also, women with brown eyes were popular – a stare similar to Selena Gomez, Beyoncé, or Jessica Alba.
Image source: Google, copyright-free image under Creative Commons License
Another interesting trait that single men seem to favor is a tan or a darker complexion a la Kim Kardashian. In other words, women with Middle Eastern ancestry were preferred.
Image source: Google, copyright-free image under Creative Commons License
That's not all when it comes to the perfect woman. Men still preferred supermodel-tall women, with the average desirable height being 5'9", just like Jennifer Lawrence. Apparently, this is four inches taller than an average American woman's height.
Image source: Google, copyright-free image under Creative Commons License
Another given was the body type of the perfect woman – men wanted their women to be athletic and toned like Jessica Biel.
And if all this stress on physical attributes is making you want to punch somebody, the study also talks about men's preference for smart women, preferably with a graduate degree, like Emma Watson.
Image source: Shutterstock
Talking about this change in preference, Brandon Wade, CEO and Founder of WhatsYourPrice said,
"When you think about the all American beauty, the picture of a blonde, blue-eyed bombshell usually comes to mind. Our study shows a major shift in America's definition of The Perfect Woman. American men valued dark features the most, and surprisingly enough, Middle Eastern was the most popular ethnicity among online daters!"
So let's take a minute to build this perfect woman from scratch – brown hair, brown eyes, darker complexion, 5'9", toned and athletic, from Middle Eastern descent, and holding a graduate degree.
Hmmm.
So much for embracing your inner goddess and unleashing your true self on the dating world!
Men, good luck finding such a woman. Women, don't worry, the right man will think you're the most beautiful woman in the world! So, chin up!
Featured image source: WhatsYourPrice
Summary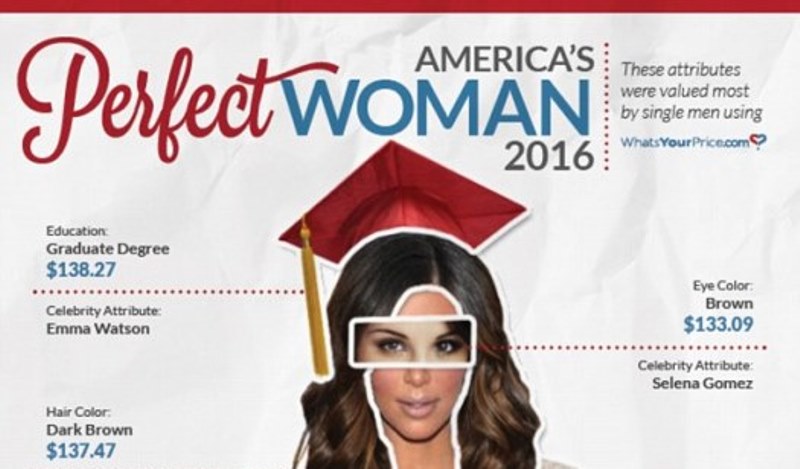 Article Name
Here's What The Perfect Woman Looks Like...
Author
Description
According to a study done by date auction site, WhatsYourPrice.com, this is what single American men think the perfect woman should look like.