What causes frizz? When the moisture and nutrient is stripped from our hair, it turns frizzy. According to Mark Townsend, who is a New York-based celebrity hair stylist,
"Your hair loses moisture throughout the day, so midday, the cuticle [the outermost layer on your strands] opens up and lets the outside air in, creating a frizzy mess."
Though frizzy hair is a common problem, you should not take it lightly because it leaves your hair looking dull, damaged and devoid of any shine. Frizzy hair does not bounce, and no matter what haircut or hair style you try, you can expect your hair to look unattractive.
In today's post, we will help you tame your mane by giving you some super helpful frizzy hair hacks that are easy and yet very effective.
The lack of moisture makes our hair frizzy. The tresses look rough, dry, dull and lumpy. This condition is also caused by factors such as chlorinated swimming pool water, heating irons, straighteners and curlers, chemicals and alcohol in hair care formulas, and a poor hair care routine. Using hair care products that do not work for your hair type, can also wreak havoc on your hair, causing untamed hair.
---
Suggested read: Ancient Hair Care Secrets Unveiled!
---
Let us have a look at some of the simplest frizzy hair hacks that will help you take care of the frizz.
1. Go for shampoo that is sulfate-free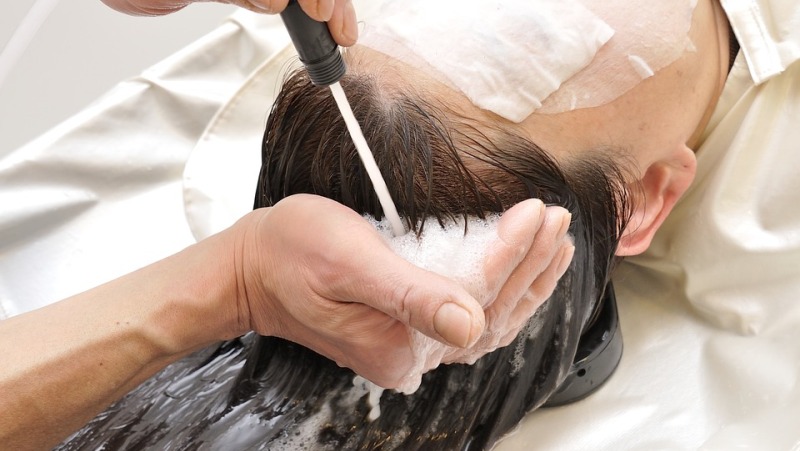 Image source: Google, copyright-free image under Creative Commons License 
You need a hair cleanser that does not contains sulfates, but is packed with glycerin. Glycerin helps restore the moisture content of your hair, thus lowering the frizz. It combats the frizz by seeping into the hair shaft effortlessly, and hydrating it from the inside out.
Glycerin is also known to create a protective coating outside the tresses, thus preventing breakage.
2. You cannot afford to ditch the conditioner
To control the frizz, you need to not only moisture your hair and scalp, but also ensure the moisture is locked into the cuticle. Only then will the solution be a long-term one. For this, you need a conditioner that contains glycerin in addition to coconut oil, shea butter, and other hydrating ingredients. By applying the conditioner from the mid hair shaft to the tops will helps lock the moisture in the tresses, and thus keep your hair hydrated for a longer time.
3. Prioritize the conditioner over your shampoo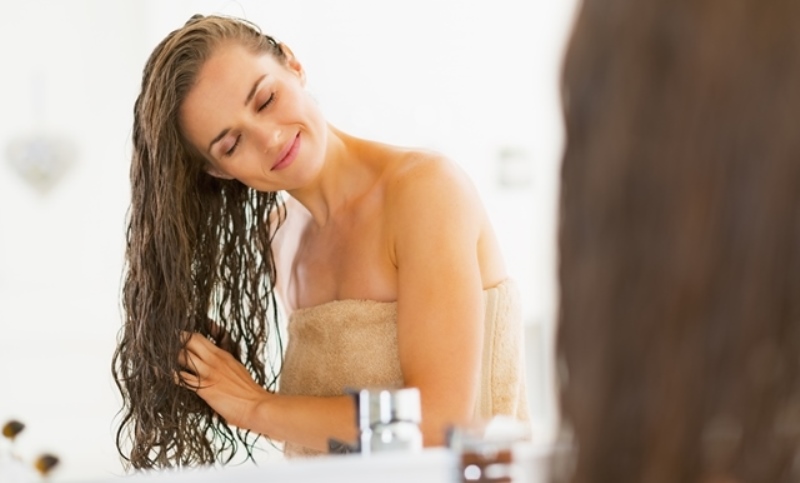 Image source: Shutterstock
To do this, two times a week, use your conditioner without shampooing your hair. Your hair does not require to be shampooed every day. That only contributes to the frizzing. Twice a week, apply your conditioner and ditch the shampoo. Apply the conditioning formula from mid hair shaft to the tips of your hair, wait for a couple of minutes, and then rinse it out.
Try a lightweight conditioning formula if your hair is fine. For those with thick and rough hair, a richer formula is recommended.
4. Try hydrating hair masks once every week
At least once a week, you need to apply a hydrating mask on your dry and frizzy hair to fight the frizz. During winters, especially, the hair tend stop gets really dry and is stripped of all the essential nutrients. To counter that, use hydrating hair masks.
Try a mask that contains glycerin, is rich in silk proteins and vegetal ceramides that smoothen the tresses.
5. Stop blow drying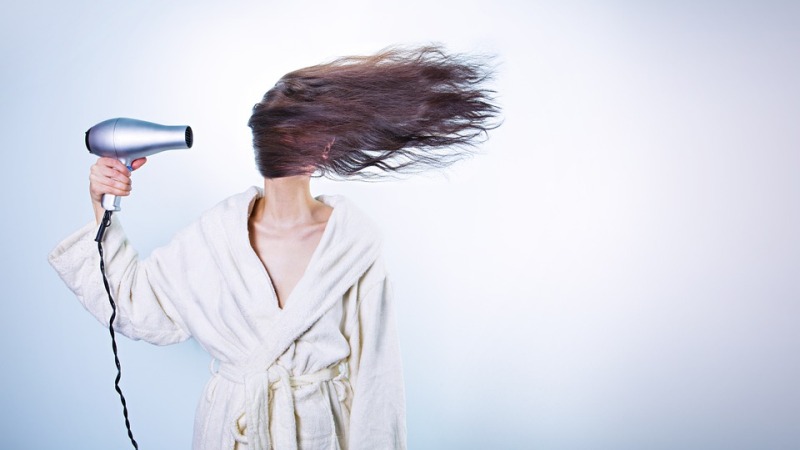 Image source: Google, copyright-free image under Creative Commons License 
Using heating tools on the hair wreak havoc on it. If your hair is already frizzy, then you need to completely stop blow drying your wet hair. Instead air dry it. Using hot air on the strands can dehydrate them. This particularly true in the winter season. For those of you with wavy hair, air drying the hair 90 per cent and then using a dryer can be a good option.
6. To distribute the natural oils, brush your hair well
This might sound simple, but you have no clue how effective it is when it comes to controlling frizz. Brushing your hair using a boar bristle brush can help circulate the nutrients, the sebum, and the blood from the scalp to the rest of the hair. This helps hydrate the tresses, and also blocks out humidity.
---
Suggested read: How To Make Homemade Conditioner For Oily Hair With Natural Ingredients
---
7. Try dry oil for your frizzy straight hair
For those of you with straight but frizzy hair, brushing dry oil by using a mixed bristle brush can be a great way to control the frizz. After washing your hair, while it is still moist, apply some dry oil that locks the moisture into your shaft with your fingers. Go from the hair tips to the mid-shaft. The oil will work as a barrier, preventing liquids from seeping into the hair.
 When you think your hair is almost 90 per cent dry, use a round mixed bristle brush, and brush your hair. This will help seal the moisture and give you a smooth finish.
8. Use silk pillowcases
Image source: Google, copyright-free image under Creative Commons License 
Not many people know this, but using silk pillowcases while sleeping will help you reduce hair breakage. To further lower the damage to your hair, you can tie your hair into a braid, use a shower cap to cover it, and then sleep on your silk pillowcase.
What makes cotton pillowcases bad for your hair is that the tresses tend to get rubbed against the material, breaking, and thus becoming brittle and extremely frizzy.
9. Tie your hair in a bun once its dry
After your ritual of shampooing, conditioning and drying your hair, apply some dry oil to the tresses, and them tie it into a bun. This will help reduce the friction between your hair and your clothes or skin, thus preventing formation of frizz.
10. Use a cream hydrator for your thick and coarse frizzy hair
To tame frizzy hair that is thick and coarse, you need a cream hydrator and a diffuser. Shampoo your tresses and then condition it with a glycerin-based formula. Now while your hair is still moist, apply the cream hydrator. Go form the hair root to the tip. Remember to warm the product by rubbing it between your palms and then applying it. This will speed up the absorption of the product by the hair. Now use a diffuser on high heat and low speed, and dry your hair. Just blow once, and then brush your hair using a boar bristle brush.
11. Use a serum
This hack really comes in handy when your hair gets wet in the rain and then poufs out. By applying a light serum or a cream formula on your textured hair, you can control the frizz. After applying the product, tie your hair into a bun, and the next day, you will see how your hair is smooth again.
12. Use your body lotion to tame that frizzy hair
If you tie your hair in a ponytail, and the ponytail looks really frizzy and dull, then you can smooth it down using a hairspray. But applying body lotion will work more efficiently to control the frizz by moisturizing your tresses thoroughly. Just take some of the lotion in your palms, rub the palms together, and apply the lotion on your hair to make it look polished and healthy.
13. Always keep a travel-size hairspray in your bag
If your updo gets frizzy from the underside, then you need to pack some bobby pins to hide the frizz. By keeping a hairspray handy at all times you can smooth the frizz during emergencies. According to celebrity hairstylist Garrison, do not ever smooth your frizz for emergency using a serum, because it does not hold.
14. Apply your hair products before you work out
Our perspiration contains sodium which dehydrates our hair. When you apply a leave-in conditioner to your tresses before you work out, you take care of the dehydration. People with textured hair, use a cotton handkerchief as a bandana. Cotton absorbs the moisture and soaks up the sweat without trapping it.
15. Try avocado hair masks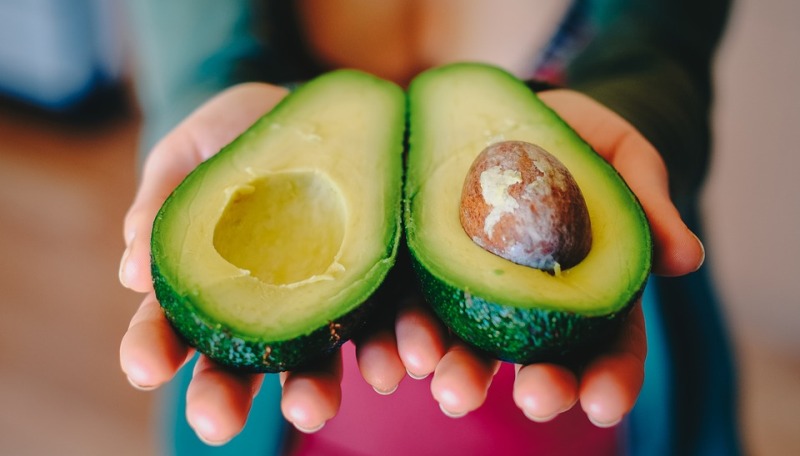 Image source: Pixabay, under Creative Commons License 
Avocado hair mask can treat the frizz in your hair in a week's time. The fruit contains vitamin E which we know provides the tresses with an intense condition. This hydrating property of avocado soothes the frizz and makes the hair shinier and more voluminous.
---
Suggested read: The Most Practical Guide For Damaged And Frizzy Hair Treatment At Home
---
That is all we have on today's post on Tame Your Mane: Frizzy Hair Hacks That Are Actual Life-Savers. Was this helpful?
Will you be recommending it to others too? If you have queries regarding hair care that you would like to share with us, then please do so in the comment section below. Our experts will get back to ASAP.
You can also subscribe to our newsletter to receive these articles in your inbox every day.
See you again tomorrow!
Featured image source: Google, copyright-free image under Creative Commons License 
Summary
Article Name
15 Frizzy Hair Hacks That Are Actual Life-Savers
Author
Description
In today's post, we will help you tame your mane by giving you some super helpful frizzy hair hacks that are easy and yet very effective.