As a team in love with all things love, we wait to kiss a year adieu with all the love it showered on us reciprocated in trebled doses! That time of the year is here again… and we are celebrating the most romantic dialogues of the year- the ones that made us weak in the knees and turned our insides into mush- with the NLT year-in-review awards! We may not steal the show with our sci-fi, horror or action flicks but we do know the art of breathing life into all things romance and therefore, never fall behind when we wish to steal away hearts…with words alone!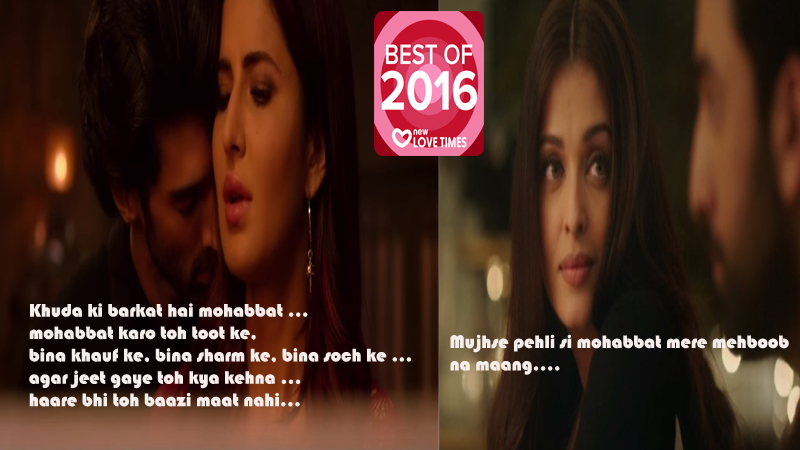 So, without further ado, take a look at the NLT heartpicked nominees for the most romantic dialogues of the year:
---
Suggested read: Here are the most "hearted" celebrity Instagram posts of 2016
---
10. Shahrukh ka mazaak mat udhao … manne bahut pasand hai … jab woh ladki ke aankh mein aankh daalke dekhe hai na toh andhi ladki bhi patt jaave hai…
Movie: Sultan
Because when one Khan in the industry takes to praising another in his 100-Cr grosser for the one thing the latter is the undisputed 'king' of, you cannot NOT deem it a worthy competitor. This one is for all the fans of 'bhai' who cannot help whistling when bhai and King Khan come together and all the fans of SRK who know exactly why this dialogue is a winner (we know Shahrukh can make a woman melt with 'that' look alone).
9. Tere spaghetti jaise ghane lambe baal … olives jaisi kaali kaali, actually not so kaali kaali aankhen … baby corn jaisi nukeeli naak … cherry tomatoes jaise laal laal gaal … sliced bell pepper se bane honth … jalapeno si teekhi zubaan … chalti phirti pasta dish ho…
Movie: Ki and Ka
When the 'most wanted munda' of the country flirts with Bebo, it has got to send out delish wisps of smokin'hot romance that can prove to be 'teekha tadka' for a lot more than just your peepers. We say 'iss hatke andaaz ki angithi pe hi haath senkh lo…,' coz that's as close as you are ever gonna get to this HOT, sizzling chemistry!
8. Life mein jo hum chahte hai aur jo hum chunte hai … uske beech mein hamari kamzori chupi hoti hai … aur kabhi kabhi taqat…
Movie: Tum Bin 2
More profound, more intense and more telling, this one may have come inside a movie that failed to live up to its predecessor's fame, but resonated with all hearts that have known love and its myriad shades. This one's to the difficult choices that LOVE brings along!
7. Har din, har raat tera khayal rehta hai … har waqt, har pal bas ek sawaal rehta hai … tum bin jiya jaye kaise, kaise jiya jaye tum bin … muskuraya tune joh taare bhi sharma gaye … dil ki dhadkan badh gayi toh hum bhi kuch ghabra gaye … aye hawa behki hawa chhuna usse tehzeeb se … mere pyar ka paighaam dena chupke chupke kareeb se…
Movie: Sanam Re
The movie may have disappointed hundreds swooning over the album and awaiting the Valentine's day release eagerly- but some moments from the movie stuck out! This was one of the many!
6. Tum mera guzra hua kal thi … aane waala kal hogi … aur yeh pal ho… 
Movie: Baar Baar Dekho
Again, a disappointment to all those who were groovin'to 'Kaala Chashma' and waiting to see the fresh pairing weave similar magic onscreen- this one moment from the Sidharth-Katrina starrer captured an eternal truth for all hearts in love!
5. Khuda ki barkat hai mohabbat … mohabbat karo toh toot ke, bina khauf ke, bina sharm ke, bina soch ke … agar jeet gaye toh kya kehna … haare bhi toh baazi maat nahi…
Movie: Fitoor
Tell me, the lover boy from Aashiqui 2 with eyes-that-can-kill-with-a-glance didn't make yet another incomplete love story seem like a win-win! This one's to losing one's heart in love and winning the game! To love and the beauty of the Urdu language!
4. Agar meri kismat mein sirf khaak likha hai … mujhe qubool hai … agar yeh hi meri aakhri aah hai … mujhe qubool hai … qubool hai, qubool hai, qubool hai…
Movie: Fitoor
Another one from a movie that did not disappoint with its dialogues, this one is the most heart wrenching way to proffer one's undying commitment, even as it comes with one's destruction! We say 'qubool hai.'
3. Ek bas seene mein dil chahiye … aap poori kaynaat se ladh padoge…
Movie: Fitoor
Isn't it?
<Do I see all hearts in love registering their 'me too-s?>
Thought so!
2. Jab pyar mein pyar na ho … jab dard mein yaar na ho … jab aansoon mein muskaan na ho … jab lafzon mein zubaan na ho … jab saansein bas yoon hi chale … jab har din mein raat dhale … jab intezar sirf waqt ka ho … jab yaad us kambhakht ki ho … kyun hoon main raahi jab woh hai kisi aur ki manzil … dhadkano ne saath chhod diya … ae dil hai mushkil, ae dil hai mushkil…
Movie: Ae Dil Hai Mushkil
Admit it- Ae Dil Hai Mushkil captured love and its grays- and did it beautifully! If it had been a simple black-and-white zone, what'd have been so 'mushkil' about it anyway, isn't it?
---
Suggested read: The top 10 most viewed songs on YouTube in 2016
---
1. Ek tarfa pyar ki taqat hi kuch aur hoti hai … auron ke rishton ki tarah yeh do logon mein nahi bat'ti … sirf mera haq hai ispe…
Movie: Ae Dil Hai Mushkil
Admittedly, the best romantic dialogue of 2016 (by a majority in the NLT-house), this one was just the 'marham' all hearts wounded in the one-sided 'ishq' battle needed! Not only did it give us a novel take on the way this love is perceived, it sent out a strong message. For those of you who didn't get it, it's simple- 'mohabbat sharton ki mohtaj nahi hoti,' and King Khan was repeating himself there. He said the same in Mohabbatein– read the writing on the wall already!
And those are our top ten contenders for the most romantic dialogues of 2016. Tell us who you think should walk away with the award!  There's a comments section below.
Summary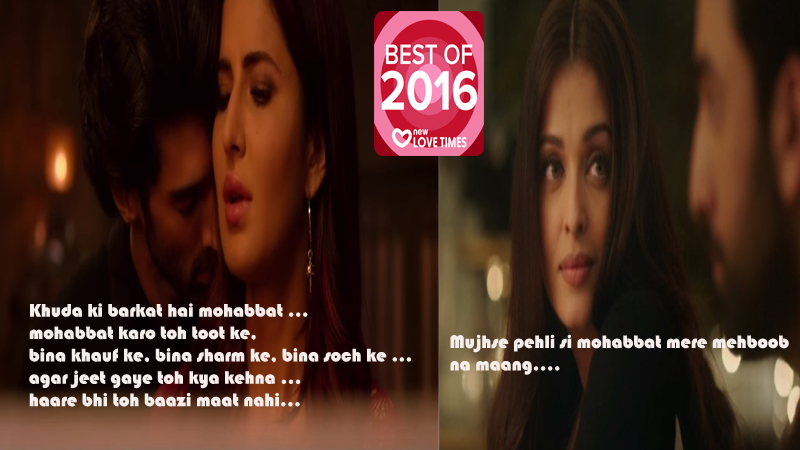 Article Name
#BestOf2016 The 10 Most ROMANTIC Dialogues Of 2016
Author
Description
These are our top ten contenders for the most romantic dialogues of 2016. Tell us who you think should walk away with the award!