As the year fizzles out (or will it end with a bang?!), YouTube has released the videos that were most viewed, shared, commented on and liked, in 2016. So, are you ready have a look at the most viewed songs on YouTube this year?
---
Suggested read: #BestOf2016 The top 10 Fa-shio-ntastic red carpet looks from 2016
---
Any guesses on who might be leading this list? Well, it is no surprise! Fifth Harmony's super hit "Work From Home" has grabbed the first place with a whopping 1.2 Billion hits! Did you love the song, or were you gals more interested in watching Ty Dolla $ign? 😉
Calvin Harris has settled for the second spot (or has he, considering we still have a few days of 2016 left!) with his summer anthem, "This Is What You Came For", with Rihanna.
In the third place, we have… why should we tell you here?! Read on to find out! 😉
Here are the 10 most viewed songs on YouTube, this year:
1.
Artist: Fifth Harmony feat. Ty Dolla $ign
Song: Work from Home
Views: 1.2 Billion
"Work from Home: by the girl group, Fifth Harmony, featuring singer and rapper Ty Dolla $ign, released on the 26th of February this year. This song is the lead single of the album, 7/27, which is the band's second studio album. This super-hit number debuted at the 12 spot on the Billboard Hot 100, and just in its thirteenth week, reached the 4th position.
2. 
Artist: Calvin Harris feat. Rihanna
Song: This Is What You Came For
Views: 1 Billion
This song by the Scottish DJ Calvin Harris was released on 29th April, 2016. It features the Barbadian Singer, Rihanna, whose song, "Work", is also on this list. With influences of house music, "This is What You Came For", was written by Calvin Harris himself and Taylor Swift.
3. 
Artist: Nicky Jam
Song: Hasta el amanecer
Views: 876 Million
Released on January 15th, 2016, Hasta el amanecer, was named the "sultry, sexy, reggaeton track" by Billboard. Only after running for three weeks, this video received 53 million views.
According to Billboard, this song is on number three of the YouTube most viewed songs of the year because of Nicky Jam's "trademark catchy melodic hooks. Still a hopeless romantic, here Jam pines after a girl he met at the laundromat, and let go, without even finding out her name."
4. 
Artist: The Chainsmokers feat. Halsey
Song: Closer
Views: 812 Million
The American DJ dup "The Chainsmokers", released Closer on July  29th, 2016. The song was penned by Andrew Taggart, Ashley Frangipane, Shaun Frank, Frederic Kennett, Isaac Slade and Joe King, and produced by Disruptor Records and Columbia Records. The retro-style synthesizer in the chorus, really gets you hooked.
5. 
Artist: Rihanna feat. Drake
Song: Work
Views: 797 Million
Work was recorder by Rihanna for her studio album no. 8, Anti. It features the Canadian rapper, Drake, and was released on the 27th of January, this year. This song contains an interpolation of 1985 single, If I Were Here Tonight, by Alexander O'Neal.
6.
Artist: Mike Posner
Song: I Took A Pill In Ibiza
Views: 702 Million
This song is also called "In Ibiza" (according to the censored title) and "I Took a Plane to Ibiza" (according to its clean title). Originally, the song was acoustic guitar-based. It featured on the album, At Night, Alone. Later it was remixed and released in US of A by the Norwegian duo SeeB, on 24th of July, 2015.
7. 
Artist: Sia feat. Sean Paul
Song: Cheap Thrills
Views: 683 Million
Recorded by Australian artist Sia, Cheap Thrills is one of the songs from her seventh studio album, "This is Acting". Cheap Thrills is bouncy and reggae-tinged with rap by Sean Paul. The constant tropical beat makes this electro-pop song a favorite!
 8. 
Artist: ZAYN
Song: Pillowtalk
Views: 650 Million
Styled as PILLOWTALK, this song by Zayn Malik is one of the tracks of his debut solo album, Mind of Mine. The song released on the 29th of January, this year, with its accompanying music video. Your views have put this number on the top 10 most viewed and liked songs on YouTube.
9. 
Artist: Coldplay
Song: Hymn For the Weekend
Views: 621 Million
 The British rock band which recently performed in Mumbai, India, as a part of the Global Citizen, released their song Hymn for the Weekend, for their sevent studio album, A head Full of Dreams, on the 25th of January, 2016. Written by the band members themselves, this indie R&B song featured American singer, Beyoncé and Indian actress, Sonam Kapoor.
10. 
Artist: Twenty One Pilots
Song: Heathens
Views: 479 Million
Heathens released on the 16t of June, this year. It was written by Tyler Joseph. The song was used for the soundtrack for the movie, Suicide Squad. The song received three Grammy nominations for the Best Rock Performance, Best Rock Song and Best Song Written for Visual Media. No wonder it is on this list!
---
Suggested read: #BestOf2016 Here are the most "Hearted" celebrity Instagram posts of 2016
---
That's a wrap from us! To find out the top 10 feminist moments of 2016, stay glued to this space! See you soon!
Summary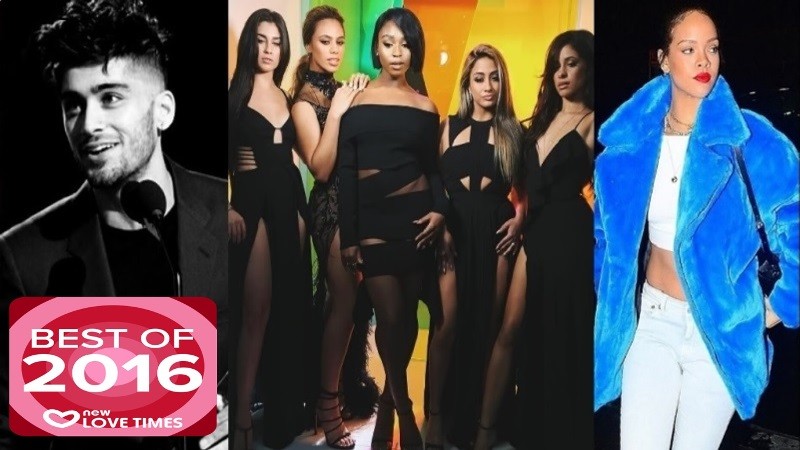 Article Name
#BestOf2016 The Top 10 Most Viewed Songs On YouTube In 2016 
Author
Description
Let's have a look at the most viewed songs on YouTube this year! Be prepared for some 'cheap thrills' & some 'heathens', coz 'this is what you came for'. :)