Ever caught a whiff of something and felt like you were immediately transported somewhere else in time? It has happened to many of us. Our sense of smell is perhaps one of the strongest of the five senses. Our memories are not just made up of images and sounds, but of scents as well. Hence, a person life experience can sometimes determine what types of fragrance they like, whether they are aware of it or not. This memory for smells often dictates which kinds of smells we find to be "too strong", and why you tend to avoid certain scents.
When trying to find your signature scent, you may have to go through quite a few bottles before you find what you are looking. If you are new to this, don't worry, we are here to help you out. Before you start raiding your local stores, you will need to know a few things about buying perfumes, namely the types of scents that you will typically find in a perfume.
---
Suggested read: 15 Must-have Perfumes On Every Woman's Dresser
---
Floral fragrances are most common, especially in perfumes for women. They lend your perfume a sweet and Romaic quality and usually are obtained with the help of flowers like rose, jasmine lily, and others. Even men perfume will feature floral scents such as orange blossoms, although they are usually quite faint.
Citrus scents are usually achieved through oranges, lemons and other citric fruits. They can be classified as fresh scents and are perfect for the summer.
Woody notes are achieved through sandalwood, cedar wood, patchouli and oak. They are perfect for women during the evening and add a musky quality to the perfume.
Oriental notes could also be referred to as a spicy scent. They add warmth to the perfume and are long-lasting. This fragrance is achieved with the help of spices such as vanilla, cinnamon, nutmeg and more.
Named after the founder Sotirios Bulgari, Bvlgari is one of the oldest luxury fashion brands. In the 1990s when it launched its fragrance line, Bvlgari slowly but surely created a grand empire, and its network of stores is growing each and every day.
Bvlgari perfumes for women are surely something you must indulge in. Since they are a luxury brand, you can be assured their products will use the best quality of ingredients that are available. Additionally, as a luxury brand, they have access to rare ingredients as well, which adds to the uniqueness of their various scents.
Here are the Bvlgari perfumes that you need to have on your vanity!
If you are on the lookout for your signature smell, then you must look into these fragrance from Bvlgari. In this list, you will find floral fragrance, along with oriental and woody fragrances as well. No matter what your preference is when it comes to aromas, you are sure to find something which will excite your senses.
Bvlgari Rose Essentielle
This perfume is crafted with the help of two different kinds of roses, yet its smell s not too overpowering. If you like floral scents that are not too sweet but are light and fresh, then this is the perfect scent for you. You can wear it during the day while you are work and it will give you a crisp and pleasant scent. Along with rose, you will find the fruity note of blackberries which are softened with notes of violet and jasmine. A perfect buy for those who like floral scents that are delicate and soft.
Bvlgari Omnia Eau de Parfum Spray for Women
Prefer spicy notes over floral ones? We have got your back! The Omnia has spicey notes that are not too overwhelming for the senses, like ginger, nutmeg and cinnamon. Among a range of floral scents, this is one of the unique Bvlgari perfumes for women.
Bvlgari Omnia Green Jade
A perfect daily wear perfume that you can wear to your office as well, this perfume has notes of pistachio and also has a musky aroma. This fragrance has a hint of spice to it, but it still has a floral aroma. It has a woody smell which makes it musky, yet it is quite soft; in a single word, this fragrance can only be described as sensual.
Bvlgari Aqva Divina
Another day time scent which is perfect for the spring or summer, This fragrance can almost classify as a unisex perfume since the scent of magnolia is not too overpowering. In fact, this perfume is the perfect blend of a fresh, spicy and floral scent. It opens with the fresh scents of the marine sea, along with hints of bergamot and orange peel. It is also infused with quince along with magnolia, and the aroma lasts all day long.
---
Suggested read: 11 Super Expensive Celebrity Valentine's Day Gifts You Could Never Afford
---
Bvlgari BLV Notte Pour Femme
For a night out, or an evening where you go out with your friends to have fun, this is the perfect scent. It has unique ingredients such as vodka and dark chocolate which lends it quite a pleasing aroma! It also blended with iris along with just a hint of tobacco. It is described as dark, mysterious and passionate, and we would have to agree with that assessment.
Bvlgari Pour Femme
During the spring and summer people tend to lean more towards floral notes, and this perfume is perfect for that. It has a classic feminine scent which can even work beautifully all year round. It has a blend of delicate floral scents such as violet leaves, orange blossoms, and it also has a little bit of bergamot. However, at the heart of it, you will find a jasmine scent which makes it a classic scent for women. This fragrance will be a valuable addition to your collection.
Bvlgari Jasmin Noir
Jasmine fragrances are quite the hit among women, and this perfume proves just why that is. Its dark bottle makes it look mysterious and hints that you will not be overwhelmed with the scent of jasmine. Although this is primarily a floral scent, it does have a woody quality to it and is also infused with liquorice and almonds. This is the perfect scent for a formal evening. Those between 25 to 40 will find this particular scent to be quite enticing. This is perfect for the colder months of the year, and it is a complex scent. The rich and woody-based aroma may not be for everyone, but those who prefer it will never want to run out of their bottle.
Bvlgari Omnia Indian Garnet
Inspired by India, this is the latest addition to the Omnia collection. Although the heart of this perfume is the floral scent of osmanthus which is in an amber base, since this is a part of the Omnia collection, it is not surprising that it has notes of citrus to offset the strong floral scent. The citrus scent is added with the help of orange and mandarin. The perfume promises to be enticing and has an aura of mystery and nobility. This perfume can be worn during the day while you are at the office or out with your friends.
Bvlgari Omnia Crystalline
This is another one of the Omnia series which has won our hearts. The scent is light, and the highlight notes would be lotus, bamboo, musk and tea. It also has top notes of apple, and the scent is quite fresh. The aim of this perfume was to capture the perfection of crystals and frosted over flowers. The lotus blossom adds a bit of floral aroma to the perfume, and overall this is a great scent for daily wear and could be a great option for the office as well.
Bvlgari Voile De Jasmin
This is the perfect balance of fresh and feminine. Hence, it is no wonder that it acts as a sister fragrance to the Bvlgari Rose Essientelle perfume. It has opening notes of bergamot along with a delicate aroma of orange blossom. As the name suggests the fragrance has the beautiful aroma of jasmine, however, it is blended with rose to make it the ultimate perfect fragrance for women. This scent stands out during the day time in spring or in the summer; this is a must-have in your vanity.
---
Suggested read: Great Tips You Need To Pick The Best Powder Concealer That Suits Your Skin Tone
---
These Bvlgari perfumes for women are the ones which stand out the most from their collection. No matter which type of scent you prefer, you will find something in this list which will be the perfect addition to your vanity.
To make your perfume last longer throughout the day make sure that you apply your fragrances on your clothes where there will be a maximum amount of movement. Since scents tend to smell stronger during movement, applying perfume on your wrists, the hem of your clothes or the trunk of your body will ensure that your fragrance has a lasting effect. When applied along the pulse points, such as your wrist, and collarbones, the perfumes last a lot longer than usual, and the smell is accentuated as well.
Featured image source: www.perfume.com 
Summary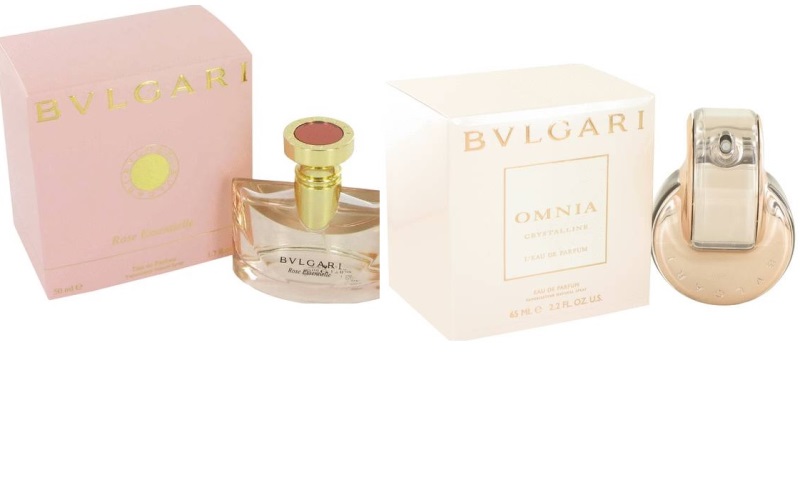 Article Name
The Bvlgari Perfumes for Women That You Need To Buy Immediately
Author
Description
Bvlgari perfumes for women are something you must indulge in. Since they are a luxury brand, you can be sure the products will use the best ingredients.