Powder concealer look very similar to face powder, but you should not mistake them for the latter. The concealer usually comes in a pot, and the pigmentation it offers is really high. This is because, it is formulated to conceal flaws and blemishes that are dark and have almost turned into scars. Since mineral makeup is such a popular fad among MUAs, powder concealers are becoming the product every one invests in. Here some unconventional tips that will help you pick the best powder concealer for your skin tone.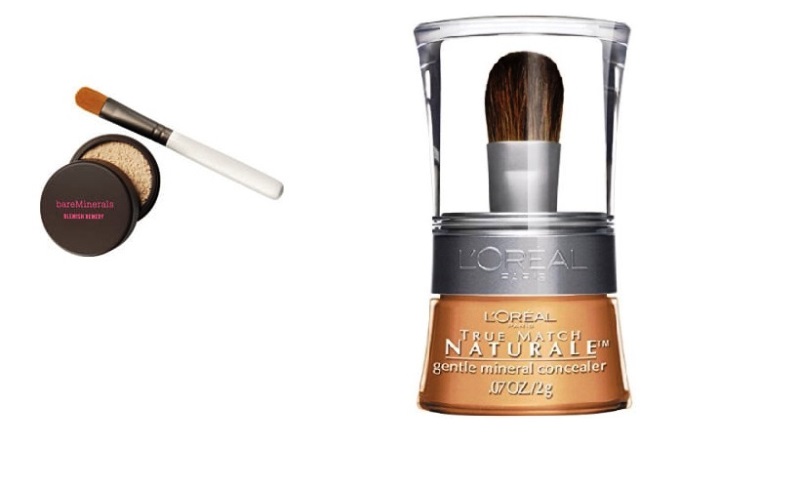 Powder concealers belong to the holy grail of beauty products for people with oily skin. It offers a coverage that is buildable, and yet it renders a look that is au naturel. You should apply your powder concealer on targeted areas on your face using a brush and then gently buff the formula into the skin. The blendability of the product is superb, so you need not worry about it looking cakey or artificial. If you want concealer that reflects light, then such powder concealers are available too. All you have to do is search the concealer section of Bare Escentuals!
---
Suggested read: Essential Tips To Pick The Best Concealer For Sensitive Skin
---
Applying powder concealers
To get flawless finish, the key isn't just the type of formula you use, but also the way you apply it. There are three main ways of applying a concealer, and let's see what kind of finish each offers.
1. Using a makeup sponge
If you have sensitive skin, or a flaky one, then using a triangular makeup sponge can do the trick. Just pour some of the powder into the lid of the pot, and dab the sponge in it. Now pat it onto the red spots and blemishes on your face. You can have moistened the sponge lightly, if you want easier blendability.
2. Using a small brush
 You can get yourself a small brush for your concealer from a drugstore or online makeup websites. Using a brush over sponge always because of the precision it offers when it comes to concealing spots and scars.
Just swirl the brush in the powder, and tap to get rid of excess. Now apply the formula on the area directly.
3. Using a kabuki brush
The kabuki brush is designed to apply mineral makeup, and as such, is the best applicator of powder concealers. To buy this, you can visit any online makeup website and get yourself the one that suits your requirements the best, both in terms of application as well as cost.
Concealing redness is done best by a kabuki brush. You can use it to apply a concealer layer the way you apply foundation. Begin by shaking some of the powder into the lid of the pot. Now swirl your kabuki brush in it, and pat lightly to get rid of the excess. Gently apply the formula on to your skin. Buff it into your skin to avoid dry patches.
Why use powder concealers?
If you are looking for a concealer that offers higher coverage than stick concealers or even cream concealers for that matter, then you most definitely should go for powder concealers. Though these formulas offer such high pigmentation, they don't render an artificial looking makeup, so you need not worry about that. Also, powder concealers are kinder on your skin, provided you apply it lightly. If you start rubbing the powder into your skin, then you will only add to the flakiness of your skin and also cause acne.
The ingredients that go into making the product are usually natural, and so your skin is in good hands. Powder concealers, most of the time do not contain mineral oil, which I am sure you know causes breakouts. The formulas also do not contain parabens or dyes or even fragrances. So, if you have sensitive skin, you should definitely go for powder concealers.
Also, what makes powder concealers such a great investment is how long they last. The long warning coverage is to die for, people!
---
Suggested read: The Absolute Guide To Choosing The Best Cream Concealer For Your Skin Tone
---
Powder Concealer for Problem Skin
Problem skin are skin types which are prone to acne and rosacea. If you have permanent scars on your face, and intend to cover them with a concealer, then the powder formula is the best option available because of its gentle yet effective coverage.
Covering marks while they heal, powder concealer is an important element of mineral makeup. It contains no fragrance or mineral oil. It also does not contain artificial dyes, so it's a perfect product for people with irritated skin.
So if you have rosacea, dermatitis, or even eczema, go for a powder formula for both your concealer as well as foundation. It will give you the coverage you need, and also protect your skin. Applying powder concealers using brushes prevents you from directly touching your skin on the face. This prevents further aggravation of the skin. You need to make sure that you keep these brushes clean and disinfected at all times.
Brands that offer the best powder concealer
Though many brands offer powder concealers, let us tell you about the ones which are the best in the market, so that you can narrow your search. If you plan to buy these online, then do go for the testers first. Once you have tried these formulas, and you know one to go for, purchase the full-size product.
The most popular brands of powder concealers include,
1. Bare Escentuals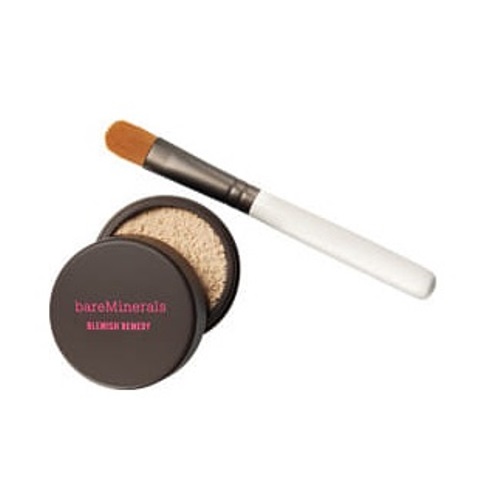 Image source: BareMinerals
The first brand on our list is Bare Escentuals, which is definitely one of the most popular and loved makeup ranges available in the UK. The variety of formulas this brand offers when it comes to powder concealers is amazing. You can hope to find a shade for every skin type and every skin tone. They have light reflecting concealers and also those which cover dark spots and under eye circles the best.
2. Bare Minerals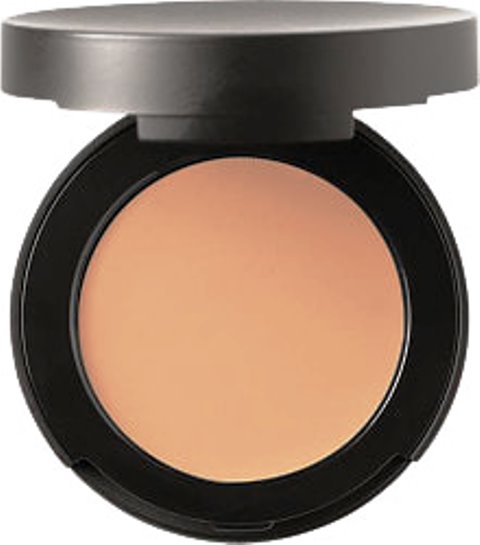 Image source: BareMinerals
The next powder concealer you need to try is Bare Minerals. Its range includes concealer formulas that cover problem areas like under the eyes and around the lips. They also provide yellow concealers which work like miracle when it comes to correcting flaws of skin discolorations. The concealers availed by Bare Minerals will work best for skin redness and blemishes.
3. L'Oréal Minerals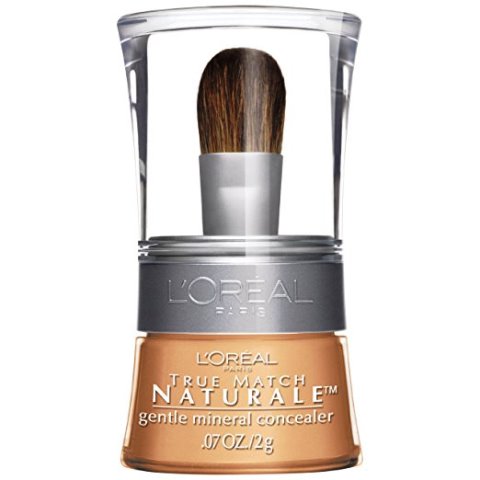 Image source: loreal
What makes the formulas from L'Oréal the best, is how seamlessly they cover dark circles, and brighten up your face. However, they may not be an ideal formula when it comes to covering redness and dark blemishes.
Choosing the best formula of powder concealer
Choosing the right powder concealer for oily skin is important if you want the concealer to last long. Since the base of an oily skin is greasy, the product tends to bleed. So you need to go for a concealer which will hold on no matter how oily your skin may be.
Choosing the concealer which suits oily skin might seem simple, but it isn't. To know you have found a match, you need to kiss several frogs along the way. Also it is not true that you will find a concealer that will serve all your needs. You need to keep different types of concealers handy for different situations and requirements. For example, a concealer with buildable coverage allows you to cover up the marks and spots better, which a color correcting product will neutralize your skin tone and conceal dark circles better.
A concealer is a quick fix to the spots, marks and blemishes on your face. They are used only on a few target areas on the face and the neck. They are highly pigmented, and so, cover the flaws with great ease.
Since they are so thick, one should not use it on the entire face. If you have a lot of blemishes to cover, first apply a light layer of the concealer on them, then slowly increase one layer and check for yourself if the blemish has been concealed.
Applying a lot of the product will only render a cakey makeup, which looks extremely artificial.
---
Suggested read: Great Tips For Choosing The Best Concealer For Acne-prone Skin
---
While choosing a concealer for your oily skin, you need to make sure it helps your makeup last longer. The lower the number of touch ups needed, the better. This is because overdoing powder will cause your skin pores to get clogged, and that can wreak havoc on your sebaceous glands, thus stimulating them to produce more oil.
That is all we have on today's post on the best powder concealer for you skin tone. Was this helpful? Will you be recommending it to others too? If you have makeup queries that you would like to share with us, then please do so in the comment section below. Our experts will get back to ASAP.
You can also subscribe to our newsletter to receive these articles in your inbox every day.
See you again tomorrow!
Summary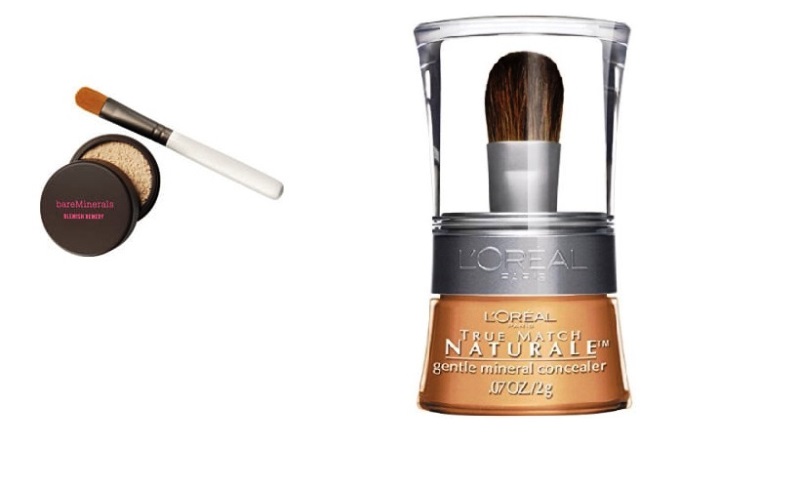 Article Name
Great Tips You Need To Pick The Best Powder Concealer That Suits Your Skin Tone
Author
Description
Here some unconventional tips that will help you pick the best powder concealer for your skin tone.