Winter's over but Game Of Thrones isn't here. Not yet. HBO seems to be playing its cards right- what with not a teaser slipping through its tightly clenched fists as Martin continues to provide extra fodder for keeping up with the enduring legacy of suspense- by revealing nothing of Winds Of Winter. As such, Game Of Thrones fans have got little else to do save rely on the profusion of fan theories on the internet to vet their curiosity about what's coming next. While there are a zillion possibilities (and most of us have lapped them all real quick), we need something more. Something that shall help us savor the slices of time until the series is ready to return! And what could be better than Game Of Thrones fashion diaries to immerse us into the world we love to hate- because hello, long gone are the days when a Stark ending up on a spike was the absolute worst they could do!
Anyway, for all those fashion-crazed lassies who seem to forget all about fashion when the series grips them whole, this is the time you can sit back and let the oft-overlooked world of Game Of Thrones fashion take the forefront. Let's go, then, you and I- into the NLT lookbook that lets you in on the secrets for each look, where you can get them and of course, little treasure tips strewn here and there:
---
Suggested read: Game Of Thrones hairstyles we want to recreate
---
1. The Arryn Heirloom, Elie Saab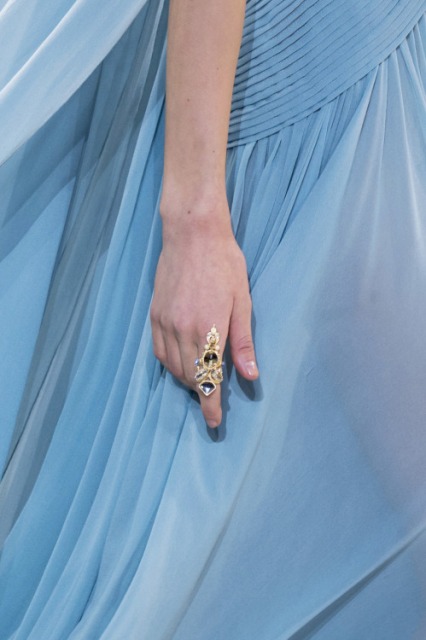 Image source: Elie Saab
For those of you who have their fashion buzzers working in overdrive even as the series rolls on, it is almost impossible to miss the combination of understated attire and striking statement jewelry in GoT. Stacked with stones, this statement ring by Elie Saab has a delicate, pave detailing. Wear it with cuffs or ring stacks and you are sure to leave your mark.
2. Daenerys' nomadic  look, Julien Macdonald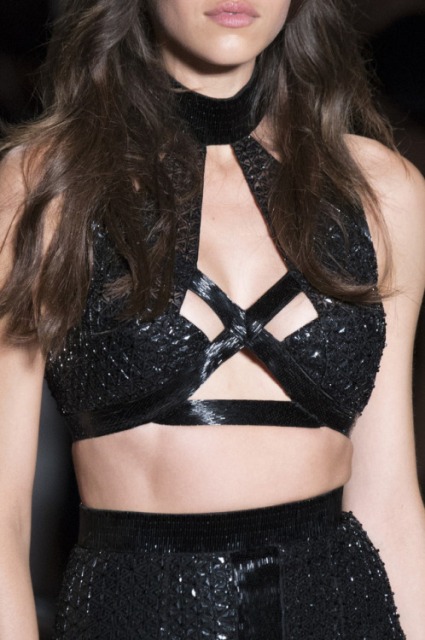 Image source: Julien Macdonald
Of course, the dragon queen has to reign the list and  we thought we'd begin with that stage in her fashion evolution that syncs in with her personal evolution from a hapless sister to a resilient warrior fighting for her rightful place in the world. This metamorphosis is often overlooked in the progression from her almost transparent, sheer gowns (indicative of her dependence and vulnerability in season 1) to the Boudica-like battlewear Khaleesi-style! And Macdonald in her modern rendition of Khaleesi's attire gives us the superhero crusader sans the cape or cowl!
3. Daenerys' Pentos look, Valentino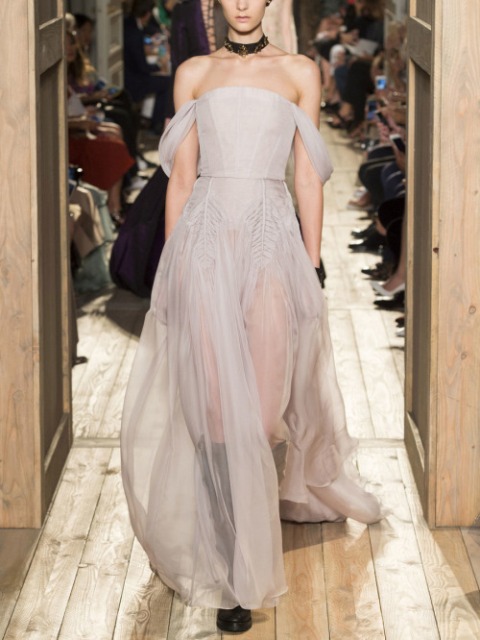 Image source: Valentino
Even as we applaud the dragon queen's tenacity and strength, we need to remember that her feminine nature is equally emphasized in the series. We see her return to regal costumes after season 1, albeit temporarily, when she arrives at Qarth. These gowns are sheer yet gauzed with metal work and leather armor inspired pieces to highlight, simultaneously, her tactful deployment of her feminine power and control. The floaty gowns turn opaque and more structured as time stretches on, and she returns to the allure of lace and sheer in Pentos again. This Valentino gown is a testimony to the sheer seductive allure of  a woman who can keep her heart and mind in place.
4. Margaery's wedding look, Georges Chakra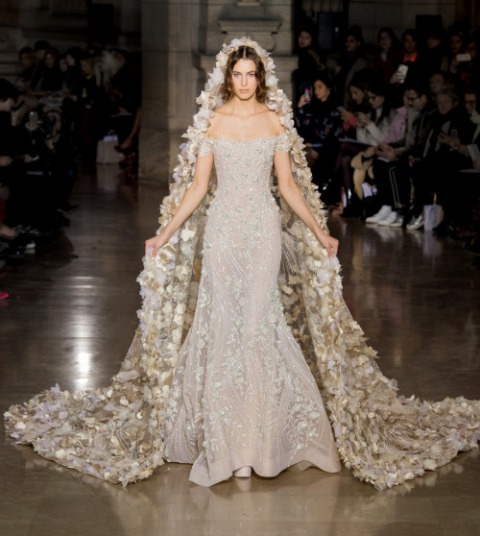 Image source: Georges Chakra
The Tyrell 'scion' as 'twere is always bathed in opulent attire. With her house's sigil splattered all over on the veil, this G. Chakra gown is a perfect replication of Margaery's signature style. A low cut mermaid gown that has an intricate all-over design on the bodice and skirt befits the Tyrell girl who is 'as clever as she is pretty!' You know where to shop for amping up the other half of your look!
5. Margaery's queen look, Antonios Couture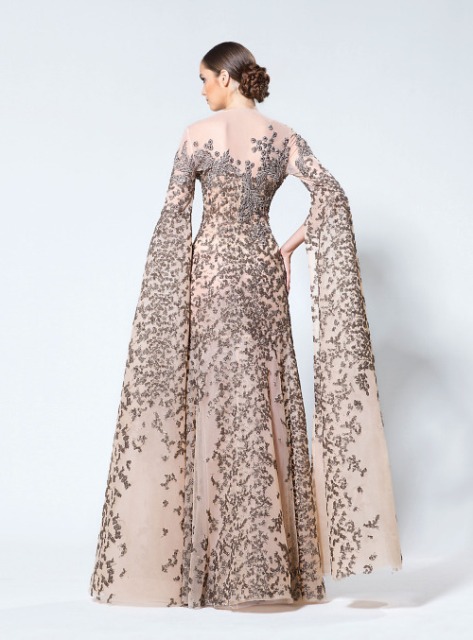 Image source: Antonios Couture
The series has often dropped hints about Margaery's signature style falling short of her status as queen. Her deep V-necks, modish cutouts and backless gowns are decidedly all about flaunting as well as using her femininity as a tool to gain power. However short her time as the 'queen,' her attire in the role shifts ever-so-slightly from her revealing outfits to ones that subtly exude her sensuous charm. This Antonios Couture gown with a nude sheer base, intricate detailing and long planked cut out arms is just the thing!
6. Margaery's mourning look, Zac Posen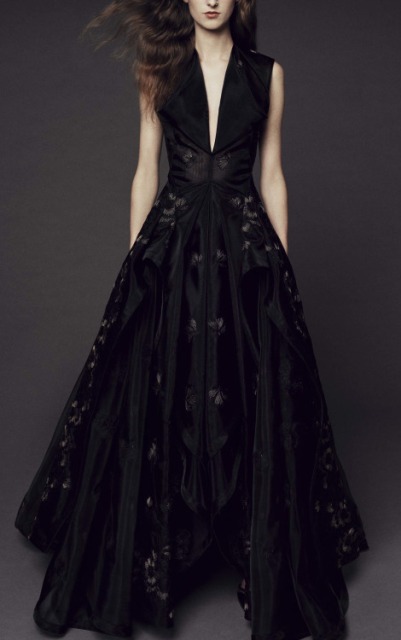 Image source: Zac Posen
Ill-fated as it were, Margaery often finds herself obliged to mourn her husbands and it is on one such occasion, that this Zac Posen gown becomes her. A fit and flare with her signature V-neck, this one plays out her feminine appeal with carefully delineated modesty. The embossed design add to a delicate charm, in sync with the sigil of her house Tyrell.
7. Daenerys' Mereen look, Tony Ward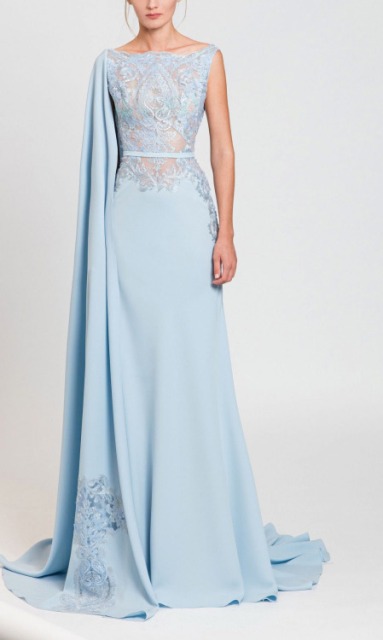 Image source: Tony Ward
Mereen marks the final stage in Khaleesi's personal progression before she sets off for King's landing. As such, you see the dragon Queen switch to more refined shades from the monarchical and serious teals and greys worn across the Narrow Sea. We see her dressed in whites, blues and other related colors- mostly, in minimalist yet stately overflowing gowns made of rich fabrics and striking texture. The wing like cape is closely associated to her power as queen, mother of dragons and also, a superhero who can bring in peace. Thus, this Tony Ward gown in a muted blue represents the clarity of her vision and the winged cape her undeniable power. The sheer lace bodice adds to her feminine allure- as she plans to make an alliance to forge her way in King's landing.
8. Cersei's regal look, Reem Acra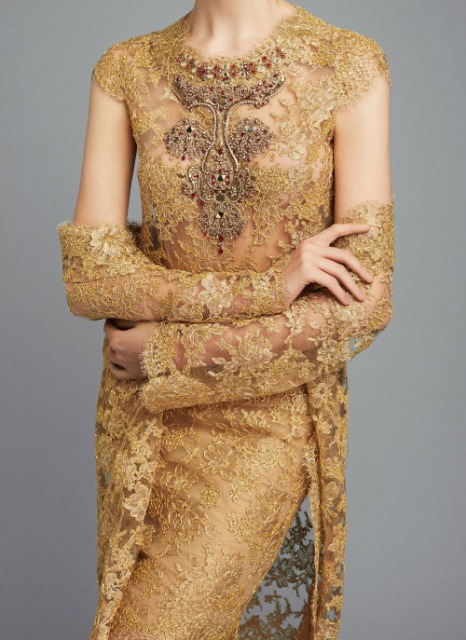 Image source: Reem Acra
This opulent lace gown in gold truly captures the spirit of the Lannister lioness. The queen of the 'jungle' (if one may) is lavishly adorned in an ornate all-over work Myrish lace gown that hugs her feminine form yet boldly proclaims her regal status and power. The intricate work below the neck and separate sleeves add to the charm and the whole outfit seems to spell opulence like little else.
9. Fire Agate dragon neckpiece, Fire Agates And Opals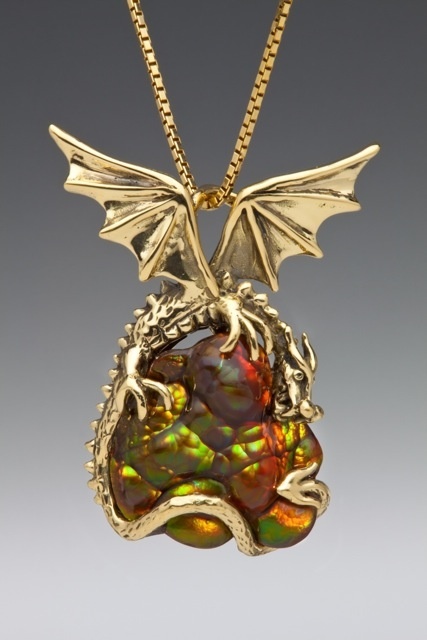 Image source: Fire Agates And Opals
This one-of-a-kind Valyrian relic is carved out of a Fire Agate and plays up the intense and colorful play of fire through the layers of opalescence. Combining the diffraction of red, orange yellow and green elements, it seems to be the perfect accessory for those in love with Daenerys' dragons- and we mean all 3 of them!
---
Suggested read: A feminist reading of Game Of Thrones- seasons 1 and 2
---
10. Nymeria Sand in a different hue, Salvatore Ferragamo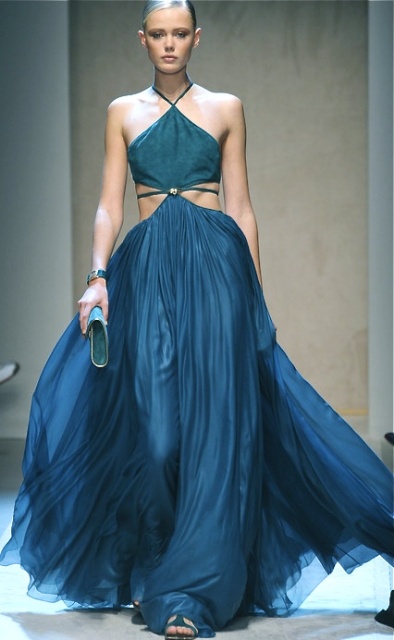 Image source: Salvatore Ferragamo
Now, now, I know you aren't used to seeing the sandsnakes in any hue save the earthy shades. But humor me, for a moment, and let's imagine if we could alter the tones of her muted gowns writhing under the parched shades like ochre, rust, brown, straw, clay and beige. A girl can dream, right? 😉 Salvatore Ferragamo brings the dream alive with a splendid  Prussian/midnight blue gown with a tie around bodice, cut out at the waist and a flowing skirt.
11. Asha Greyjoy's look, Givenchy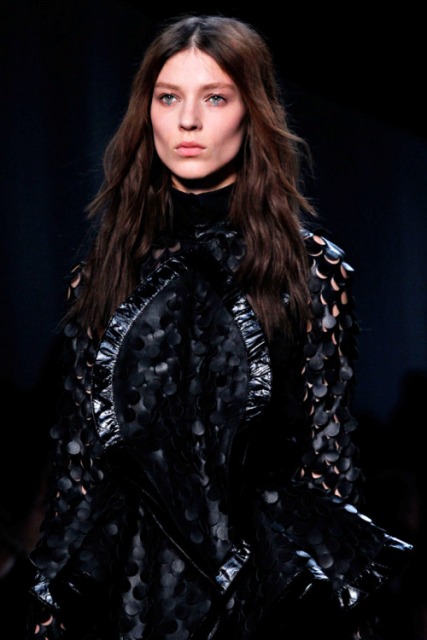 Image source: velvetrunway
One does not need to qualify this look at all! The armored bodice and the leather suit speak for themselves. For not every girl wants to grow up to be a princess!
12. Cersei's mourning look, Eymeric François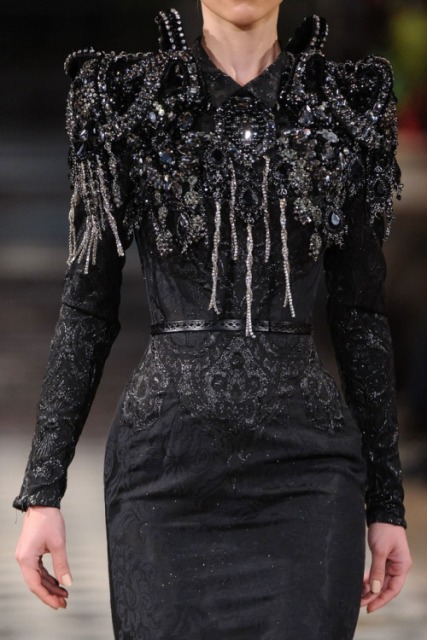 Image source: Eymeric François
Our Lannister lioness has had quite a few times to mourn! Of course, she avenged'em all and how- but that's a tale for another day. As of now, it is important that we take to this gorgeous Eymeric François garb with the refined poise of a lioness who's taken a blow and is waiting to pounce!
13. Dragon necklace by Margot Wolf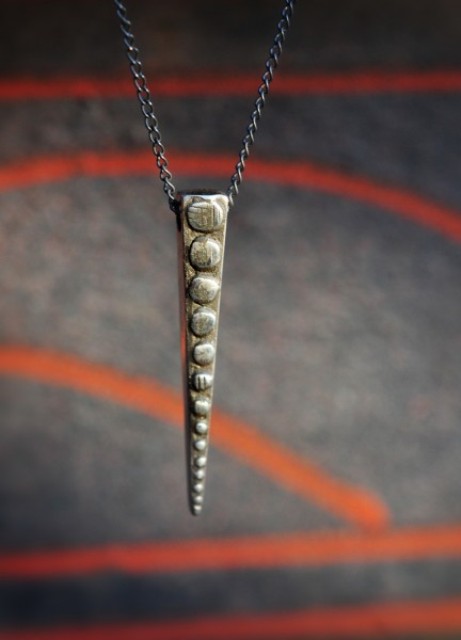 Image source: Margot Wolf
Another dragon necklace, this one holds the rustic charm of the times when Daenerys took to a nomadic lifestyle. The toughness of metal along with the minimalist appearance makes it an easy-to-wear accessory for a casual daytime look.
14. Sansa's queenly look,  Chrystelle-Atallah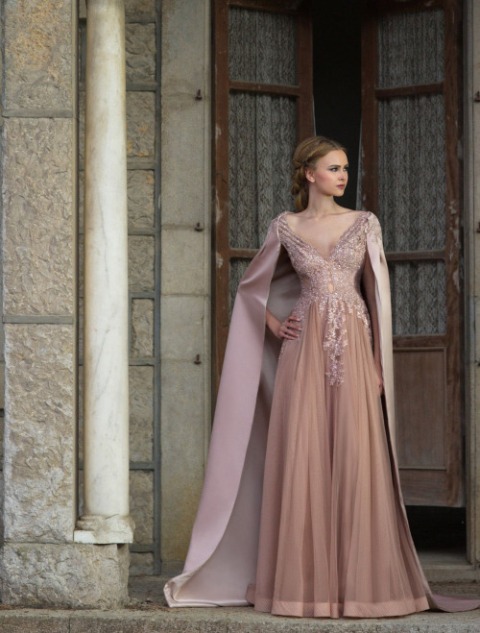 Image source:  Chrystelle-Atallah
If Sansa had married Joffrey, she'd have looked a queen like this. A Chrystelle-Atallah gown in a pretty pastel shade, this one has a laced bodice, a gently flowing skirt and a cape that lends the ensemble a semblance of power and grace.
15. Princess of Dorne look, Zuhiar Murad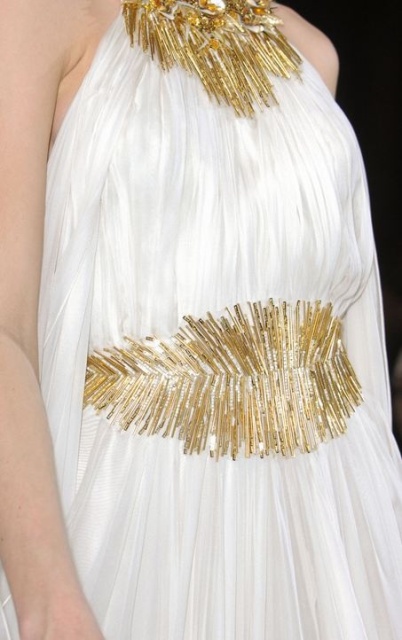 Image source: Zuhiar Murad
A soft flowing silk gown in ivory symbolizing purity and innocence, this one has a sunburst style belt and neck ornament that syncs in with the sigil of the Dornish. If Myrcella were to marry the Prince of Dorne, we'd have seen more of these on screen!
16. Jeyne Westerling's look as Queen in the North, Tony Ward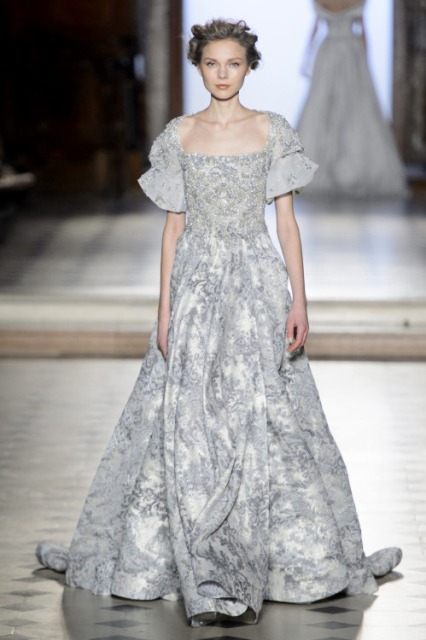 Image source: Tony Ward
This elegant Tony Ward gown retains the old-school charm while weaving in hand embroidered macramé lace, a stunning neckline, illusion puff sleeves and a delicately layered empire skirt. It is something that Jeyne would have worn, had she not met her brutal end at the hands of the Freys.
17. Lysa Arryn's look, Julien Fournie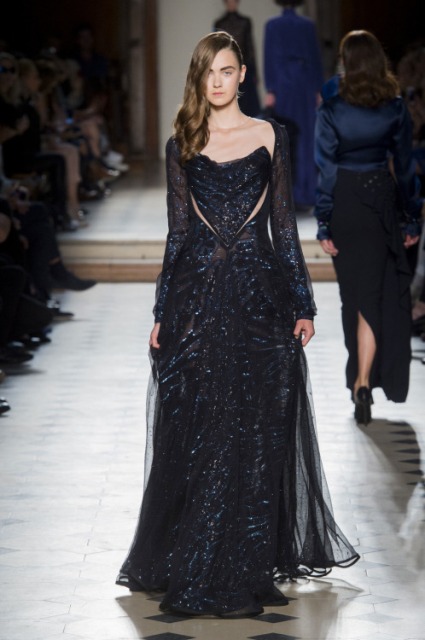 Image source: Julien Fournie
This multi-layered Fournie number veers away from tradition like the lady of the Vale, in a deconstructed gown with separate parts and an unusual structure that's nonetheless adorned with sequins- because Lysa Arryn takes pride in her heritage and legacy.
18. Daenerys, Basil Soda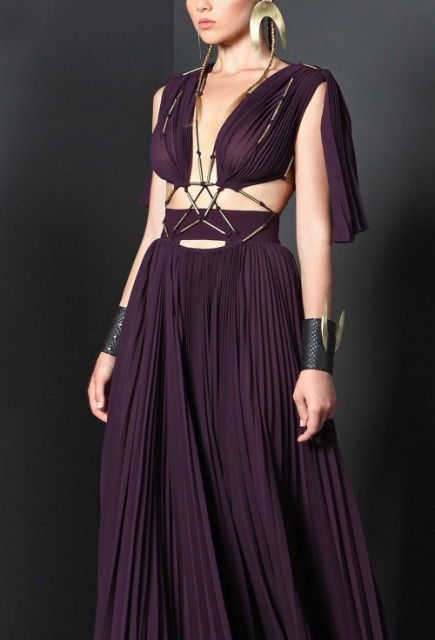 Image source: Basil Soda
Because Khaleesi never fails to delight. Accordion pleated, paneled yet grown up, the gown is symbolic of Daenerys' official engagements in the Slaver's Bay. The violet of her family name is splashed all over and yet, she throws in accessories reminiscent of her once captive people.
19. Catelyn Stark's Winterfell look,  Bibi Bachtadze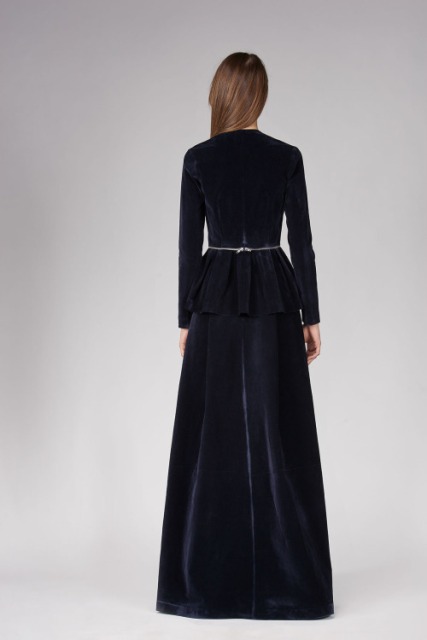 Image source: Bibi Bachtadze
Because an uninterrupted expanse of black velvet with a slight peplum illusion and an A-line skirt is just what those who can brave winters are made of! Or not!
19. Melisandre or any follower of R'hollor, Ziad Nakad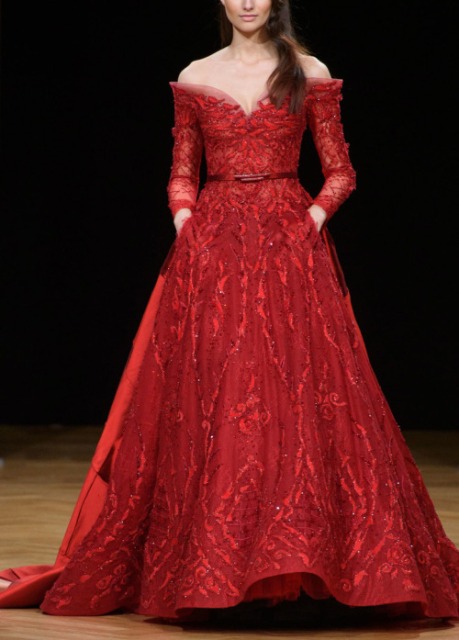 Image source: Ziad Nakad
A mass of cascading red, this one is R'hollor spirit personified in a Nakad creation. Off shoulder, as red priestesses are wont to have, the number has a bust with lace embroidery and a tulle skirt with an all over extension of the lace detail on the bodice.
---
Suggested read: Game Of Thrones fashion elements we want to borrow
---
20. Sansa's wedding look, Studio Ashi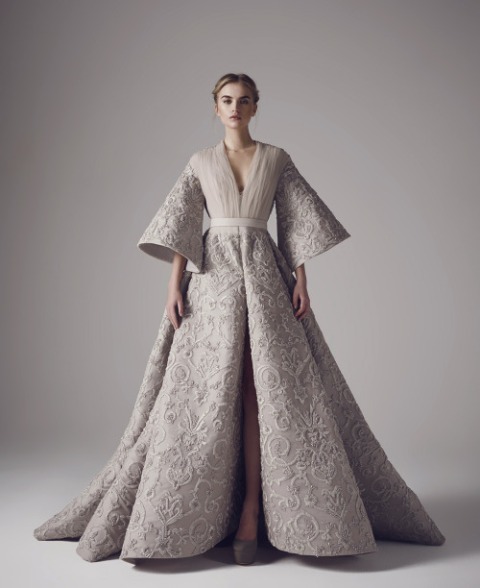 Image source: Studio Ashi
Because we are hoping that there's still a chance it may happen- and that's the stuff dreams are made of! What- a girl can dream, right?
With that, we bid adieu. For more fashion updates, subscribe to our newsletter today.
Summary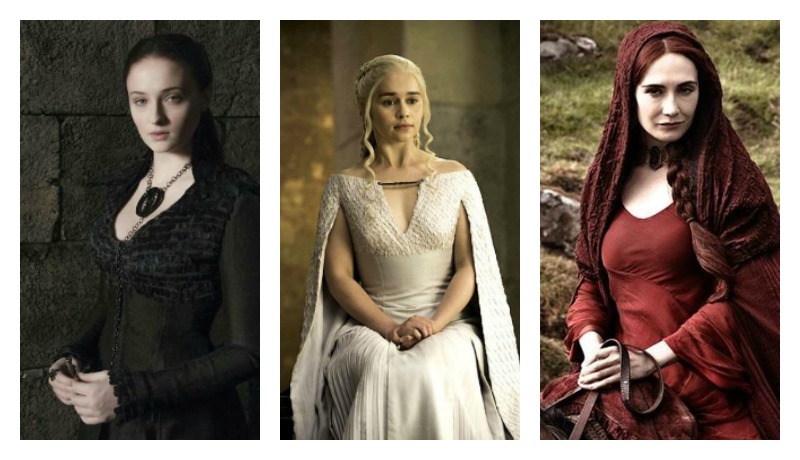 Article Name
Shop The Look: The Game Of Thrones Fashion Guide For Every Fan Who Knows The BIG Players
Author
Description
It is time to let the oft-overlooked world of Game Of Thrones fashion take the forefront.