Sitcoms are a niche, we thought, but we did not see serious dramas making that great an impact until Game of Thrones premiered on the small screen half a decade back. Based on the world renowned series of the same name by George R R Martin, Game of Thrones wooed television addicts and non-addicts alike, making them overnight fans of this epic fantasy series.
Thanks to its twisted and often confusing plotlines, the numerous character appearances and turns, there is so much drama in this series, that we have overlooked one of the greatest things about the show – Game of Thrones fashion, of course. While we would like to go into elaborate fashion descriptions of the many characters of Game of Thrones, we would rather indulge in paying tribute to the top ten elements of Game of Thrones fashion that are inspiring and can be worked to perfection into our fashion wardrobes.
---
Suggested read: 5 relationship lessons from the Game of Thrones series
---
Here they are:
1. The use of teals and greys
Image source: Pinterest
Not many make big of muted shades, but major characters in Game of Thrones, from Sansa to Arya to even Cersei, generously dress on teals and greys. Keeping in mind their own crises, crossed paths and tragedies, these shades actually lend them a dark dimension. These hues are inspiring too, thanks to all the definition that these come laced with. Combine these colors with whites to make an awesome effect across any and every cut!
2. The use of white
Image source: Pinterest
White is a daring shade and quite risky too. However, the way we have characters from Game of Thrones flaunting ravishing white in the worst of situations, we know that white is a daily wear color. The flowy gowns and maxi dresses in white that have made an appearance across the seasons, make us remember one white fashion tip to the core – never clutter up when wearing white.
3. The statement jewelry
Image source: Pinterest
Statement jewelry is making a mark around the world, and Game of Thrones fashion too could not stay away from these. The statement choker neckpieces, the dangler earrings, and the head gear worn by Daenerys, Melisandre, and Cersei, all reflect the need to accessorize right. The outfits they flaunt with these accessories are simple, but the statement pieces make an impact that makes these characters unforgettable.
4. The faux furs
Image source: Pinterest
The cold clime is perhaps one of the reasons this is seen in ample. However, faux fur—in the form of accessories to stoles and even capes make for wonderful picks for winter. You can combine these with everything from gowns to palazzos! Modern fashion picks will find a true blue companion in this accessory inspired by Game of Thrones fashion!
5. The dramatic trains and cloaks
Image source: Pinterest
These can be clubbed with usual fashion when done cleverly. You can pick a shrug that is styled like a cloak. The colors we see on the series are again on the darker side. No lace, no mellow pinks here either. Melisandre does some daring show of red though, as does Myrcella who dons mellow mustard shades at times.
The stylish long hair is the flavor of Game of Thrones. Braids, loose locks, togged up curls, messy buns, there is a whole lot of hair styling that the characters don on the show. Decide on the one that you like best and go for it!
6. The daring cuts
Image source: Pinterest
Daenerys leads the show here. With her backless togas, her cut-out dresses sans flowery details, casual gowns with pencil pleats, leave little to the imagination. The other characters don their regal wear with deep, sometimes, plunging necklines. Most dresses accentuate the waist and the bust line.  If it's anything, Game of Thrones fashion is edgy, top of the line, and very detail-oriented.
7. Goth fashion
Image source: Pinterest
Fashion on the show takes Gothic overtones without the characters overdoing these. There are no vampire eyes or punk piercings. But then, metallic add-ons on the dresses, deep cuts, and daring blacks make up the Goth fashion pretty well. The makeup bits are minimal. Game of Thrones fashion actually places more importance on the visual appeal of a costume.
8. The vampirish reds
Image source: Pinterest
Melisandre is the best name that comes to mind here, who dons vampirish reds with elan. When in love, or when set for a kill, she dons robes and dresses that are oxblood red. That sure is a very classic yet modern pick.
9. Color co-ordination
Image source: Pinterest
This finds an all-new meaning with fashion of Game of Thornes. From Olenna and Margaery Tyrell color coordinating with blue dresses, and even Cersei and Oberyn Martell color coordinating the robes they flaunt, this trend find fruition on the show.
10. The trend of separates
Image source: Pinterest
Yes, separates are back, and Game of Thrones has seen even strong characters such as Margaery Tyrell give away their costumes to slip into well-cut separates!
---
Suggested read: 10 genius style tricks that will ace your fashion game
---
11. Black never needs to be back
Image source: Pinterest
Do not get us wrong; we write this, since black never really went out of fashion. Even the epic styling on Game of Thrones saw excess use of black. From Arya to Jon Snow and even Sansa, black is everywhere and it's not going anywhere either!
Corsets, pencil pleats, high necks, bikini cut tops, high-slit gowns, and brilliant back-open wedding gowns, Game of Thrones has given us huge fashion goals that are simply wow. There is so much variety, so much style, and so much depth in the show, that we almost feel that Game of Thrones fashion will live longer in our memories than the heavy-duty storyline of the show, no? 😉
Summary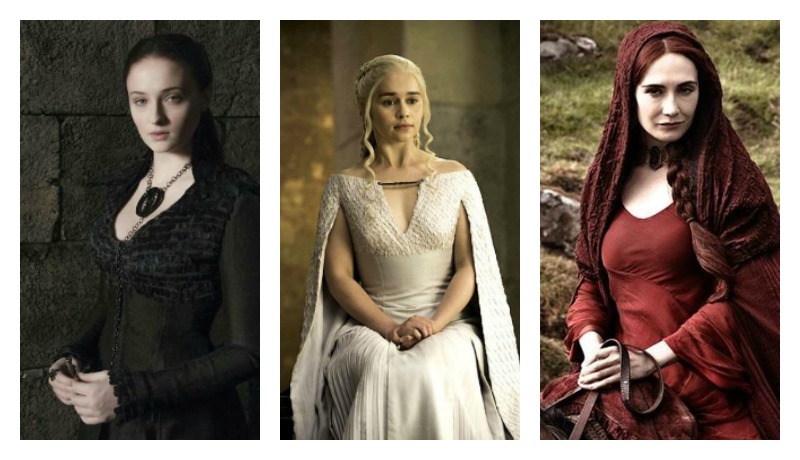 Article Name
10 Game Of Thrones Fashion Elements We Want To Borrow NOW
Author
Description
Game of Thrones series has spawned a whole slew of Game of Thrones fashion, that you can incorporate in your everyday style statement. Here's how...