In today's post, we will tell you about the best gel nail polish brands that you need to get your hands on in 2018.
Gel nail polishes are a favorite among people because they instantly transform the look of your hands, and last for a very long time. You can expect a gel nail polish coat to last at least two weeks before it starts to chip. However, you need to make sure that the brand you are using is superior quality because cheap brands of gel nail polish chip in a day or two, and also wreak havoc on the health of your nails. For this reason, it is crucial that you pay attention to the brand you are using.
---
Suggested read: How To Wear Mirror Nail Polish Like A Boss
---
To ensure that you choose wisely, here we are we the best gel nail polish brands that you can invest in, in the coming year.
1. CND Shellac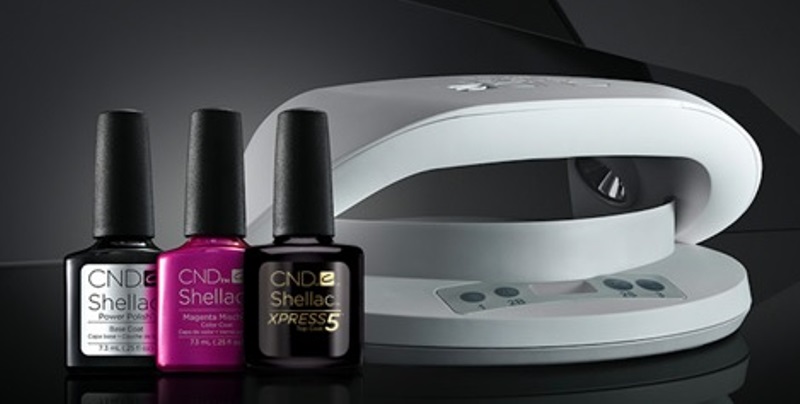 Image source: cnd 
CND Shellac is a UV light cured nail polish that is a thin formula, and is therefore, easy-peasy to work with. This will not give you that plump look that usually gel nail polishes giving. Rather it will give a thin, classier look to your pretty nails.
The brand offers 116 colors that comprise of the brightest of shades as well as a plethora of nude and neutral shades we all love for our French manicures.
What we love best about the brand is that it lasts up to two weeks without any trouble. Its application is also very effortless, and it does not roughen up the surface of the nails, so don't worry. Not just application, but removing it is also not much of a hassle; no wonder pros use this brand!
2. Soak-off Gel Polish by Gelish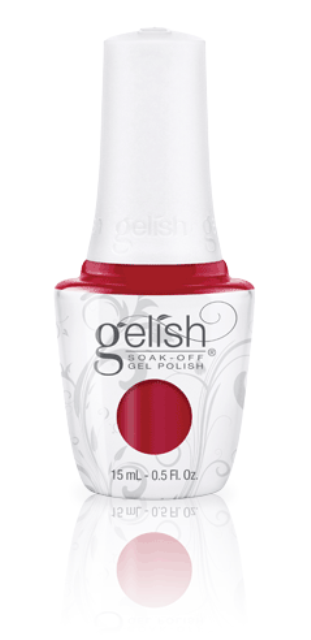 Image source: gelish
When gel polish started becoming popular among people, Gelish was one of the pioneering brands. The brand offers 151 nail colors, and so it goes without saying, you have quite a range to choose from.
Getting manicure done using Gelish offers a thick finish that most gel polishes give. However, the best thing about the brand is that its colors are highly pigmented, and one needs to apply only a single coat to get that amazing finish.
What we love most about this gel nail polish is that it lasts as long as 3 weeks, and offers so many shades, including glitter ones, in case you didn't know. The polishes work well with other brands, and so you don't have to bother about changing your entire manicure kit.
3. Elite99 Nail Gel Polish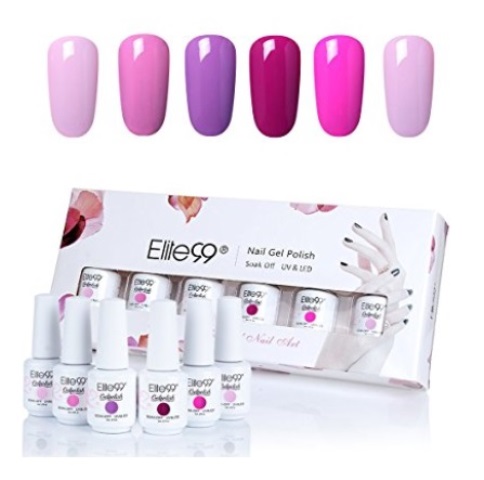 Image source: amazon.com
If you want to get your hands on a lot of color choices, but you are kind of broke, then this is the brand you need to rely on in 2018. Elite99 has 337 nail color shades that you can choose from. Isn't that a staggering number?! This number includes the usual colors, but it also includes glitter nail polishes, color-changing shades and magnetic nail polishes on which you can try different nail art designs.
The thing we like best apart from the variety of hues the nail polish brand offers, is that it lasts for almost 2 weeks. The most popular of Elite99's shades are unicorn shimmers, magnetic colors and polishes that change color. Another perk: very affordable.
4. Gellen Soak Off UV Gel Nail Polish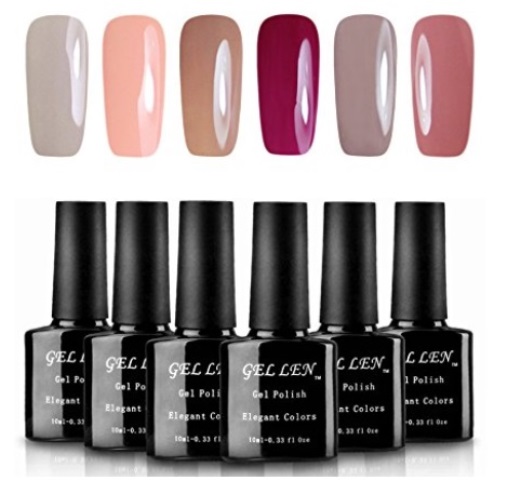 Image source: amazon.com
This nail polish brands offers 300 colors to choose from, and that's what makes it so popular among the teenagers. It presents nudes that change color, magnetic polishes and holographics too. They deal mostly with neutrals, and are a favorite among people who like different shades of taupe and those of red.
If you ask us what's the best thing about the brand, then, one, it lasts for two weeks or more; two, the brand gives you 300 colors; the choices involve both the traditional colors as well as the whacky ones; and finally, the brand has some awesome top coats, which are much needed nail art accessory.
The only problem with the shades is that you need to apply at least two coats to get the opacity that looks good. Apart from that, this brand is totally worth it!
5. Clavuz Gel Nail Polish
Image source: amazon.com
The nail color shades that CLavuz Gel Nail Polish offers is more fun and trendier than any of the brands on this list. If you like polishes that change colors such as light blue to a darker shade of blue due to temperature, then this is a perfect brand for you.
The colors that the brand offers last about two weeks. The color palette is dramatic and peppy. The best thing about these polishes? Well, according to us, the fact that this brand works with other brands is good news.
Again, like the previous entry on our list, this nail polish requires two coats to be opaque enough. Also, it is not a professional brand. 
---
Suggested read: 8 Best Matte Nail Polish Shades That You Need To Own NOW!
---
6. Aimeili Soak Off UV LED Gel Nail Polish
Image source: amazon.com
This brand offers 50 gel nail polishes, and some of them change their color by temperature or light. Some shades even glow in the dark; so if that is your thing, then do get your hands on these hues.
Aimeili is an affordable brand that offers some bold shades that are densely pigmented. Best thing about the brand is that the shades last for two weeks easily after application. The colors are vibrant and look great in both Spring and Summers. The colors hold up to rough wear, in case you were wondering.
Apart from the fact that the brand has fewer shdes to offer compared to the previous brands we talked about, the colors also need more than two coats for them to bring out their best.
7. IBD Just Gel Nail Polish
Image source: amazon.com
Though IBD is a lesser known brand, it is competing with some of the most amazing brands of nail polishes out there. The brand offers some great solid and creamy nudes. It is a great choice for people who prefer neutral nail colors. IBD also offers some glitter nail polishes that can help you up the ante by quite a few notches.
The nail polishes presented by this brand offer two weeks of wear. Just applying one coat of the polishes gives the needed opacity. The range of colors in this product is pretty satisfying, if you ask us, or else why do you think professionals use this brand?!
Just one thing you need to be careful about. Do not press the color too hard because eit can form undesirable streaks.
8. Lechat Perfect Match Gel Polish
Image source: amazon.com 
The Lechat nail polish shades are great for not only gel but only non-gel preferences. You can also use the traditional colors as a base color over which you can try the silver holo glitter nail polish offered by this brand.
The formulas by this brand are a little thicker than others on this list. Therefore, while applying the color be very careful to apply a very thin layer first and then see if you need more. You don't want clumps around the nails, do you?!
The colors by Lechat last for two to three weeks. If you don't like gel (but have walked into this article), try the matching non-gel varieties by Lechat.
9. BMC Gel Nail Polish
Image source: amazon.com
The Bundle Monster or the BMC is most popular for the nail art tools it offers. But BMC also caters to demands for gel nail polish. The shades the brand offers are some of the trendiest and extremely energetic hues, undoubtedly. Though the collection is small, the palette is gorgeous, and you cannot resist buying at least a handful of shades from them.
The only problem with this brand is that the formulas are a little thick and the pigmentation is pretty dense. You, therefore, do not want to load it up on your nails, because, one, there will be clumps, and two, they will chip easily.
The colors last for two to three weeks, so that's a good news. The speed gel option offered is superb, and the bottles show you the color on the top, so there is no guessing game being played; you know exactly what you are paying for.
---
Suggested read: Here Are The Nail Art Accessories That Will Make Your Nails Sexy AF In 2018
---
That is all we have on today's post on the Insider's Guide to The Best Gel Nail Polish Brands of 2018. Was this helpful?
Will you be recommending it to others too? If you have makeup queries regarding nail care that you would like to share with us, then please do so in the comment section below. Our experts will get back to ASAP.
You can also subscribe to our newsletter to receive these articles in your inbox every day.
Summary
Article Name
The Insider's Guide To The Best Gel Nail Polish Of 2018
Author
Description
In today's post, we will tell you about the best gel nail polish brands that you need to get your hands on in 2018.