Unless you have been living under a rock for the last one year, you have seen and heard of mirror nails, or chrome nails, which have taken millennials and all other nail enthusiasts by storm. Trends in nail fashion are constantly changing, and last year was the year of mirror nail polish, and when you see the effect it creates, you will totally get why.
Firstly, they look cool as hell. How can you not feel super awesome when your nails look like the future of manicures? Secondly, you might think this is super difficult to achieve, but in fact, mirror nail polish is available widely and several brands have come out with their own versions of it, which makes it even more accessible to everyone.
---
Suggested read: Here Are The Nail Art Accessories That Will Make Your Nails Sexy AF In 2018
---
The point is, you don't have to dish out piles of money to get cool-looking nails and get on trend with whatever is happening in the nail world. You just need to know how to go about the process of getting mirror nails, and what are the best brands you can check out for the best polish, and the various interesting ways you can style your mirrors nails to look even cooler, if that is even possible.
Here is everything you need to know about mirror nails and nail polish.
What are mirror nails?
Okay, so I probably don't need to explain to you what mirror nails are. Everyone who is remotely interested in makeup and is in tune with the latest things that are trending in the world of fashion and makeup know and understand what mirror nails are. However, we must not discount newbies and novices who want to get in on the hype, and it is never too late to start.
So to put it simply, mirror nails or chrome nails are super shiny, metallic nails, which make your nails look like they were wrapped in liquid metal. Ideally, they should have reflective surfaces, and it is a super popular manicure that everyone started getting in 2017, and the style has morphed into various different forms in the last 6 months, so if you are planning on getting metallic nails now, you have a horde of other cool options to choose from, and not just the standard reflective mirror nails.
How To Get Mirror Nails?
Once you have seen this nail polish trend, it is natural for you to desperately want your nails to look the same. Thankfully, there are several ways in which you could get mirror nails. Here are some of the easiest ways in which you could get yourself a handful of stunning chrome nails.
1. Mirror nails manicure
Most high end salons in your city should have the necessary provisions to give you the perfect set of chrome nails ever. They have the necessary provisions and equipment to shape your nails, and give them the shine and shimmer that chrome nails or mirror nails are known for.
It's true that getting a mirror manicure is a tad bit more expensive than getting a regular manicure, or even getting gel nails. However, the results that you will emerge with are totally worth every single penny you spend on your mirror nails manicure, and the good news is, they last for a lifetime. A proper mirror nails manicure is great for occasions and for festivities and parties, and it is also a great look to sport on regular days, when you want a touch of high-fashion on yourself, along with your outfit.
2. DIY chrome gel nails
I understand that saving up for a manicure that you legit want right now can be a pain. It can also be inconvenient to go get a mirror manicure, or your local salon might not have the right services of equipment to give you the perfect gel mirror nails.
The good news is, you can DIY the crap out of this trend, and do it right at home! Here is a step-by-step guide on how to get mirror nails at home.
Things you will need:
– Black gel nail polish
– gel-based top coat
– chrome nail powder
– UV lamp (available online)
– eye shadow applicator (available online)
When you are doing your mirror nails yourself, you need follow certain steps meticulously, so that you get the effect just right, and it looks like you got it done professionally.
STEP 1: To get the reflective, mirror-like effect, the first thing you need to do first apply a couple of coats of black nail polish, which should be gel based. After applying the first layer, cure it under the UV light, before applying the second layer, and then cure it for 30 seconds longer under the UV light.
STEP 2: Once you have let both the layers of black nail polish try, apply a layer of clear gel top coat, which should seal in the color, and serve as a smooth, even base for the chrome powder to get on. Make sure your top coat is also completely dry before proceeding to the next step.
STEP 3: The next step is to make use of the chrome powder that you should have on hand. Use your eye shadow applicator to dab on the chrome powder with some pressure on your nails, so that there is a relative amount of friction created between the brush and your UV dried gel nails. It might not become apparent in the beginning, but after a few tries, you should be able to see the foil and metallic like effect of the chrome powder.
STEP 4: Applying the chrome powder can be messy, and you will inevitably get some on the skin around your nails. After you have covered the entire surface area of your nails, wipe off the excess, so that none of the loose powder remains on your skin.
---
Suggested read: 8 Best Matte Nail Polish Shades That You Need To Own NOW!
---
STEP 5: The final step is possibly the most important step of all: applying a top coat. This not only ensures that the powder like gel coating gets sealed onto your nails, but also ensures that your chrome nails or mirror nails last longer, without chipping. It is especially important that these nails last longer than usual, because as you can see, it is no easy task getting these nails right. But then, all good things require effort, so it's best not to crib about it.
3. Mirror nail polishes
If you are lazy and poor like I am, and you don't have time to DIY and you don't have money to get it done at a salon, then you could use the most effective cheat in the book- mirror nail polish. After chrome nails and mirror nails became all the rage, most good brands that make nail paint have come out with their own versions of chrome nails which you can purchase at super cheap rates.
These are usually silver nail polishes, which have a heavy metallic finish with a slight matte tone, so that the surface is reflective without looking glittery. Here are some great products which can give you the same effect as chrome nails:
Maybelline Beauty Nail Polish in Silver Linings
Faces Hi-Shine Nail Enamel in Chrome
Sally Hansen Miracle Gel Nail Color in Stilettos and Studs
Zoya Nail Polish in Cassedy
Marc Jacobs Hi-Shine Nail Lacquer in Stone Jungle
NARS Nail Polish in Amarapura
4. Fake Nails
Believe it or not, one of the easiest and cheapest ways in which you can get chrome nails or mirror nails is by purchasing fake nails, which come with come with a chrome polish. There are absolutely no cons to this method of getting mirror nails. The process is easy, as there are a gazillion options for you out there on the internet that you can choose from. These fake nails are cheap and pliable, so you can shape them in whatever shape and length you want. You can choose from a horde of color options such as silver, dark grey, holo, gold, rose gold, etc.
These were some of the ways in which you could get mirror nails easily. However, even though the classic way of wearing mirror nails, aka, in the simple, metallic silver style, will never go out of fashion, why stick to one style when there are several interesting new styles that you could experiment with? Here are a few suggestions, which could take your mirror nail game to a whole other level.
Summary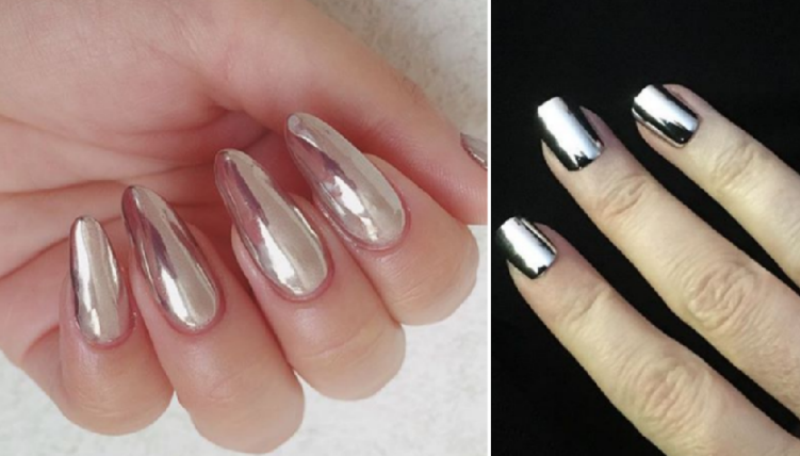 Article Name
How To Wear Mirror Nail Polish Like A Boss
Author
Description
Chrome nails and mirror nail polish are the new in-thing right now. Find out how you can get mirror nails, and the coolest new ways to wear them!
Read the rest of the article:
Next