People with oily skin are often wary of wearing makeup for fear of breakouts and skin problems. This fear isn't completely misplaced, because the wrong makeup products can indeed cause long-term harm to your skin. This is probably why most people who have oily skin try to keep their makeup to a minimum. Having oily skin means that you have larger, more open pores on your face, and the sebaceous glands, which are responsible for the secretion of sweat, oil, etc. are more active.
Open pores also means that you get more acne, blackheads and other things stuck in your face, which can lead to breakouts. The more makeup you apply, the more aggravated your pores can get, and also increase the risk of makeup getting stuck in your pores. However, just because having oily skin means having to deal with a number of problems, doesn't mean that you have to forgo makeup completely. Half the world's population has oily skin, including celebrities, and most of them seem to rock a face full of makeup flawlessly.
---
Suggested read: All The Top Tips For Choosing The Best Face Primer For Oily Skin
---
Here comes the importance of choosing the right kind of makeup for your skin type, so that you don't irritate your skin, or cause unwanted reactions which can adversely affect your skin. This includes choosing your bronzer, which believe it or not, is actually an indispensible part of your makeup routine. If you use foundation, concealer, primer, etc. then using a bronzer is an absolute must. Today, we are going to show you how to pick the best bronzer for oily skin.
Before we can go into a step by step guide however, here are a few skin care tips that you can follow when you have oily skin, so that your face is prepped and ready for the makeup.
Make sure you wash your face at least two times a day. That will ensure that there is no oil buildup which is making your face look shiny.
Moisturize your face. Even though it might sound counter-reproductive, starving your face of moisture can aggravate the problem even further.
Clean your makeup brushes after every single use, no matter how tiresome it might sound. Built-up oil and dead skin cells can not only affect the way your makeup looks, but also create greater problems for your skin.
Opt for high-end makeup products which have things like Vitamins, SPF, minerals, etc. You know for a fact that if the makeup is good quality, then it won't strip your face of essential oils, and also
Now that we know a couple of hacks which can protect our face from any harm that could possibly be caused because of makeup, I am going to show you how to pick the best bronzer for oily skin. Here is everything you need to know.
1. Know your skin tone: Knowing your skin tone, and investing in a bronzer accordingly is a prime aspect that you have to keep in mind, if you want to nail your makeup look. There are a million options out there, whether you have fair skin, dark skin or olive skin. Here is how you can choose the perfect bronzer for your skin tone.
If you have fair skin, then you should keep in mind that you are not using your bronzer to color your skin. It is merely a tool which can add depth, warmth and definition to your face. Lathering on bright gold or copper bronzer can look highly unnatural if you have fair skin, instead, go for subtle pink, peach and rose-gold shades, which you can also combine with your blush to achieve the perfect shadow-light balance, which is the actual goal of using a bronzer. Here is what we recommend.
Hourglass Ambient Lighting Powder in Dim Light
NARS Dual Intensity Blush in Craving
Bobbi Brown Bronzing Powder in Golden Light
Even though people who have dark skin have endless options to choose from when buying bronzers, it is also quite difficult to get the right formula, to get that natural, sun-kissed glow. Since you have oily skin, it is best to stick to the classic powder formula with a matte finish. In terms of color, a rich brick shade, honey, golden brown and copper would look lovely on you. Here are a few examples.
Guerlain Terracotta Bronzing Powder
CoverGirl Queen Collection Natural Hue Minerals Bronzer in Ebony Bronze
NARS Bronzing Powder in Laguna
If you have olive skin, then you need bronzer only to highlight your features, accentuate the shadows on your face and highlight places like the cheekbones and the forehead, because anyway you look like a bronze princess. To achieve this, you need copper-toned bronzers which aren't too pink or too golden, which can lead to an unnatural light on your face. Here are our favorite picks.
MAC Bronzing Powder in Refined Golden
Essence Sun Club Shimmer Bronzing Powder
NYX Tango With Bronzing Powder in Confession
---
Suggested read: Everything You Need to Know About Choosing the Best Blush for Oily Skin
---
2. Understand the occasion you are dressing for: The problem with oily skin is that makeup doesn't tend to last very long on this type of skin. Because of constant secretion from your pores, it tends to slip off, and compels you to get frequent touch ups. For this purpose, you need to choose your makeup carefully depending on what occasion you are dressing for, and how long you would typically expect your makeup to last.
If you are dressing for a full day of work, where you probably won't have time to run for touch ups every couple of hours, then you should go for dependable, heavy duty bronzers which have a semi-sheer matte finish which looks natural. These have dependable formulas, which won't make you break out, and won't wash off easily. Here are some brands that you can check out.
Rimmel Natural Bronzer
Summary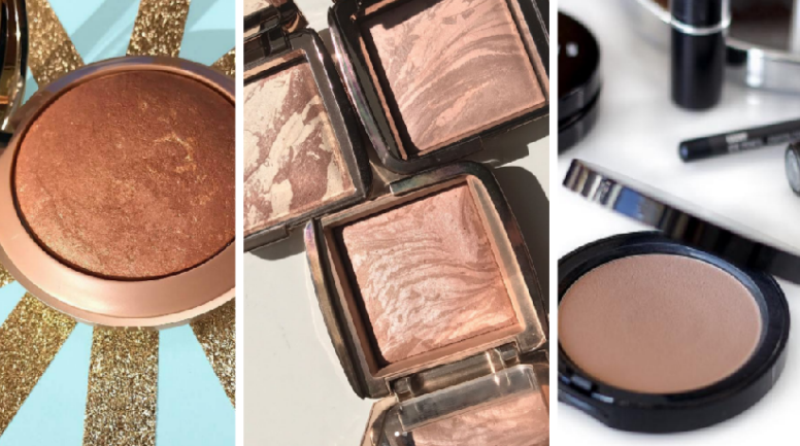 Article Name
Vital Tips For Choosing The Best Bronzer For Oily Skin
Author
Description
Check out the ultimate tips for choosing the best bronzer for oily skin, and slay with your makeup game every single time!
Read the rest of the article:
Next