In today's post, we are going to tell you about the best natural moisturizer for oily skin. But before we get into that, let us look at why oily skin requires care.
In oily skin, the sebaceous glands are over-active, because of which they produce more oil than what we require. This oil oozes up, giving you a greasy appearance. Over time, the pores get enlarged, making your skin look coarse.
The cleansing part of the skin care routine, therefore, becomes vital for people with oily skin. You will need to design or adopt a skin care ritual that prioritizes cleansing to get rid of black heads, white heads, acne and acne marks, spots and other blemishes.
The folks with oily skin have feverish sebaceous glands that produce oil all the time, thus attracting dirt. This the reason why oily skin appears dirty. It develops a dirty surface film in no time. To remove this coat of dirt and grease regularly, you need to find the cleanser that works best for you. Remember, only a clean skin looks healthy. Neglecting that and focusing on moisturizing or makeup is an effort in vain.
Excess oil or sebum causes another problem: the lack of shine. Oily skin looks dull and toneless. The enlarged pores give it a texture that is thick, and therefore, lackluster. This is also why oily skin develops blackheads quickly, further leading to pimples and acne.
When excess oil is collected in the skin pores, blackheads are formed. If you do not clean the pores regularly, then the blackheads harden and need a great deal of treatment to get rid of. Oily skin also sheds a lot of dead skin cells that get accumulated in the pores too. It is this dirt, dead skin cells, sweat wastes, oil, and stale makeup that makes your oily skin look dirty and dull.
Cleansing isn't important because of these aforementioned reasons alone. Another crucial cause it that the sebaceous glands, due to improper cleaning, get further activated and begin to secrete more oil. Therefore, cleansing is important, but you need to make sure it isn't too harsh either. That will wreak havoc of a different type. Exposing your skin to too much heat or steam, can also cause this over-activation of the sebaceous glands.
Apart from a skincare ritual, you also need to look after your diet. A diet that comprises of too much fats, sugars, and carbs, is not good for your oily skin since it aggravates the secretion of oil by sebaceous glands. Some of the food items you can try include:
Wholemeal bread, brown rice, wholemeal pasta, quinoa, and oats
Lean poultry like chicken and turkey, oily fish like salmon and mackerel
Unseasoned nuts like walnuts, and avocado
Berries, mangos, frozen bananas, good quality dark chocolate, water with fresh lemon and/or lime
Now that we have discussed the need for a proper skincare routine for oily skin, let us look at the best natural moisturizer for oily skin.
---
Suggested read: All The Top Tips For Choosing The Best Face Toner For Oily Skin
---
Best Natural Moisturizer for Oily Skin
Milk and Olive Oil Moisturizer
Things you will need:
A quarter of a cup of fresh milk
4-6 teaspoons of extra virgin olive oil
4 – 6 teaspoons of lemon juice
Take a bowl, and mix all the above ingredients. Now using a clean cotton ball, apply these on to your skin, and wait till it is completely absorbed.
This moisturizer provides the right amount of oily to your skin without causing any breakouts. Milk, being rich in lactic acid, soothes and calms your skin, and also protects it from bacterial infection.
The olive oil is a natural anti-microbial agent. It kills the bacteria which causes acne. The lemon juice, alternatively, regulates the secretion of sebum, thus reducing the unwanted greasiness.
Apply this moisturizer at night before you hit the bed because the olive oil could cause skin burn during the day.
Jojoba oil Moisturizer
Things you will need:
2 teaspoons of jojoba oil
4 drops of frankincense essential oil
4 drops of lavender essential oil
The best oil for oily skin is undoubtedly jojoba oil because structurally it is very similar to our skin's oil. It balances the secretion of the sebum, thus getting rid of the unhealthy dull appearance of your oily skin. Even applying jojoba oil only can have brilliant effects on your skin.
The frankincense essential oil is both anti-inflammatory and anti-bacterial. This makes it a great ingredient against acne. It also fades out the scars and blemishes caused by breakouts. The lavender essential oil in this blend has antiseptic qualities that make it suitable to prevent redness or any other kind of irritation caused by acne.
Shea Butter and Jojoba Oil Moisturizer
Things you will need:
A quarter of a cup of shea butter
One-eighth of a cup of jojoba oil
For this moisturizer, you need to first melt the shea butter on a steam bath. Once it turns liquid, add the jojoba oil. After mixing the ingredients well, place the bowl in the refrigerator for about an hour. The mix needs to solidify well. Once you observe that has happened, add a few drops of any essential oil that you like. Whip it all up until your moisturizer has a creamy texture. You can store it in a mason jar. Keep it in a dry and dark place.
As you might already know, shea butter is a great source of Vitamins A and E, and fatty acid. It is a non-comedogenic too, which means it does not clog the skin pores. This helps prevent skin breakouts and acne. If you want, then you can replace the jojoba oil with hemp seed oil.
This moisturizer is great especially in winters. It not only works for oily skin, but also is wondrous for combination skin.
---
Suggested read: Oily Skin Type? Then, You Are Making THESE Skin Care Mistakes
---
Aloe Vera Moisturizer
Things you will need:
A quarter of a cup of aloe vera gel
A quarter of a cup of jojoba oil
Three drops of rose essential oil
In a bowl, mix all the above ingredients, and place it in the refrigerator. Every time before using this mix, shake it well since aloe vera tends to solidify in low heat. This is a brilliant moisturizer for the summer season. It is very light, and controls the secretion of sebum, thus maintaining the luster of your oily skin.
The rose essential oil in this mix helps cleanse the skin and get rid of the dirt. We have already told you in the above section how important it is for people with oily skin to keep their skin cleansed all the time. The oil is also an anti-oxidant and because of that property it gives you younger-looking skin.
Coconut Oil Moisturizer
Things you will need:
Half a cup of coconut oil
4 teaspoons of aloe vera gel
Take these two ingredients, and whip them until you get the desired creamy consistency. Place it in a clean mason jar, and store it in the refrigerator. If your skin is prone to acne, then this is the best moisturizer on the list. The aloe vera with its antimicrobial qualities, prevents any future breakouts.
Green Tea Moisturizer
Ingredients:
A tablespoon of warm green tea
A tablespoon of glycerin
Half a tablespoon of honey
Half a tablespoon of fresh lemon juice
Add all these ingredients in a bowl, and mix well. Once they are combined completely, put the mix in a container and store it away from sunlight and dust. This moisturizer is not only good for oily skin, but also combination skin and skin that it prone to acne. The green tea is packed with antioxidants which gives you younger-looking more radiant skin. The honey and glycerin keep your skin hydrated.
Strawberry Moisturizer
Things you will need:
A quarter of a cup of fresh mashed organic strawberry
Half a tablespoon of honey
A cup of curd
The last natural moisturizer on this list is one of the best ones. Add these ingredients in a bowl, and whip them well. Place the bowl in the fridge and let it cool. You can apply it any time of the day after you have exfoliated your oily skin and cleansed it well. It does not clog your skin pores, and controls the secretion of sebum by the glands.
The curd has soothing and calming properties just like milk and yogurt. Honey, alternatively, has anti-inflammatory properties which shrinks the acne and gives you clear skin. Not many people know this, but strawberry is packed with enzymes and minerals that gift your skin a healthier more radiant look.
---
Suggested read: The Ultimate Blotting Papers for Your Oily Skin
---
Our skin is damaged both by neglect and by misuse. So a proper skin care for every skin type is crucial. Let us know if this helped, in the comment section below.
Also, for more on everything from skin and hair care, to makeup and fashion tutorials, sign up for our daily newsletter today. See you next time!
Featured image source: Pixabay, under Creative Commons License 
Summary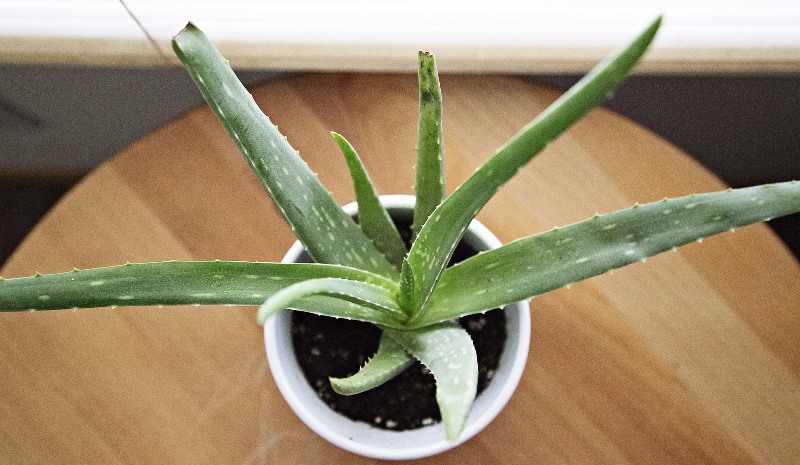 Article Name
The Ultimate Guide On The Natural Moisturizer For Oily Skin
Author
Description
In today's post, we are going to tell you about the best natural moisturizer for oily skin. Apart from that we will also look at why oily skin needs care.