The skin of our lips is very sensitive and are exposed to everything. The sun, the pollution, the lack of water in the body, too much caffeine, too much nicotine, all this can result in pigmented undesirable lips. The cure, however, is sitting unused in your kitchen cabinet.
In today's post, we will discuss the best natural lip moisturizer that is effective and yet inexpensive.
A word of caution before we proceed: There is always a chance that your skin might be allergic to the moisturizers on this list. So before you go ahead with any of these ingredients, do a little patch test and see for yourself. You will need to be the judge.
---
Suggested read: The Ultimate Guide On The Natural Moisturizer For Oily Skin
---
Apart from trying these moisturizers on this list, you will also have to adopt a healthier lifestyle for pink, supple lips. To make them kissable, you will have to stop smoking. You should apply a sunscreen on your lips before applying the lipstick. Always wipe off the lipstick or lip gel before going to sleep at night. Your dietary habits also play a very important role when it comes to ensuring healthier lips. According to WikiHow,
"Eat a diet heavy in fruits and vegetables. Foods that contain vitamins B and C are especially good for your skin. Consider taking a supplement if your diet lacks these vitamins. Omega-3 fatty acids are also extremely good for your skin and can be found in foods like fish, avocado, and almonds. You can also take a daily Omega-3 supplement."
According to Vaseline,
"It's important to try to take measures to evade common dry lips causes. In the winter and summer, make sure you seal in moisture with a layer of petroleum jelly on your lips. Both central heating and air conditioners, as well as the weather conditions of each season, can dry out the skin. Also, wear a scarf over your mouth in very cold weather."
Did you know, your chapstick might actually be harming your lips?
Most chapsticks available in the market contain petroleum. This ingredient is contaminated with PAHS and other carcinogenic chemicals. Though it is advertised as safe, it is a cheap ingredient that can ruin the skin of your lips.
The other unnatural elements include parabens, fragrance, etc. that can harm your sensitive lips. And you know this, though you will resist accepting it, these chapsticks do not give the soft lips that they claim.
Best natural lip moisturizer
Green tea
Most people use a serum for their face to protect it from signs of aging. However, very few people are aware of the signs of aging that appear on the lips. How is this a surprise though, because the lips are exposed to the same harsh conditions as the face. Anyway, now that you know, you should do something about it, right? That is where green tea and its amazingness comes in.
Green tea is a potent anti-aging ingredient. Though potent, it is extremely gentle, and that is what makes it a miracle lip moisturizer. It also helps reduce the appearance of fine lines and wrinkles at the corners of your mouth.
Take a cool wet green tea bag and place it on your lips. Leave it on for five minutes. Do not wash.
To make a green tea lip balm, melt some beeswax, and to it add some of your favorite essential oil. After mixing the two, add some potent green tea. Voila! Your green tea lip moisturizer is ready.
Papaya and honey
While exfoliating with natural enzymes and hydroxy acids is the more popular way of cleansing the skin and the lips, scrubbing with natural ingredients will always be the better way.
Raw honey contains mild hydroxyl acid. This makes it a great exfoliator, one that is not too harsh. Papaya that contains natural enzymes will break down the dead skin cell buildup on your lips, making them softer and more kissable.
Mash up some ripe papaya and add a teaspoon of honey to it. Apply this mix to your lips and leave it on for 30 minutes. Wash it off with cold water.
You can also add coconut to honey and apply it on your lips. Leave it on for 15-odd minutes and then rinse it off with cold water.
Rose petals
Rose petals are a great remedy for chapped lips because they provide nourishment to the lips. Also since it is anti-inflammatory, rose metals can heal abraded lips.
They are a gentle exfoliant. Rose petals are also a great moisturizer and suit even sensitive skin.
For this therapy, you will require 7 – 8 petals of rose and half a cup of milk. Overnight soak the rose petals in the cup of milk. The next morning, remove the petals and form a paste. Apply the paste to your lips.
You should do this once every day, preferably before hitting the bed.
---
Suggested read: Everything You Need To Know About Choosing The Best Lipstick For Olive Skin
---
Natural oils
There are so many natural oils to choose from, and yet we go for lip balms that contain petroleum! You cannot treat your lips like that, and then expect them to glow for you. Come on!
Lips love natural oils because the oil gets absorbed quickly, leaving no stickiness and yet moisturizing on a very deep level, unlike synthetic ingredients. Also, oils contain essential fatty acids that protect your skin from environmental stressors. These moisturize your skin, making it plumper, moister, and therefore, younger looking. Lastly, natural oils contain natural antioxidants that prevent fine lines from forming around your lips.
You can either apply natural oils directly on your lip, or you can create an amalgamation of them. Here are some choices: coconut oil, olive oil, jojoba oil, almond oil, sunflower oil, apricot kernel oil, hemp seed oil, avocado oil, grapeseed oil, among others.
Honey and lime juice
Lemon finds its place on this list because of how great a bleaching agent it is. When you mix lemon with honey and apply it on your lips, it will remove regular pigmentation and transform your lips. Honey is a humectant. It is an amazing moisturizing agent that soften our lips making them suppler.
Mix half a tablespoon of honey with one-fourth tablespoon of lemon juice. Apply the mix on your water and wipe off your lips with it. Apply some lip balm on your lips.
You must do this once a day.
Sugar
Dry and chapped lips are caused not only by a lack of moisturizing, but also because of poor exfoliation. If you neglect your lips every time you cleanse or exfoliate your face, then they are bound to look dull. And no amount of moisturizing will make them look supple and soft. So first thing's first, get rid of the dead skin cells and dirt that has gathered on your lips.
Sugar is the best natural ingredient as far as gentle exfoliation of lips is concerned. To make a moisturizer of it, add some moisturizing oil such as jojoba oil or olive oil to it. Apply the mix on your lips and exfoliate lightly. Make sure you treat them like delicate petals, because they are exactly that.
You can also create a scrub with jojoba oil and sugar. Other oils that can do the trick too are olive and sunflower oil. Make sure you don't scrub for more than 30 seconds, and then rinse off completely. This should be done twice a week and not more than that. Follow immediately with your natural moisturizer.
Beetroot
Beetroot leaves when applied on the lips, leave a reddish tinge. Beetroot also helps get rid of pigmentation as it contains vitamin C in it. You will also need some olive oil and cocoa butter for this remedy. These will help provide moisture to your lips. The beeswax will hydrate your lips and help get a natural pink.
In a glass jar, take 4 teaspoons of olive oil, two teaspoons of cocoa butter and two teaspoons of beeswax pellet. Now in a saucepan take some water and heat it. Pour the water in the jar. Stir all the contents until they have blended well. Now add half a teaspoon of beetroot powder to this jar. Again stir well. Make sure the mix looks thick but even. Now let the balm cool down. Using a lip brush apply this balm on your lips.
You can do this whenever you need to go out and want a nude pinkish lip look.
---
Suggested read: Learn How To Wear Pink Lipstick And Look Like A Badass Ingenue
---
That's a wrap on today's post on the best natural lip moisturizer.
Was this guide useful? Let us know in the comment section below.
See you again tomorrow!
Featured image source: Instagram 
Summary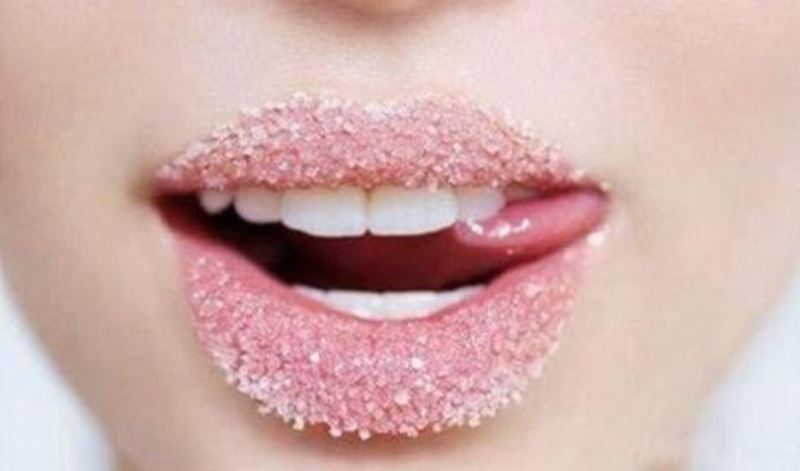 Article Name
The Best Natural Lip Moisturizer To Get Rid Of Chapped Lips
Author
Description
Our lips are very sensitive and need care. In today's post, we will discuss the best natural lip moisturizer that is effective and yet inexpensive.