It is a truth universally acknowledged that Sabyasachi is one of the best designers in the country, and in fact, in the world right now. The man's aesthetics is so totally on point that wearing his designs has managed to get on several people's bucket lists. Even though he is mostly renowned for his bridal wear, Sabyasachi menswear is no less breathtaking, and I am here show you why.
If you think that Sabyasachi only designs men's wedding wear, then you are wrong, because he has some of the most gorgeous traditional clothing for men as well. You don't necessarily have to get married to wear Sabyasachi if you are man, and that is as good as news can get.
---
Suggested read: 22 Breathtaking Wedding Lehengas By Sabyasachi To Inspire Your Wedding Fashion Game!
---
Here are some of the best specimens of Sabyasachi menswear, for you to drool over.
1. Printed Nehru Jackets
One of the things I love about Sabyasachi's designs is that the man knows how to use his colors. People usually tend to play it safe with their traditional wear, especially when said traditional wear involves a Nehru jacket.
This beautiful waistcoat by Sabyasachi however, has a gorgeous floral print on a light mint shade, which makes it look like a piece of art. Florals are an unconventional choice for a monochromatic kurta, to say the least, but he somehow makes it work with the green bodice and the gold-rimmed turban.
2. Heavily printed Heritage sherwani
This stunning gold, magenta and white creation is not only out of this world beautiful, but also an example of how men can pull of heavy prints. The gold prints on the body of the structured kurta are a traditional Bengali print, but they add a general sense of old school charm to the piece which makes it universally appealing.
The wildness of the kurta has been beautifully offset by the rose gold churidar, pink turban and lovely dupatta in off-white and gold.
3. Beige waistcoats
Waistcoats are a pretty in thing right now in the fashion game, and Shahid Kapoor in Sabyasachi is the epitome of this trend, according to me. The colors in this attire complement each other wonderfully, with the beige patterns on black silk offsetting the beige of his waistcoat.
This is also an example outfit, which shows how you can rock your traditional waistcoat over a standard shirt, if the colors complement each other. If you thought beige was a drab choice for traditional wear for men, this is going to make you think again for sure.
4. Velvet green half and full kurtas
I am pretty sure that if men were to wear velvet green traditional wear with pale gold under any other circumstances, they would look slightly, if not terribly garish. However, trust Sabyasachi to make this combination look fit for royalty. This gorgeous multi-cultural sherwani collection from the house of Sabyasachi is something which is universally appealing to everyone because of the sober design, and the rich embroidery.
What is so gorgeous about these kurtas is the choice of colors, with the a deep green velvet serving as a base for signature Sabysachi designs in pale gold, paired with a beige-based gold for the churidar. It is truly breathtaking to behold something this beautiful.
5. Bright kurtas from the Firdaus Collection
Bright, primary colors are something people either embrace with blinding gusto or avoid completely when it comes to traditional wear. I am pretty sure you haven't seen colors like yellow, green and pink look so elegant ever on any traditional wear for men. The combination is both bright and festive and sober at the same time, making for the perfect friend of the groom attire, or if you are a simple man fond of elegance, then you can even consider this for your wedding day.
All in all, this collection simply reinforces my point that Sabyasachi is truly a master of colors. The soft silver embellishments paired with the off-white pleated churidar and drastically contrasting royal blue turban brings the entire look together.
---
Suggested read: 18 Hot Indian Male Models Who Will Make Your Instagram Feed (And Your Life) Infinitely Better
---
6. Pink and red sherwani
This sherwani is literally making me salivate- not because I want to eat it, but because it is so amazingly beautiful that it is difficult for my brain to function normally. This piece is proof of the genius that is Sabyasachi because do you see those colors?
What makes this sherwani remarkable is the use of silver sequins which outline each pattern, which is filled with a wonderful marriage of various shades of pink and red in uniform recurrence, which looks complex, but oh-so-pleasing to the eyes. Honestly, if you manage to get your hands on something this beautiful, you are going to look like one classy MOFO.
7. Avant-garde striped sherwani
Honestly, I am just so overwhelmed right now by the sheer beauty of these pieces that I am not sure how I can describe than other saying typing out a few incomprehensible words. Nonetheless, for the love of beautiful clothes, I shall try.
Stripes like these, inspired by Italian designs, are rare to find on Indian traditional wear for men, to say the least. The use of color however, makes it the most natural choice for Indian traditionals for men, because it looks so cohesive and collected. The choice of colors is on-point, with the single strain of green on the body of the sherwani allowing space for the bright green turban to shine through, despite the peach and red color scheme of the outfit.
8. Mint green embroidered sherwani
If you are a fan of simple things which exude classiness and elegance, then this is the piece for you. Even though everything Sabyasachi makes is classy and elegant, this mint-green piece in particular catches one's eye because it is heavily decorated and minimalistic at the same time.
The mint green and the pale gold come together to create a sherwani which is perfect for a personal and minimalistic wedding, while still being festive and special enough for a bridegroom to wear. Even if you choose to forgo the turban and the jewelry, you can rock this piece as it is.
9. Off-white and gold sherwani from the Udaipur Collection
I was waiting for when I could rave about these signature Sabyasachi designs. Sabysachi is about simple elegance and classy designs, and this piece is everything that his signature designs encompass.
This structured, close-necked sherwani is wonderfully simplistic and looks like it might be fit for royalty. Despite the uniform color of the piece, the golden embroidery makes this an extraordinary piece to wear, or even just to look at really.
10. Off-white florals from the Udaipur Collection
Floral print on an off-white base is something that could never go wrong. Also, this combination is such that you can wear it to multiple occasions. It would be a sober and elegant choice for a bridegroom, and while for any other festive occasion, it would stand out from the rest of the crowd for its brilliant design.
The florals are not overwhelming, which is sometimes the case when people experiment with florals on their traditional wear, especially traditional wear for men. However, what they don't realize is that floral print itself is super festive, and when you can work it like Sabyasachi here, there is nothing stooping you from rocking your look like a true nawab.
11. Blue floral printed sherwani
Did anyone ever imagine that blue floral prints could make a man's traditional clothing look like a literal painting? Well, Sabyasachi did, and the results of his creative genius, combined with true fashion vision have led to the creation of this beautiful masterpiece. The sherwani itself is a simple white body bandhgala which is made unique and gorgeous with a ample blue floral print on the entire bodice.
Even though you don't need to accessorize something this beautiful at all, an off-white turban would make you look like a prince from a literal fairytale and prove yet again, how Sabyasachi is one of the best brains in fashion today.
---
Suggested read: 18 Times Indian Celebs Looked RIDICULOUSLY GOOD On The Cover Of Harper's Bazaar Bride
---
Now that you have laid eyes on some of the most beautiful Sabyasachi menswear out there, you can let go of your prejudice that good designers only make clothes for women. Sabyasachi has some of the most breathtaking designs out there for men, and has styled a number of high profile celebrities like Ranveer Singh, Virat Kohli, Hrithik Roshan, Saif Ali Khan and others, which makes him one of the sought after and versatile designers in the country.
With most designers designing exclusively for women, Sabyasachi emerges as a wonderful relief, with some of the best models posing for him for his Collections and walking the runway for him. Needless to say, if you are planning a dream wedding, and groom has to look like he has stepped out of a fairytale story, then you know what to dress him in.
Featured image source: Instagram
Summary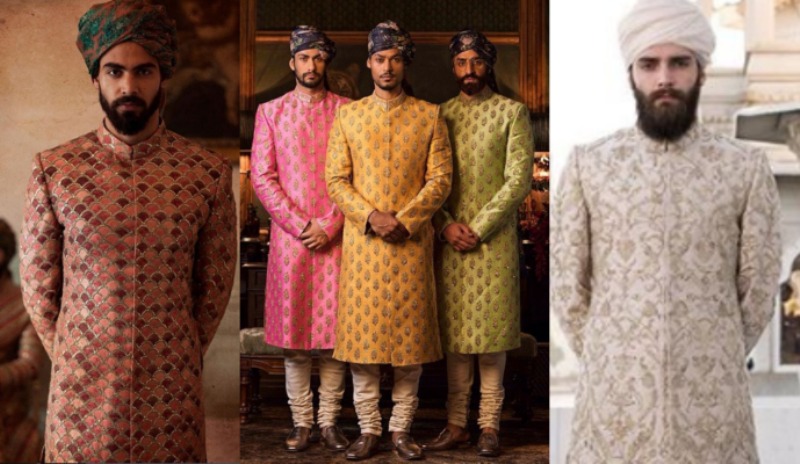 Article Name
11 Breathtaking Sabyasachi Menswear Which Will Give You #FashionGoals
Author
Description
People tend to lust over Sabyasachi's bridal wear, but here are some Sabyasachi menswear in traditional style, which is going to take your breath away.