No other ensemble will carry more meaning, no other dress shall speak volumes about why the particular ivory package is exactly the thing you needed to paint your love across the atramental plaque of the sky with the stars of your love! And as such, the choice of your bridal ensemble – a partial lean toward tulle or a weak spot for lace, a penchant for silk are all choices that will take incredible time and effort. Amidst the wide gamut of options available to a bride, chic vintage wedding dresses are making the cut ever-so-often. Chic vintage style wedding dresses are the perfect way to achieve that sweet nostalgic look on your big day. Not only are chic vintage wedding dresses a smart blend of the old-world and the new, the traditional feel, complemented by modish vibes become a perfect zipped up piece of a lifetime's promises- a legacy you carry and a legacy, all your own, you wish to leave behind.
As such, when it comes to picking bridal gowns, chic vintage wedding gowns emerge as a time-tested formula that not only unify the classic and traditional elements with an understated elegance with the spiffy, a la mode details you loved on the Vera Wang number but also lend you the look that you'd always wished for when you saw the likes of Gwendolynne, Johanna Johnson, Claire Pettibone, and Jenny Packham pull off the 'chic vintage bride' part with astonishing and enviable flair!
---
Suggested read: What your wedding dress says about you…
---
And because we know just how harrowing the choice of the 'perfect' ivory package to seal the most important vows of your life can be, we've decided to make the task easy for you. We will help you get the killer 'chic vintage' look with a surprisingly modern, yet timeless and hithertofore unseen list of chic vintage inspired wedding dresses.
Check out the most stunning chic vintage style wedding dresses that shall help you strike the delicate balance you sought, in an effortless sweep:
1. A Lace Fit n Flare Pearly Delight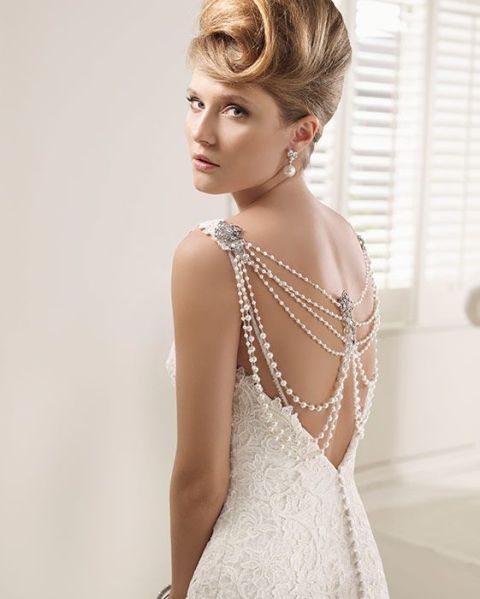 Image source: Pinterest
This all-over vintage lace wedding dress with a godet skirt, a sweetheart neckline and beaded spaghetti straps is the perfect mix of drama and nostalgia. The shoulder pearl straps perfectly offset the glamor quotient of the princess line waist, the fit n flare silhouette, and the modish sweep train.
2. Illusion Neckline Modern Vintage Gown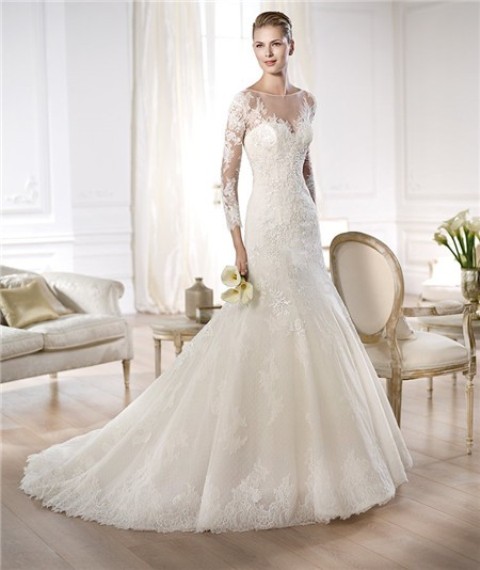 An extremely popular choice among vintage lace wedding dresses, this one is the quintessential romantic choice blended with the soft, textural touches of a modish vibe. Draped in re-embroidered lace applique, this full-length, A-line sheer yoke gown with a killer illusion sweetheart neckline and a chapel train is the perfect pick for any bride who wants all eyes riveted on her, more so the groom's. The pink champagne color adds the subtle touch of love to this romantic creation and accents the lovely lush details of this modern vintage wedding dress.
3. One-shoulder Modish Vintage Vibe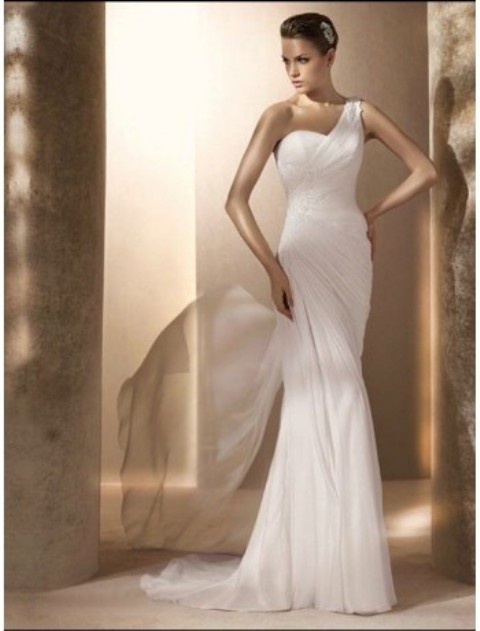 This is the choice for the modern fashionista who'd love to mold the vintage look as per her signature style. A one-shouldered delight, this fresh vision of draped chiffon is an a la mode creation with sheer shoulder sleeve, a sweetheart neckline, and a natural waistline accented with a deco-inspired crystal beaded trim and dramatic floral accents. A winner look, all the way!
4. Strapless Lace Applique Ball Gown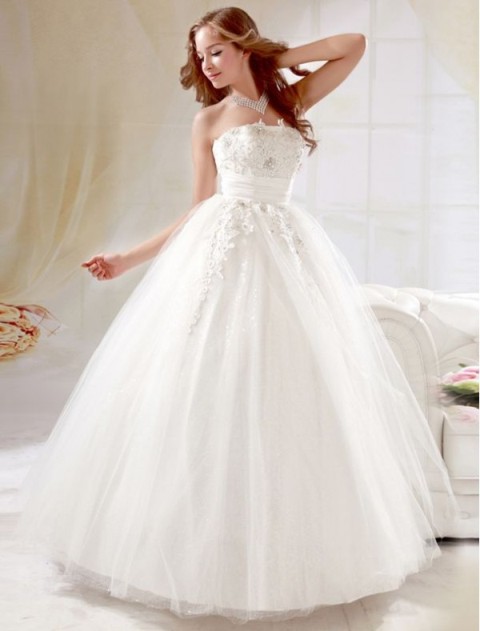 There's nothing more delightful in the chic vintage world than the classic blend of old world charm and contemporary chic quotient in a modern vintage wedding dress. A testimony to this refined mix, this strapless lace applique ball gown has a traditional lace applique enhancing the lavishly embellished strapless bodice and the tiered tulle skirt. Adorned with ruffled and tiered skirt bearing a semi-cathedral train and a satin waistband with a tailored bow, this one is a pick for the princesses. After all, your D-day deserves to rock the royal style, huh!
5. High-Low Tiered Lace Love Gown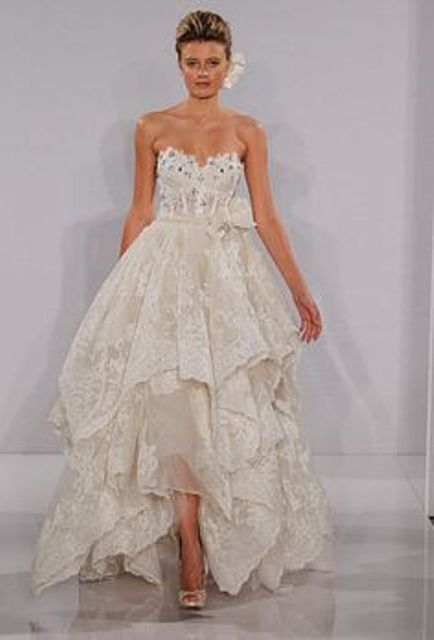 Image source: Pinterest
Nothing beats the textural touches of romance that a vintage lace wedding dress can lend to your bridal look. This delicate high-low tiered lace love gown features, true to its name, a high-low hemline and detachable full-length skirt. Built in retro-inspired style, this delicate romantic number with its sweetheart neckline, lace spaghetti straps, and a moonstone style beading accents to adorn the natural waistline is the LOVE you need sewn on your self!
---
Suggested read: The perfect wedding dress for your zodiac
---
6. Strapless, Layered Lace Bridal Gown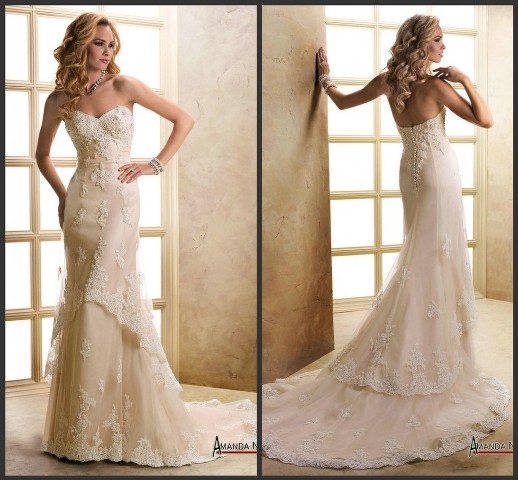 With a sweetheart strapless bodice and waves of classic lace streaming out from the natural waist accented by a grosgrain ribbon and beaded chiffon accent, this beautiful chic vintage number is the pick for the bride who'd choose a minimalist look, with all the pints of elegance, romance, and beauty stirred in the pot.
7. A Beaded Halter A-Line Fit n Flare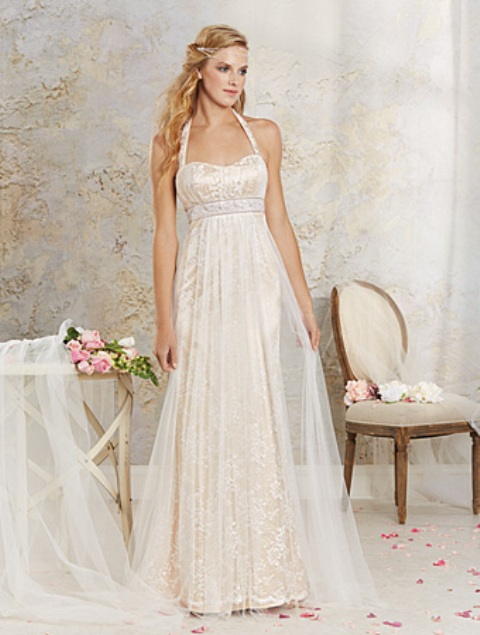 This empire waist, A-line silhouette number with a scooped, beaded halter neckline and a fit n flare skirt with a cage overlay is a billowing number that detaches from the ball style but retains all the elements that are crucial to rendering your fairy-tale dream alive. This chic vintage wedding dress is a true toast to a 'happily ever after.'
8. Floral Cap Sleeves Mermaid Gown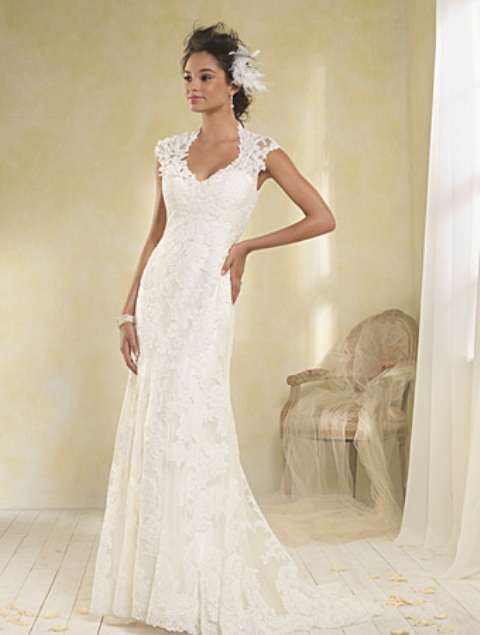 Flirty, fun, and feminine, this two-piece modern vinatge mer-style gown is laden with sensuous details and an intricate design of net over charmeuse. Re-embroidered lace makes for the dainty cap sleeves and a delicate v-neckline with a low back. Rounded off with the traditional sweep train, this one makes for a perfect pick for the wedding as well as the after-party!
9. Simple Strapless Sheath Draped In Lace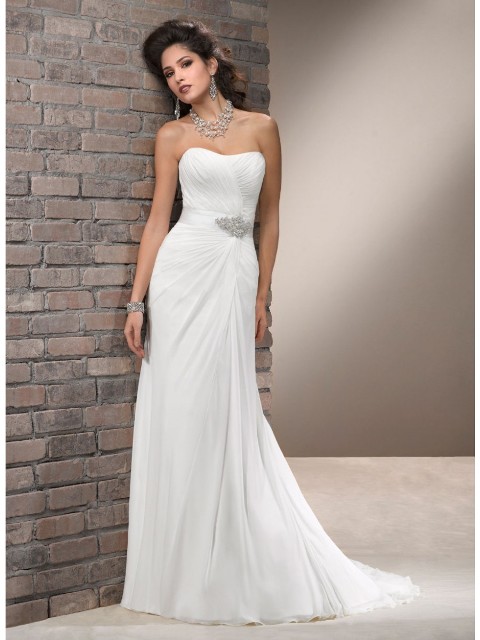 For the bride who values comfort over all else, this simple and elegant sheath silhouette enhanced by all over lace, a ribbon sash, and beaded flower detail adding chic elegance at the natural waistline and a back bow is the ivory package she needs to pack and get set, go!
10. Low Back Charmeuse Chapel Train Charm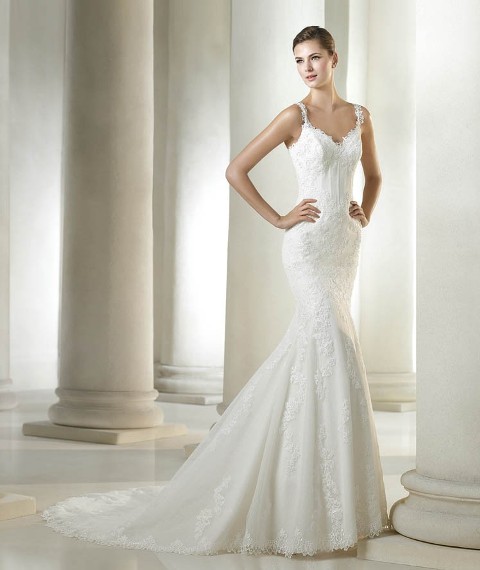 For the bride who has no qualms telling the world that the groom is in for some real fun, this low-back sultry and seductive number is just the choice. With a vintage-inspired all-over lace look on charmeuse, this chapel-train laden gown with its delicate spaghetti straps, flared skirt, and a killer backline is sure to rev up the temperature and heartbeats!
11. Godet Accents Lace Wedding Gown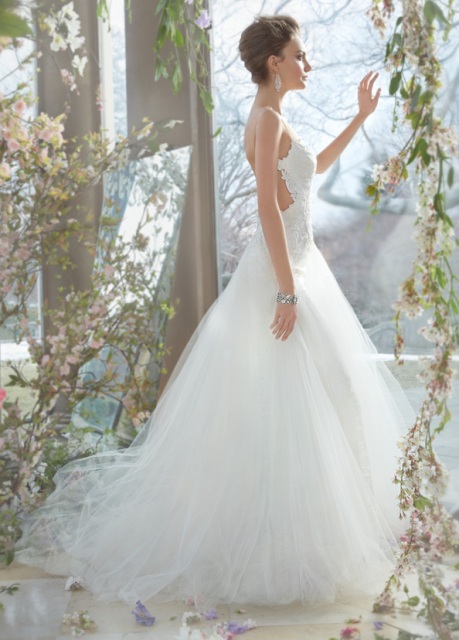 This modern vintage bridal dress embodies traditional beauty with layers of lace and satin whilst a jewel-encrusted, lace applique neckline and daring low back add the contemporary touches.
---
Suggested read: Which wedding dress would suit your body type…
---
12. Modified Halter Modern Vintage Dress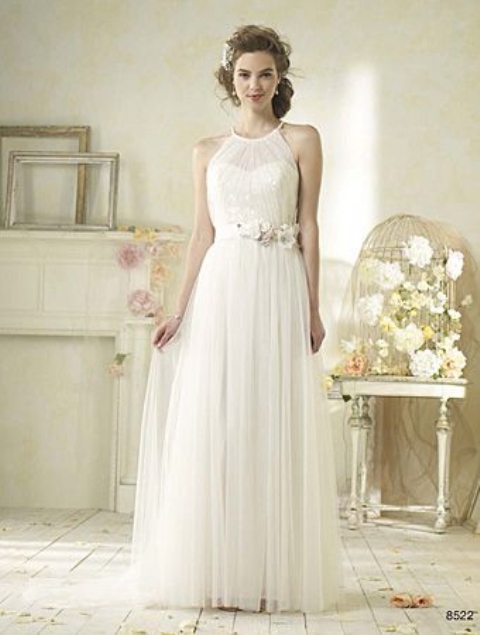 Vintage, home-y, feminine, and graceful, this is the quintessential romantic choice of a bride who declares her own distinctive style yet loses nothing of the romantic vibe that is an integral part of her individual spark. With a modified, halter illusion neckline pulled over a sequined sweetheart bodice and an A-line, full-length soft net and satin layered skirt, this is sure to win hearts and more!
13. Dramatic Drop Waist Lace Wedding Dress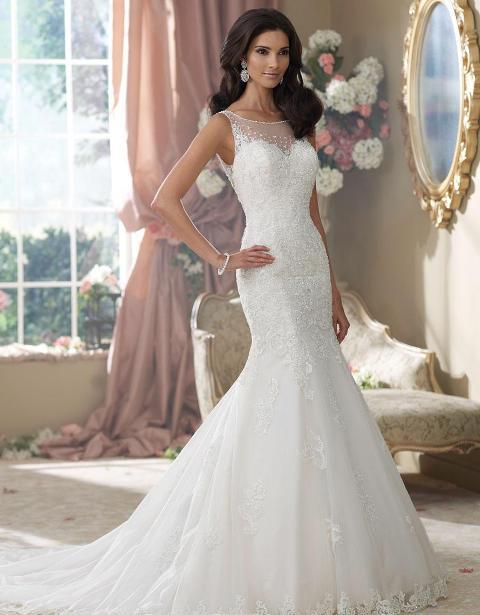 A key feature of this bold and beautiful chic vintage wedding dress is its dramatized fit n flare silhouette with its dropped low waist seam. A keyhole back opening with tank style straps add touches of timeless elegance to the lovely lace number
14. Contemporary Two-piece Split Front Sheer Skirt Over Pencil Gown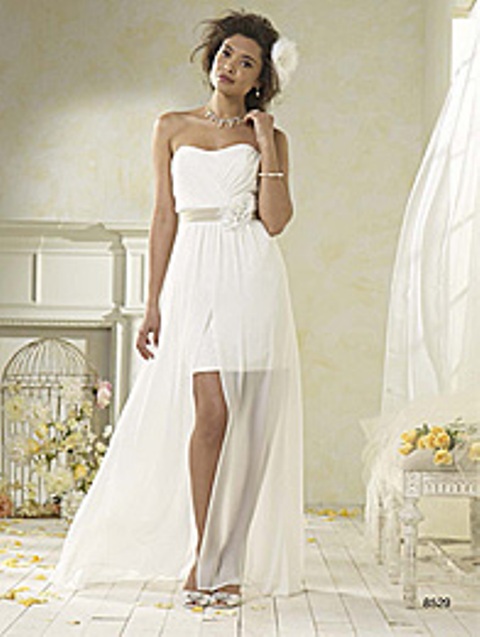 This cocktail length underdress with its full-length sheer, front-split skirt in chiffon is the perfect modern twist to a vintage-inspired gown. Combining retro and contemporary elements, this sheath silhouette dress with its crystal beading accents at the waist is a cheery pick for the summer.
15. Hand-draped Chic Vintage Wedding Gown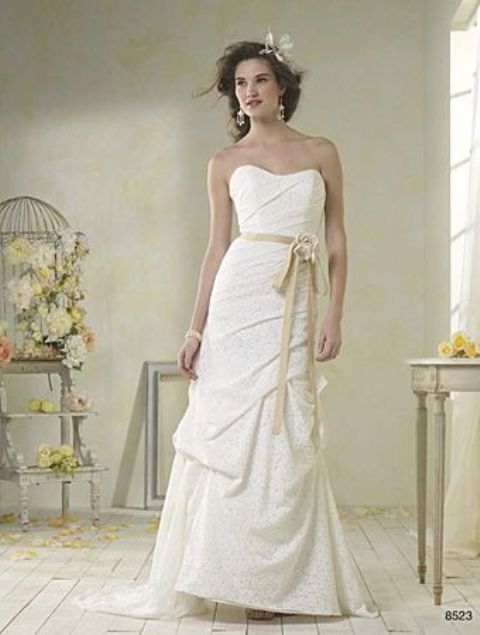 Image source: Pinterest
This all-over lace bridal gown is captivating with a demure, strapless neckline and elaborate, hand-draped skirt. A grosgrain ribbon sash with delicate flowers accentuates the waist. Its lace, taffeta combination with its hand-draped skirt make it a novel piece!
And just like that, timeless elegance with slices from the ticks-of-now is available for you to mix n match for your D-day!
Featured image source: Pixabay, under Creative Commons License
Summary
Article Name
15 Chic Vintage Wedding Dresses For The Modern Bride
Author
Description
Chic Vintage wedding dresses seem to be the apt solution for retaining the traditional touch whilst mixing the modern magic. Take a look at 15 such dresses.