Of late, it seems like the whole world has taken to Tinder to find love. And while I am not really the pro-online dating types, I can't help noticing how the swipe-epidemic seems to have latched on to people and no vaccine shot seems to work. They do have their fingers swollen and eyes shot from all the incessant swipe-o-mania though! I, on the other hand, am glued to binge-watching my favorite shows- for that seems like a more 'useful waste' of time to me! And in the midst of the sitting-on-my-edge-and-watching-Game-Of-Thrones, I can't help but wish Jon Snow would someday swipe me right. A girl can dream, right? 😉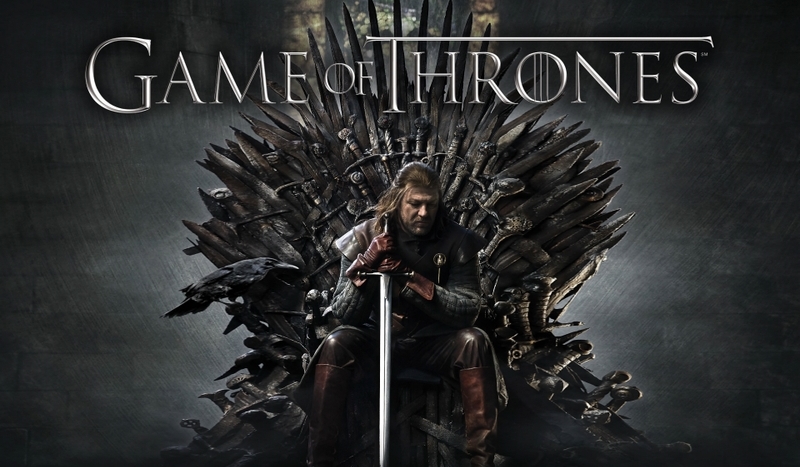 Image source: Google, copyright-free image under Creative Commons License
---
Suggested read: What would your favorite Bollywood star's dating profile look like?
---
This wishful fancy came in one of these weekends when I was watching Game of Thrones and took a teeny tiny break to order pizza when my best friend constantly kept beeping in. So, I told the pizza place it'd be a regular and put her on. She told me how she had met this incredible guy on Tinder and thought she'd finally found 'the one' (happens to her every two weeks). And when I ended the call after some jaw dropping accounts (can't validate the veracity) of how 'incredible' this Tinder guy was, how she filtered him from among a hundred Tinder profiles and how they just 'clicked' were overflowing from my ears, my screen un-paused to show Jon Snow! For a moment, I thought he swooned for me. I swooned back.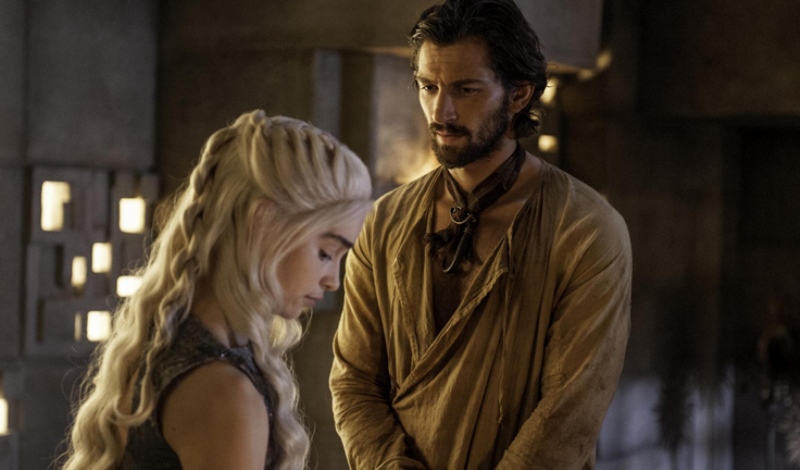 Image source: Google, copyright-free image under Creative Commons License
And I wondered what his Tinder bio'd read? (Yeah, I don't think there's any other place I can bump into him- sad but true!) And I wondered what the Tinder profiles of Ned Stark, Cersei, Daenerys, and the other characters from Game Of Thrones would look like? And I came up with these:
1. Daenerys Targaryen – If you can burn me, you're in!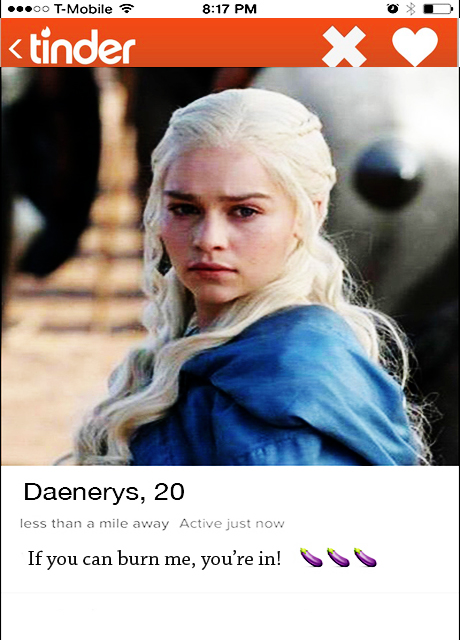 2. Tyrion Lannister – I am big exactly where it matters! 😉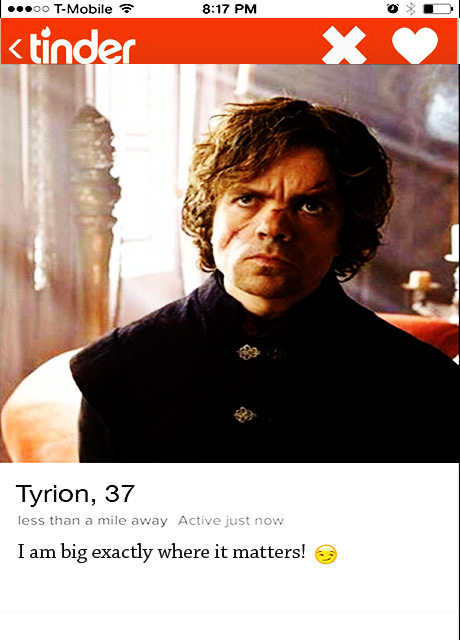 3. Jaime Lannister – A new day, a new slay! And I <3 my family!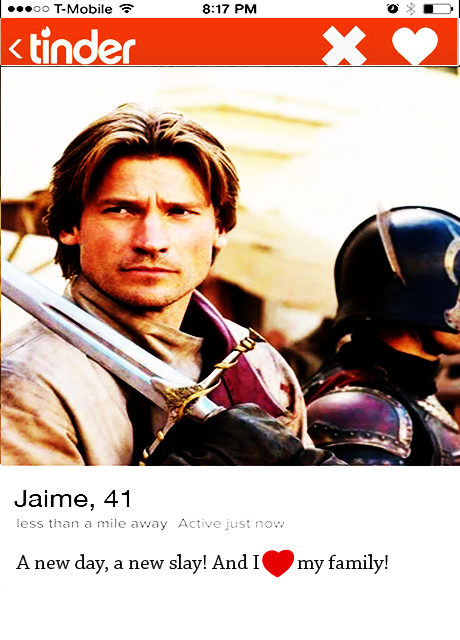 4. Jon Snow – I wear my 'shame' as my 'honor' and armor! You can't hurt me!
         Also, I will take you North for a date!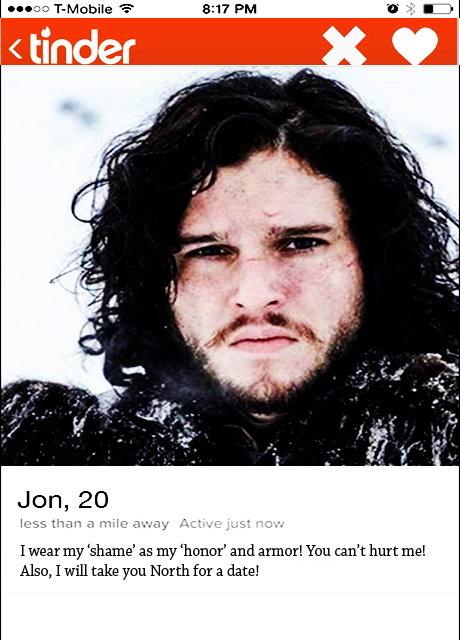 5. Cersei Lannister – From my family? Swipe right. Not from my family? Die!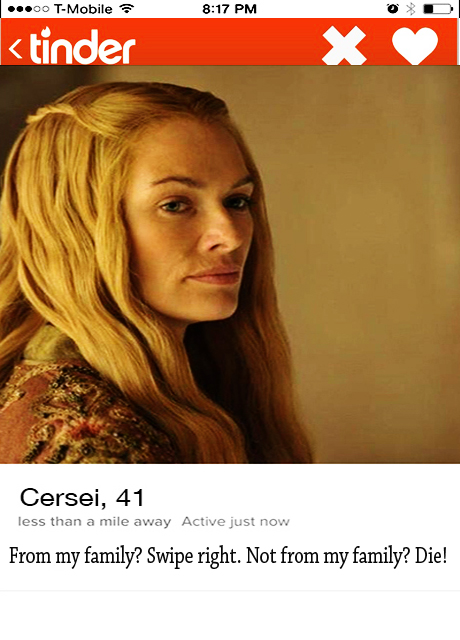 6. Petyr Baelish – I am in love with your mom!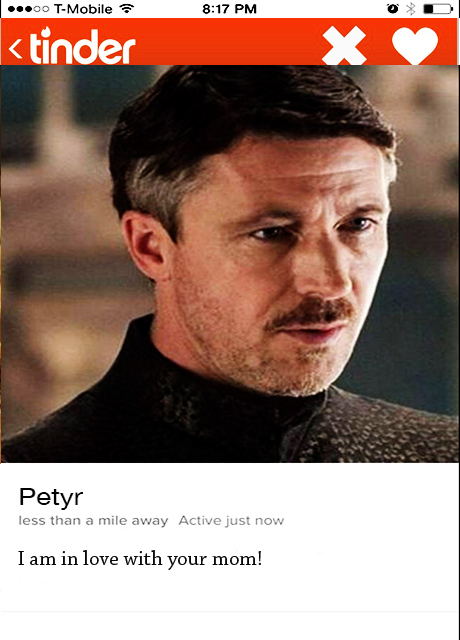 7. Sansa Stark – My dad's totes kinda lost it when I moved to the big city. All I want is to get married to the guy I like, bear his children and settle down!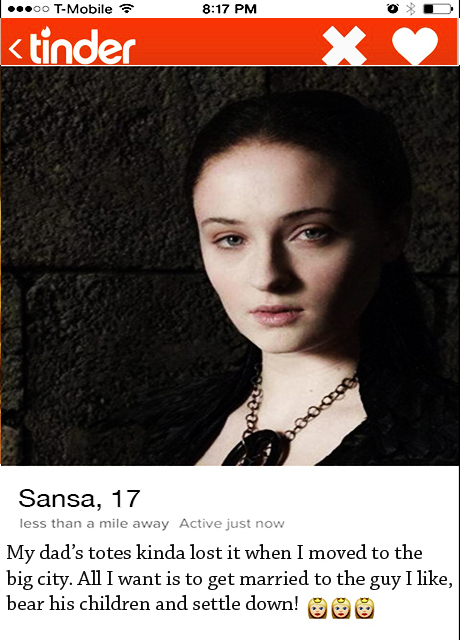 8. Arya Stark – Swipe left, you got no chance! Didn't you hear me, let's sword-fight!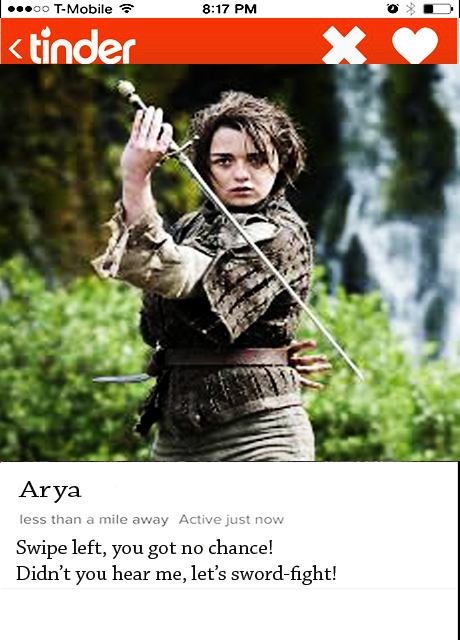 9. Lady Melisandre – Kings are welcome, as is cuddling by the fire!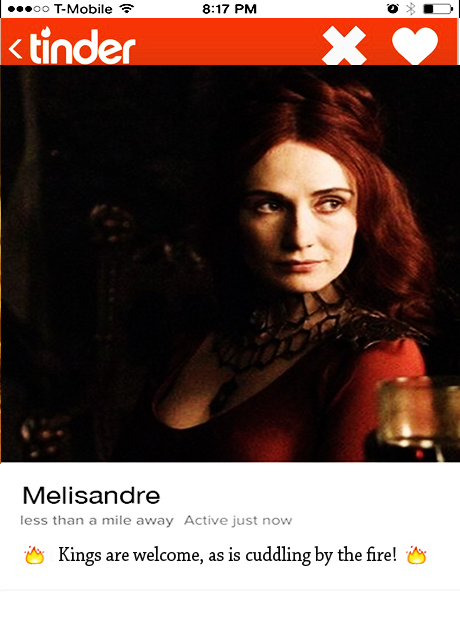 10. Hodor – Uh, what?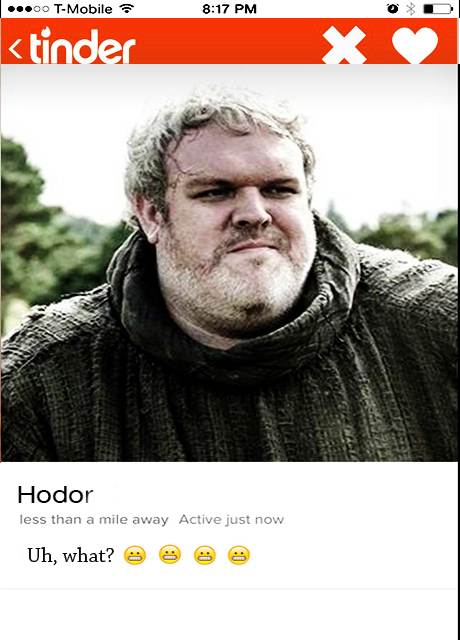 ---
Suggested read: If Hollywood celebs were on Tinder, their bios would be…
---
Which of these Tinder profiles did you like the best? Any ideas for a favorite we missed out? Would you swipe right for Jaime Lannister? Cersei? Tell us in the comments below.
Featured image source: Google, copyright-free image under Creative Commons License
Summary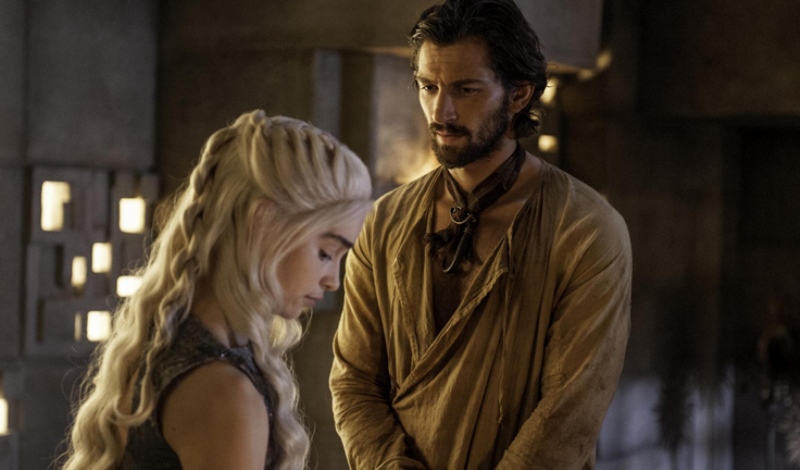 Article Name
What Would Game Of Thrones Characters' Tinder Profiles Would Look Like
Author
Description
Ever wondered if Game Of Thrones characters took to Tinder, what their Tinder profiles would look like? We took a shot... ;)