The romance Gods work in hyperactive mode when it comes to Hollywood relationships. It is perennially a make-or-break situation as our favorite celebs continue to wear their hearts on their sleeves, and hand it out in attractive heart confetti adorned gift-wrapped packages to the person who can make their hearts hum a better tune than their ex apparently did! As such, the update registers keep ticking and Gods are slogging away in overdrive, overtime!
Here are the top ten international celebrity hookups of 2014 that the divine registers popped when we went in for some 'amrit' party and a closer look into the matter:
1. Khloe Kardashian and French Montana
Image source: Google, copyright-free image under Creative Commons License
After the lovely lass split with husband Lamar Odom last year, she deserved a fresh lease of love, and pretty good lovin'at that. Seems like she has hit gold with rapper French Montana and the two seem to be romping it out on pretty much all the land that happens to be under their feet. Of course, Kardashian reality cams do not miss even an iota of the sizzling romance, and we just hope it does not get drab after tearing it up all around the clock!
2. Tyga and Kylie Jenner
Now this is one of those awkward hookups because Kylie is still seventeen, and Tyga is a quarter century old. After his split with Blac Chyna, Tyga opted for the first-in-sight Kylie Jenner – his ex's bestie and Kim Kardashian's baby sister!!! While there hasn't been an official announcement yet, their Instagram pics haven't quite left anything up for guesses. After all, a picture does speak a thousand words!
3. Luke James and Jessie J.
A tour brought these lovebirds together and a beaming Jessie chirped, "He's incredible. I'm really happy." She also added, "I feel the happiest I've ever been. I am who I am. Life's a journey, I can't clip my wings because a few people aren't going to be happy." She also said that they are taking off 'someplace hottt' for Christmas. Steamy!! 😉
4. Samira Wiley and Lauren Morelli
Orange Is The New Black writer Lauren Morelli has filed for divorce from husband Steve Basilone to be with her love – the star of the NetFlix series based on her book, Samira Riley. After realizing she was gay in fall 2012, she came to terms with her sexuality sometime in April and officially announced it in May. She was seen with her newfound love at the Emmy Awards in August, and is now indulging in a vicarious living as the makers of the show gear up for season 2, that shall have Piper and Alex fall for each other again. "I went through it all on set: I fell in love with a woman, and I watched my life play out on screen," she says. "And now, as we are gearing up for the release of Season 2, it feels liberating and appropriate to live my life in front of you."
5. Big Sean and Ariana Grande
After ending his romantic rendezvous with Glee actress Naya Riviera, Big Sean has been seen wrapped in the musical arms of the 'Problem' singer Adriana Grande. It has been only a couple of months, but the two seem to be completely smitten and head over heels in love. A rap-i-licious combo, eh? 😉
6. Erica Mena and Shad Moss
The Love and Hip Hop star made it official at the BET Hip Hop Awards in September. After six months of dating the 106 & Park host, the couple finally has admitted to being romantically engaged, and are hopping hand-in-hand all over town. Now that's hep, eh! 😉
7. Fantasia and Kendall Taylor
Fantasia has finally found her man in businessman Kendall Taylor, and is reportedly married to him. Now while the marriage bit remains unconfirmed, we are happy that the singer has finally found someone who can hear the songs her heart longs to sing! Happy loving, you two! J
8. Drake and Zoe Kravitz
Drake has dumped Rihanna for his ex Zoe Kravitz! The former lovebirds are back on and were seen all over each other at Zoe's concert at the Mod Club in Toronto in June. Of course, Drake hasn't quite admitted to being hot'n'heavy with what he once deemed 'do-overs' but is evidently cherishing every moment of being wrapped in familiar arms. There is no mention of commitment but they are most certainly hooking up. A source close to the stars confirms, "They're clearly hooking up. Nothing exclusive. They both travel the world, have millions of dollars. They have fun together."
9. Christina Milian and Lil Wayne
Image source: Google, copyright-free image under Creative Commons License
After her split from fiancé, Jas Prince, the American Pie actress seems to have found a new pie in Lil Wayne. Her current pudding seems to speak of her with the same relish and has gone defensive about his lady love amidst speculations of their situation being a rebound of sorts for Tina. He has confirmed that she is the inspiration behind his guest spot on Young Thug's 'Take Kare' track and raps,
"They be hatin' on my girl though,
And they wish they was the b***h they're hatin'
Salutations to my old h**s and thank you for your participation
No chaser for my girl though, she go harder than me on occasion
Gettin' wasted with my girl, then we 69 'til we need ventilation."
Now, that's some bold lovin' eh? 😉
10.Angel Haze and Ireland Baldwin
Alec Baldwin's daughter Ireland has finally come out in the open about her relationship with rapper Angel Haze (well, not that the Instagram pictures full of unabashed PDA had left room for any doubts, anyway!). She issued the following statement to The Independent, "An interracial gay couple, I mean that's just weird for America right now." Haze continued, "We f**k and friends don't f**k." We f**king support you girl, it is about time America saw that racism is f**king crap and LGBTQ rights need to be f**king legalized!
Special mention
Miley Cyrus and Patrick Schwarzenegger
Image source: Google, copyright-free image under Creative Commons License
The Wrecking Ball singer is apparently dating our very own Terminator's son, Patrick. If reports are to be believed, Miley's parents are "thrilled" about their relationship, while Patrick's mother Maria isn't "too thrilled" with it. Well, whatever their parents have to say about it, these two lovebirds are set to take their relationship seriously.
Now the register up there had so many pages and the registers, themselves, were so many. Phew!! I kind of bailed out on the Herculean feat. Because I know you'd definitely help my tired hands by typing away the linkups you found to warm your hearts a li'l (or more) in the comments below. J
Featured image source: Google, copyright-free image under Creative Commons License
Summary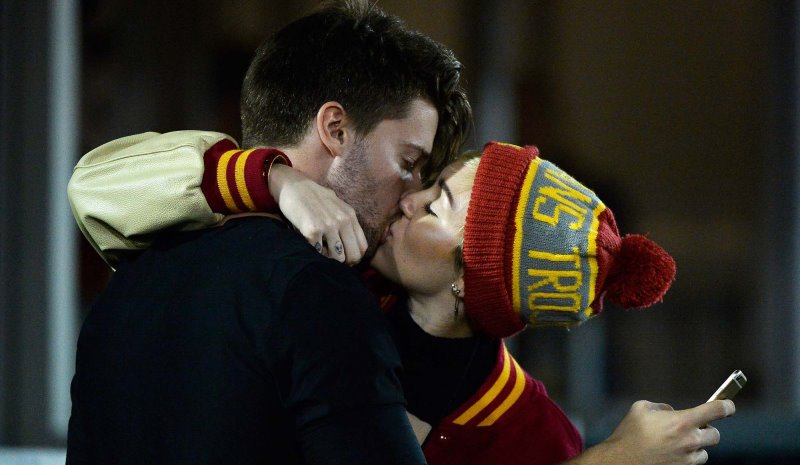 Article Name
Top 10 International celebrity hookups of 2014
Author
Description
As we bid adieu to 2014, here's a look at the top 10 international celebrity hookups of 2014.